Baseball Hall Of Famer Tony Gwynn Dead At 54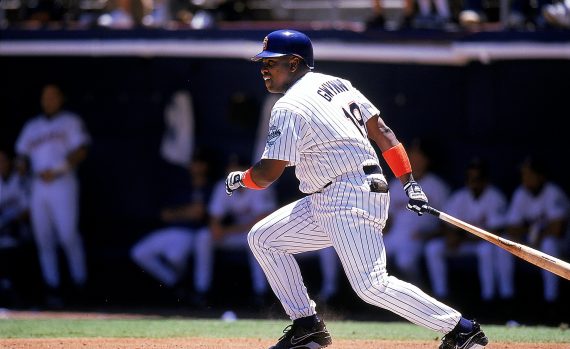 Tony Gwynn, who spent his entire 20 year career with the San Diego Padres and had the highest batting average in the National League eight different seasons, has died at 54 after a long battle with cancer:
Tony Gwynn, who won a record eight National League batting championships, amassed 3,141 hits and gained acclaim as one of baseball's most passionate students of the art of hitting, died on Monday in Poway, Calif. He was 54. His death was announced by Major League Baseball.

Gwynn had undergone surgery for cancer of the mouth and salivary glands in recent years and had been on medical leave since spring as the baseball coach at San Diego State University, his alma mater. He attributed the cancer to having dipped tobacco throughout his career.

Playing all 20 of his major league seasons with the often lackluster San Diego Padres, in one of baseball's lesser media markets, and usually shunning home run swings in favor of well-struck hits, Gwynn was not one of baseball's more charismatic figures. And his pudgy 5-foot-11, 215-pound frame (give or take a few pounds) did not evoke streamlined athleticism.

He simply possessed a brilliant consistency with his left-handed batting stroke, compiling a career batting average of .338. He was also a Glove Gold-winning outfielder and an outstanding base stealer as well before knee injuries took their toll.

Gwynn, a 15-time All-Star, entered the Baseball Hall of Fame in 2007 after garnering 97.6 percent of sportswriters' votes in his first year of eligibility. Some 75,000 fans turned out at Cooperstown when he was inducted along with Cal Ripken Jr., who played all 21 of his seasons with the Baltimore Orioles, most of them at shortstop, on the way to breaking Lou Gehrig's streak of consecutive games played.

Gwynn made his debut with the Padres on July 19, 1982. Two years later he captured his first batting championship, hitting .351. He also stole 33 bases and struck out only 23 times in 606 at-bats that year, propelling the Padres to the first pennant in their history, though they lost to the Detroit Tigers in the World Series.

Deacon Jones, the Padres' hitting coach that season, marveled at Gwynn's bat control. "He'll get some funky hits and then he'll hit a line drive that you could hang three weeks' wash on," Jones told The New York Times. "There isn't a pitcher in the league who wants Tony Gwynn up with a runner on third base. You know he'll make contact."

Gwynn was hitting .394 in the summer of 1994, with a chance to become baseball's first .400 hitter since Ted Williams batted .406 for the 1941 Boston Red Sox, when a players strike ended the season on Aug. 12. He settled for achieving the N.L.'s highest batting average since Bill Terry hit .401 for the New York Giants in 1930.

Gwynn's obsession with the elements of a baseball swing began when he played for San Diego State and read Williams's 1971 book, "The Science of Hitting."

Williams invited Gwynn to talk hitting at his museum in Florida after the 1994 season and suggested he drive the ball more, but Gwynn was reluctant to tamper with his approach.

Gwynn took endless hours of extra batting practice and employed extensive video before that became common in baseball. In his second season he had his wife, Alicia, tape his at-bats off television on road trips in hopes of correcting a slump. Through the years his taping grew more sophisticated, and he edited the tapes into segments showing good and bad at-bats.

(…)

Anthony Keith Gwynn was born on May 9, 1960, in Los Angeles. His family moved to Long Beach when he was 9. He was recruited by San Diego State as a basketball point guard and became an outstanding playmaker there, but he was also an all-American outfielder and was selected by the Padres in the third round of the 1981 baseball draft.

Gwynn shared the record of eight N.L. batting championships with Honus Wagner, a total exceeded only by Ty Cobb's 12 American League titles. He won five Gold Glove awards, playing mostly in right field, and stole 319 bases. But he hit only 135 home runs, and the most he ever hit in a season was just 17, in 1997. He drove in 119 runs that season, the only time he exceeded the 100-R.B.I. mark.

After hitting .324 in 2001, his final season, he became the San Diego State baseball coach. He was also a game and studio analyst for ESPN.

In addition to his wife, Gwynn's survivors include his son, Tony Jr., an outfielder for the Philadelphia Phillies, his fourth major league team; a daughter, Anisha Nicole Gwynn, a rhythm-and-blues singer; his brother Chris, also an outfielder and his teammate in the last of Chris's 10 major league seasons; and his brother Charles, a teacher.

Drawing on Gwynn's jersey number, the Padres list the address of their ball field, Petco Park, as 19 Tony Gwynn Drive. A bronze statue depicting Gwynn swinging was unveiled at the park in 2007. Its plaque reads, "Tony Gwynn, Mr. Padre."
Gwynn's long career with a single team is something you don't see very much in baseball anymore, and especially not when you're talking about a lower tier club like the Padres. Had he chosen free agency, Gwynn could have easily become the highest paid player in baseball at the height of his career and enjoyed mega-stardom in New York, Los Angeles, or Boston. Instead, he stuck with the team that he'd started with and the fans that supported him, and there's something admirable about that. The one regret any baseball fan can have about Gwynn's career is the fact that his quest for a .400 batting average was cut short by a stupid and short-sighted players strike in 1994. Even if he had fallen just short when the end of September came around, it still would've been been something great to watch.