Brexit Takes A Big Step Forward With Win In Parliament For Boris Johnson
Boris Johnson's Brexit Plan scored a big win in Parliament, which makes a January 31st Brexit essentially inevitable.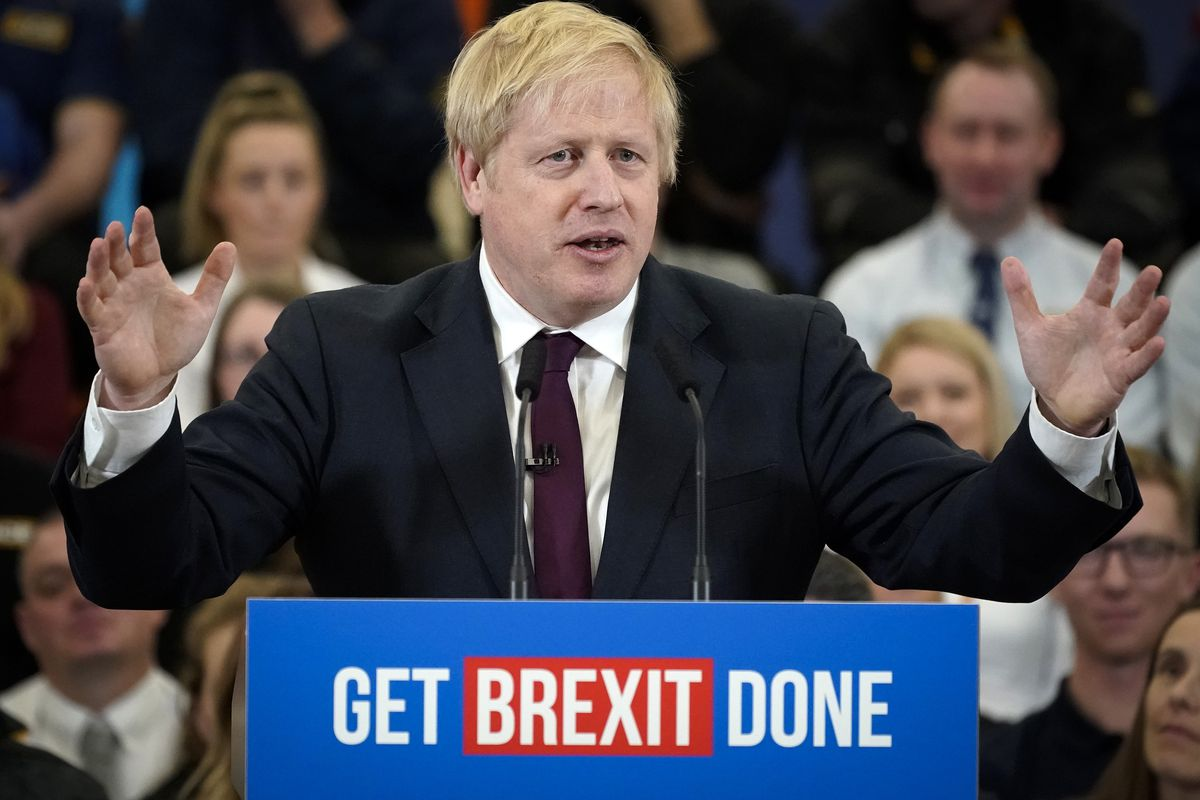 Fresh off a big win in the British elections last week and the State Opening of Parliament yesterday, British Prime Minister Boris Johnson scored his first big win in Parliament, and perhaps the biggest win of as Prime Minister to date, with a victory in the House of Commons for his Brexit plan:
LONDON — With a boisterous majority of Conservative lawmakers hooting and hurrahing behind him, Prime Minister Boris Johnson on Friday won Parliament's backing for his Brexit deal, allowing him to forge ahead with his promise that Britain will finally leave the European Union next month.

Johnson's Withdrawal Agreement Bill should take the country out of the E.U. by the end of January, after expected approval in the House of Lords and final ratification in the weeks ahead. Then comes an 11-month "transition period" — an ambitiously tight timeframe to allow Britain and the E.U. to hammer out trade, security, migration and other aspects of their new relationship.

While campaigning, Johnson often boasted that the withdrawal deal he secured with European leaders in October was "oven ready." On Friday, he urged lawmakers: "The oven is on. It is set at gas mark 4. We can have it done by lunch or late lunch."

The vote result, tallied in the early afternoon, was 358 to 234.

Gone, gone are the late-night crunch votes that confronted Johnson's predecessor as prime minister, Theresa May. Undermined, challenged and bucked by "remainers," Tory rebels and arch-Brexiteers in her own party, she had to face the ignominy of seeing her Brexit deal repeatedly voted down in Parliament.

(…)

But it is approximately 95 percent his predecessor's deal — with the exception that Johnson caved to European demands to find a way to protect at all cost a peace accord in Ireland.

Johnson did what May swore no British prime minister would do, which was to allow for a regulatory and customs border within the United Kingdom. In Johnson's deal, that new border runs down the Irish Sea.

No matter. Johnson now has the votes, and he does not need to kowtow to his former governing partners in the Democratic Unionist Party of Northern Ireland, who have complained the prime minister tossed them under the bus and that this deal endangers the union.

Opposition Labour Party leader Jeremy Corbyn called the deal "terrible" and said his side would not back it. "This deal is a road map for the reckless direction in which the government and the prime minister are determined to take the country," he said.

Corbyn charged that Johnson's vision for Brexit would be "used as a battering ram to drive us down the path of yet more deregulation and towards a toxic deal with Donald Trump."
More from The Guardian:
Britain has taken a pivotal step towards leaving the European Union as Boris Johnson was rewarded for the Conservatives' thumping general election victory with a majority of 124 for his Brexit deal in the House of Commons.

Addressing MPs on Friday morning, the prime minister sought to draw a line under three years of bitter parliamentary conflict, urging his colleagues to "discard the old labels of leave and remain".

After comfortably passing its second reading by 358 votes to 234, the withdrawal agreement bill is on track to complete its passage through both houses of parliament in time to allow Brexit to happen at the end of January.

Charles Michel, the president of the European council, welcomed the vote, tweeting that it was an "important step in the article 50 ratification process". He added: "A level playing field remains a must for any future relationship," referring to the EU's demand for fair competition in exchange for a free-trade agreement with zero tariffs and zero quotas.

Johnson claimed that pressing ahead with Brexit would "allow the warmth and natural affection that we all share with our European neighbours to find renewed expression in one great new national project of building a deep, special and democratically accountable partnership with those nations we are proud to call our closest friends".

If the next stages at Westminster go to plan, the European parliament is expected to ratify the withdrawal agreement on 29 January, paving the way for the UK to leave the bloc two days later.

Jeremy Corbyn said Labour would continue to oppose the government's Brexit deal, but six Labour MPs defied the party whip and voted with the government, and around 20 more deliberately abstained, including the shadow housing secretary, John Healey.

In a statement on his website published shortly after the vote, Healey said: "In a Brexit referendum and a Brexit election the public have now been clear, and so should Labour: our fight must be about the type of Brexit and the huge difference between Labour and Conservative visions of our economy. Any question about whether Brexit goes ahead has been closed
All of this comes at the end of a long and tumultuous year for the United Kingdom that has taken the nation through a series of political crises that brought down a Prime Minister and resulted in the political resurrection of a Conservative Party leader who had spent years on the outside of party politics. At the start of the year, British Prime Minister Theresa May quickly faced a political crisis when her own deal designed to complete Brexit by the end of March was rejected by a historic margin that included many of her own Conservative MPs, many of whom later tried unsuccessfully to remove her from office. Eventually, May's efforts to get Brexit done proved to be so difficult that the March deadline was pushed to April, and later to the end of October. By June, May was forced to recognize that she'd be unable to get any deal through the House of Commons, which caused her to step down as Conservative Party leader.
With the summer largely taken up with the campaign to succeed May, there was basically no progress on Brexit for much of the rest of the summer until Johnson was finally named party leader. At the start of his tenure, it looked as if Johnson might suffer the same fate as May as his own Brexit plan was rejected by Parliament. After that, the new Prime Minister attempted to push an October 31st Brexit through an extraordinary suspension of Parliament only to be rebuked by the House of Commons. Johnson's suspension of Parliament was subsequently declared illegal by the United Kingdom's Supreme Court. As a result, Johnson was handed a number of political defeats that resulted in his having to request yet another delay in Brexit with the restriction that there could be no "hard" no-deal Brexit without the consent of Parliament.
That's where the situation stood until Johnson called the latest election, which he hoped would lead to a big enough Conservative Party win to allow him to get his plan through. That's exactly what happened, of course, and now the nation is on course to leave the European Union on schedule by January 31st, 2020. That won't be the end of the process, of course. There will still be a trade deal to hammer out and the Irish border issue to officially resolve, but these matters will be much easier to resolve with this win behind him.
All of this will strengthen Johnson's political hand at least temporarily. He campaigned on getting Brexit done, and that's exactly what's going to happen. Whether this leads to the great future that Brexiteers promise remains to be seen, though, and in the end, Johnson's fate will be determined by the impact Brexit has on the United Kingdom. If the impact is largely positive then Johnson could go down as the most consequential Conservative Party Prime Minister since Margaret Thatcher. If the impact is negative then things could end up going badly for both Johnson and the Conservatives in the future. For now, though, this is a big win for Johnson.