Parliament Hands Boris Johnson Another Brexit Defeat
Rather than getting a final vote on his Brexit deal, Prime Minister Boris johnson suffered another defeat.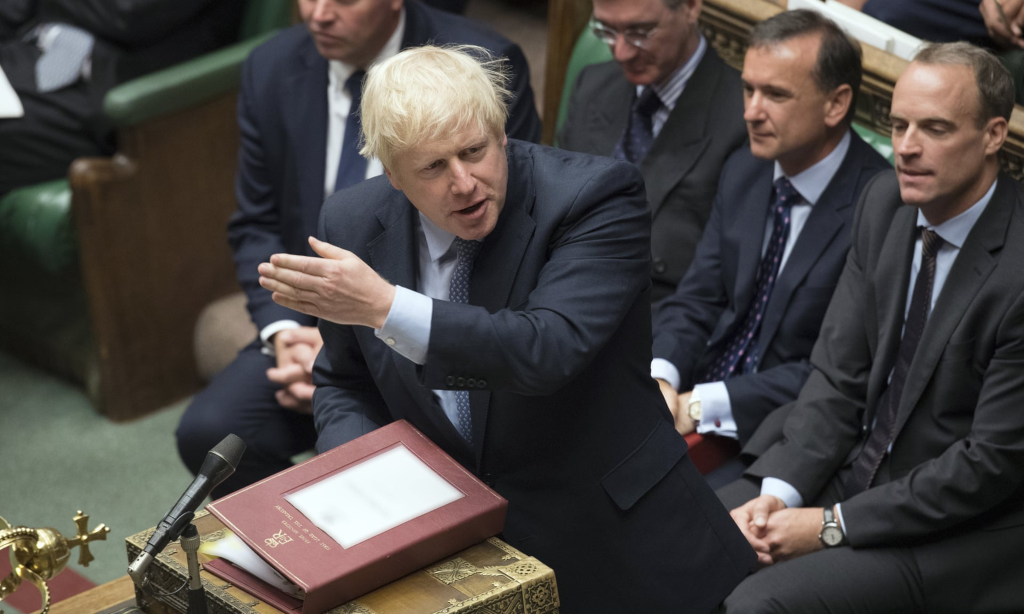 It was just two days ago that British Prime Minister Boris Johnson and European Commission President Jean-Claude Juncker announced that the United Kingdom and European Union had reached a new Brexit deal that would avoid a no-deal "hard Brexit" on October 31st. That deal was supposed to be voted on and ratified by the House of Commons today. Instead, Johnson's government suffered yet another defeat that delays a final Brexit vote and requires Johnson to seek an extension from the E.U.:
LONDON — Lawmakers voted to withhold support for Prime Minister Boris Johnson's new Brexit deal, scuppering his hopes to finalize Britain's exit plan at an extraordinary "Super Saturday" session in Parliament. The humiliating defeat, however, does not deal a fatal blow to the withdrawal agreement he negotiated in Brussels.

The successful amendment, from the Conservative Party rebel Oliver Letwin, was designed to box Johnson in — so he cannot force Britain to leave the European Union until lawmakers have scrutinized and passed all necessary legislation for an orderly exit.

Johnson's allies branded it a sneaky attempt by an obstreperous Parliament to defy the will of the people and gum up Britain's exit trajectory.

The vote was close: 322 in favor and 306 against.

It was an anti-climactic conclusion to a day that saw lawmakers gather on a Saturday for the first time in 37 years, since when Britain fought in the Falklands.

Johnson responded to the parliamentary beatdown with emphatic finger-jabbing. The prime minister insisted, "I'm not daunted or dismayed by this particular result." He vowed he would "not negotiate" a delay with the E.U. — which doesn't mean he won't ask for one.

Johnson warned the House of Commons that "further delay would be bad for this country, bad for our European Union and bad for democracy."

The prime minister said he would seek approval of his Brexit deal in the coming week. Number crunchers on Saturday said the outcome was too tight to call.

But according to legislation passed last month, if a deal has not been approved by 11 p.m. local time on Oct. 19, Johnson is required to formally seek a three-month extension beyond the Oct. 31 Brexit deadline, potentially pushing any departure into early 2020.

How — or when or if — Johnson requests a delay is now an unanswered question.

The leader of the opposition Labour Party, Jeremy Corbyn, said Johnson should "think very carefully" about defying a law passed by Parliament.
Scottish lawmaker Ian Blackford warned that if the prime minister "thinks he's above the law," he would find himself in court.

European leaders are sick and tired of Brexit talks, but almost certain to agree to a short extension to sort out the technicalities. Most E.U. policymakers already worried it would be impossible to get all the pieces of the split in place by the end of October. So a request to delay — which must be initiated by Johnson — would be pushing on an unlocked door

"If Johnson asks the European Union to grant an extension, it should be approved, since a modified agreement on the terms of withdrawal has been reached," Latvian Foreign Minister Edgars Rinkevics told Latvia's LETA news agency after Saturday's vote. "It is in everyone's interest that the Brexit is arranged in an orderly manner."

European leaders would probably move quickly to hit the Brexit pause button, although they had not yet decided whether they would need to meet in person to do so.
More from The Guardian:
MPs have inflicted a humiliating defeat on Boris Johnson by passing a backbench amendment withholding their support from his Brexit deal.

Instead of backing Johnson's agreement in a "meaningful vote", MPs passed an amendment tabled by a cross-party group of MPs led by Oliver Letwin by 322 votes to 306 – a majority of 16.

The prime minister said he was not "daunted or dismayed" by the defeat, and would press ahead with tabling Brexit legislation next week. MPs are likely to take the opportunity to table a string of amendments, including on trying to force a second referendum.

The move by cross-party MPs was aimed at forcing Johnson to comply with the terms of the Benn act, which obliges him to write to the EU to request a Brexit delay, if he had not won approval for his deal by 11pm.

But Johnson insisted: "I will not negotiate a delay with the EU, and neither does the law compel me to do so" – a claim that is likely to see him face a legal challenge.

The Labour leader, Jeremy Corbyn, said: "The prime minister must now comply with the law. He can no longer use the threat of a no-deal crash-out to blackmail MPs to support his sellout deal."

The clashes came during a historic Saturday sitting of parliament, during which the PM adopted an emollient tone as he implored MPs to throw their weight behind his deal.

"Let us come together as democrats behind this deal, the one proposition that fulfils the verdict of the majority but which also allows us to bring together the two halves of our hearts, to bring together the two halves of our nation," he urged them.

"Let us go for a deal that can heal this country and allow us all to express our legitimate desires for the deepest possible friendship and partnership with our neighbours. A deal that allows us to create a new shared destiny with them."

But the shadow Brexit secretary, Keir Starmer, vehemently rejected Johnson's arguments in a forensic speech highlighting the deal's differences with Theresa May's withdrawal agreement, including the absence of legal guarantees on workers' rights.

(…)

A spokeswoman for the European commission said it was up to the UK government to make the next move after the developments in the Commons.

She said: "The European commission takes note of the vote in the House of Commons today on the so-called Letwin amendment meaning that the withdrawal agreement itself was not put to vote today.

"It will be for the UK government to inform us about the next steps as soon as possible."

A spokesman for the European council president, Donald Tusk, declined to comment. Ambassadors for the EU27 will meet on Sunday morning to discuss the latest developments.

After being defeated on the amendment, the government and opposition agreed not to hold a vote on the amended motion, which Downing Street sources said they considered "meaningless".
This, of course, is only the latest in a round of defeats that Johnson has suffered with respect to Brexit since he became Prime Minister. It began at the end of August with the new Prime Minister seemingly calling his opponents bluff by persuading Queen Elizabeth II to suspend Parliament for an unusually long five weeks, a move that was essentially designed to prevent any legislative moves to block a no-deal Brexit at the end of October. Not surprisingly this was not well-received either by the general public or by members of Parliament, including members of Johnson's own party. When Parliament returned in the middle of the month, it struck back at Johnson by causing him to suffer a string of legislative defeats, including the passage of legislation that would bar a no-deal Brexit at the end of October and blocking his efforts to call a snap election that would have taken place immediately before the October 31st Brexit deadline. Additionally, Johnson suffered defections from within his own party, with several Tory members crossing the aisle to sit with the anti-Brexit Liberal Democrats.
Ultimately, of course, Parliament was suspended as Johnson wanted, but that wasn't the end of his problems. Opponents took to the courts to stop what they contended was an illegitimate and illegal suspension. While the courts in England and Northern Ireland upheld the suspension, the Scottish High Court said the suspension was illegal and implicitly found that Johnson had misrepresented the reasons for the suspension to Queen Elizabeth when he sought Royal Assent for the move. At the start of this week, of course, the Supreme Court of the United Kingdom agreed with their brethren in Scotland and held the suspension to be illegal. 
Under the terms of the amendment that passed Parliament this afternoon, Johnson is obligated to take steps necessary to ensure that there will not be a hard no-deal Brexit on October 31st.
First, he must request an extension of the current deadline from the European Union. Previously, the E.U.'s chief negotiator had said that there would be no extensions but even at the time this was believed to have been mostly an attempt to force Parliament to act on the deal as soon as possible. With that possibility now out of the question and the deadline getting closer and closer, most observers seem to agree that the E.U. will agree to a "short" extension, most likely to January 31st, to give Johnson the time he needs to get a deal approved. As noted, Johnson has said that he will not negotiate a new delay, but given the fact that he's already being threatened with court action if he does that, and that it seems likely he'd end up on the losing end of such legal action, it seems unlikely he'll follow through on that threat.
In addition, Johnson is required to submit a legislative package that would pass the law(s) necessary to implement the deal that he negotiated. At least in theory, that package of bills is supposed to be submitted to Parliament as early as Tuesday, which would allow for a vote on Tuesday. Another alternative is that the government could try to resubmit the vote that was supposed to take place today. Speaker of the House of Commons Jon Bercow is set to rule on that issue on Monday. So, stay tuned.