Parliament Defies Boris Johnson On Brexit
The House of Commons handed Prime Minister Boris Johnson a huge loss yesterday, throwing the short-term future of Brexit into doubt.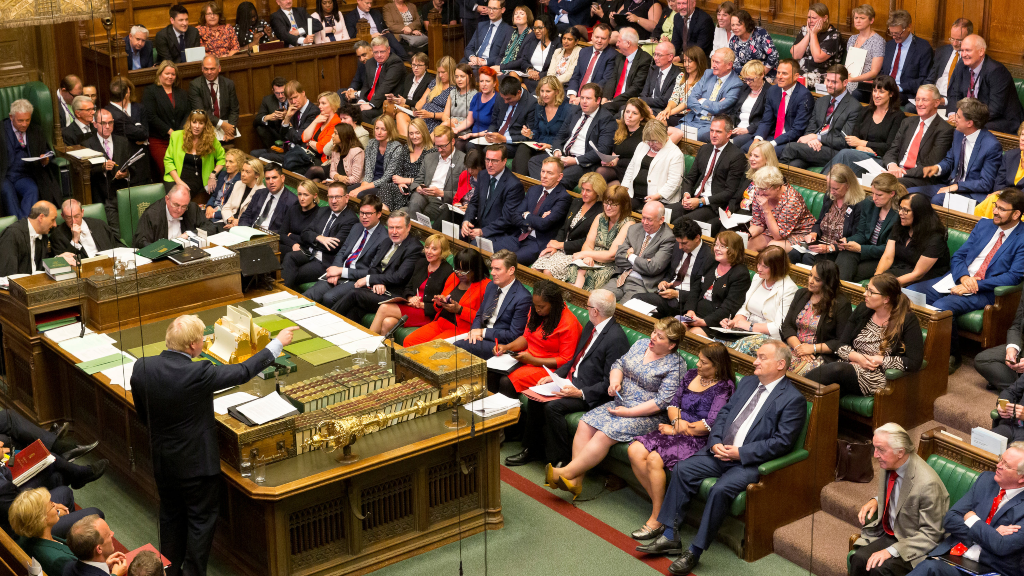 Over the weekend I noted that British Members of Parliament opposing Prime Minister Boris Johnson's plan to suspend Parliament and force the nation through a hard, no-deal, Brexit at the end of October faced a narrow window of opportunity to succeed. Essentially what they needed was for everything to go right for them and everything to go wrong for Prime Minister Johnson. As it turned out, that's exactly what happened:
LONDON — British lawmakers on Tuesday rose up against Prime Minister Boris Johnson, moving to prevent him from taking the country out of the European Union without a formal agreement. The epic showdown pushed Britain to the verge of a new election.

After losing his first-ever vote as prime minister, Mr. Johnson stood up in Parliament and said he intended to present a formal request for a snap general election to lawmakers, who would have to approve it.

A little over a month ago, Mr. Johnson, a brash, blustery politician often compared to President Trump, swept into office with a vow to finally wrest Britain from the European Union by whatever means necessary, even if it meant a disorderly, no-deal departure.

Now, Parliament has pulled the rug out from under him, and Mr. Johnson is at risk of falling into the same Brexit quagmire that dragged down his predecessor as prime minister, Theresa May.

The lawmakers forced his hand by voting by 328 to 301 to take control of Parliament away from the government and vote on legislation as soon as Wednesday that would block the prime minister from making good on his threat of a no-deal Brexit.

That prompted an angry response from the prime minister.

"I don't want an election, the public don't want an election, but if the House votes for this bill tomorrow, the public will have to choose who goes to Brussels on Oct. 17 to sort this out and take this country forward," Mr. Johnson said, referring to the next European Union summit.

Tuesday was a critical moment in Britain's tortured, three-year effort to extract itself from the European Union. The saga has divided Britons, torn apart the ruling Conservative Party and prompted complaints that Mr. Johnson has trampled the conventions of the country's unwritten constitution.

A majority of lawmakers are determined to block a withdrawal from the European Union without a deal, which they believe would be disastrous for the country's economy. Tuesday's vote suggested they have the numbers to succeed.

Mr. Johnson's aides had made clear that, in the event of a defeat on Tuesday, he would seek a general election on Oct. 14 — just a little over two weeks before the Brexit deadline of Oct. 31.

In his rebuttal to Mr. Johnson's call for elections, the opposition leader, Jeremy Corbyn, said he would agree to an election only after Parliament passed legislation barring a no-deal Brexit. The House of Commons is expected to approve the measure on Wednesday.

Tuesday's vote marked a moment when Mr. Johnson's hardball tactics, for once, were met with equal resistance.

On a day of high drama, Mr. Johnson lost his working majority in Parliament even before the vote took place, when one Conservative rebel, Phillip Lee, quit the party to join the Liberal Democrats, who have managed to stage a resurgence by positioning themselves as an unambiguously anti-Brexit party.

The practical effect of Mr. Lee's defection for Mr. Johnson was limited, however, because the government would fall only if it were defeated in a confidence motion.

But in a moment weighty with symbolism, Mr. Lee walked across the floor of the House of Commons and sat beside Jo Swinson, the leader of the Liberal Democrats, as the prime minister was speaking about the recent Group of 7 summit. Mr. Lee accused Mr. Johnson of pursuing a damaging withdrawal from the European Union in unprincipled ways, and of "putting lives and livelihoods at risk."

Mr. Lee's break with the Tories was most likely just the first of many.
On Tuesday night, Downing Street began pressing ahead with plans to discipline those rebels who voted against the government, moving to expel them from the Conservative Party. Those who defied the government included two former chancellors of the Exchequer, Philip Hammond and Kenneth Clarke, and Nicholas Soames, the grandson of Winston Churchill.

That could threaten Mr. Johnson's ability to manage day-to-day business in Parliament, underscoring the need for a new election.

The extent of the Tory civil war was on full display as several of Mr. Johnson's Conservative critics, including Mr. Hammond, lobbed hostile questions at him, making it plain that they had not been brought back into line by threats of expulsion from the party.

Opponents of a no-deal Brexit argue that leaving the block without a deal — as Mr. Johnson has promised to do, if no agreement is reached — would be catastrophic for the British economy. Many experts say it could lead to shortages of food, fuel and medicine, and wreak havoc on parts of the manufacturing sector that rely on the seamless flow of goods across the English Channel. Leaked government reports paint a bleak picture of what it might look like.

Mr. Johnson says he needs to keep the no-deal option on the table to give him leverage in talks in Brussels, because an abrupt exitwould also damage continental economies, if not as much as Britain's. The prime minister appealed to his own lawmakers not to support what he called

"Jeremy Corbyn's surrender bill," a reference to the leader of the opposition Labour Party.

"It means running up the white flag," he said.
More from The Washington Post:'
LONDON — British Prime Minister Boris Johnson suffered a devastating loss Tuesday on his first key Brexit vote, setting up a legislative battle Wednesday that could lead to a snap general election.

A rough day for Johnson, when 21 members of his own Conservative Party joined opposition lawmakers to take control of the parliamentary agenda and force a vote on a Brexit delay, concluded with the prime minister introducing a bill seeking a general election. He suggested he would seek action on that election bill if Parliament votes Wednesday to postpone Brexit by three more months.

"Parliament is on the brink of wrecking any deal we might be able to strike in Brussels," Johnson said. "Because tomorrow's bill would hand control of the negotiations to the E.U. And that would mean more dither, more delay, more confusion."

While denying that he wanted an election, the prime minister added, "If the House votes for this bill tomorrow, the public will have to choose who goes to Brussels on October 17 to sort this out." That is the date British and European Union officials are scheduled to meet next.

Johnson was selected as leader of Britain in July through a vote involving only dues-paying members of his party. A general election — putting all seats in the House of Commons up for a vote — could either sink his government or give him a popular mandate for his promise to leave the E.U. by Halloween, "do or die."

The prime minister would need the support of two-thirds of Parliament to schedule an election, which could happen as soon as Oct. 14. It would be Britain's third general election in five years.

Opposition Labour Party leader Jeremy Corbyn said his party was prepared to fight an election, but he first wanted Parliament to pass the delay bill and ensure that Britain won't abruptly crash out of the E.U. in October without a deal to manage the withdrawal.

"Tonight we defeated Boris Johnson in his first Commons test and tomorrow we will legislate against his disastrous No Deal plans," Corbyn tweeted.

Analysts say a "no-deal" Brexit could be economically damaging and lead to food and medicine shortages in Britain. Johnson has dismissed those predictions as fearmongering.

Johnson lost Tuesday's procedural vote, 328 to 301. That capped a humiliating day for the prime minister, who was appearing before Parliament for only the second time since taking Britain's top job. He was heckled mercilessly as he defended his hard-line Brexit stand.

He noted that Tuesday was the 80th anniversary of Britain's entrance into World War II and said, "This country still stands then as now for democracy, for the rule of law." He was met with jeers.

He insisted that Britain was making progress in talks with E.U. leaders about an orderly Brexit, which drew more mocking laughter.

As Johnson spoke, Conservative lawmaker Phillip Lee dramatically crossed the chamber to defect to the Liberal Democrats, explaining in a statement that Johnson's party had become "infected with the twin diseases of populism and English nationalism."

Lee's theatrical move stripped Johnson of his single-vote working majority in the House of Commons, making it all but impossible for him to enact legislation and increasing his incentive to ask the nation's voters for a mandate.
Johnson's ideal outcome at this point would be to keep the October 31st deadline, and the threat of a hard Brexit, in place and call elections that would take place roughly two weeks before the deadline. As things stand, though, it seems difficult to see how he's going to be able to pull that off. Under the terms of 2011's Fixed Terms Parliament Act, though, a snap election can only be called if the sitting government gets the consent of two-thirds of the House of Commons. This, of course, would require not just that Johnson's Tories support the deal, but that he get sufficient support for the call from the Liberal Democrats and/or other parties, including Labour, the Scottish National Party, and the Northern Ireland parties. Jeremy Corbyn, the current Labour leader, has made it clear that his party will not support an early elections bill without passage of superseding legislation that would prevent a no-deal Brexit at the end of October and which would seek another extension of time from the European Union, preferably to the end of January.
What all of this means, of course, is that Johnson is basically at the mercy of a Parliament that he cannot control. In the end, he has nobody to blame for this but himself. His insistence on a hard Brexit is apparently widely unpopular even among members of his own party and his effort to suspend Parliament to prevent a democratic debate on an issue that will impact the United Kingdom for years to come is even more unpopular. That's the reason he finds himself in the position he's in, why he's likely to lose this standoff, and why he may not be Prime Minister for nearly as long as he thought he would be when this all started.