Theresa May To Step Down As Conservative Party Leader On June 7th
Theresa May has announced she is stepping down as leader of the Conservative Party as of June 7th, starting a process that will have her out of Downing Street withing the next two months or so.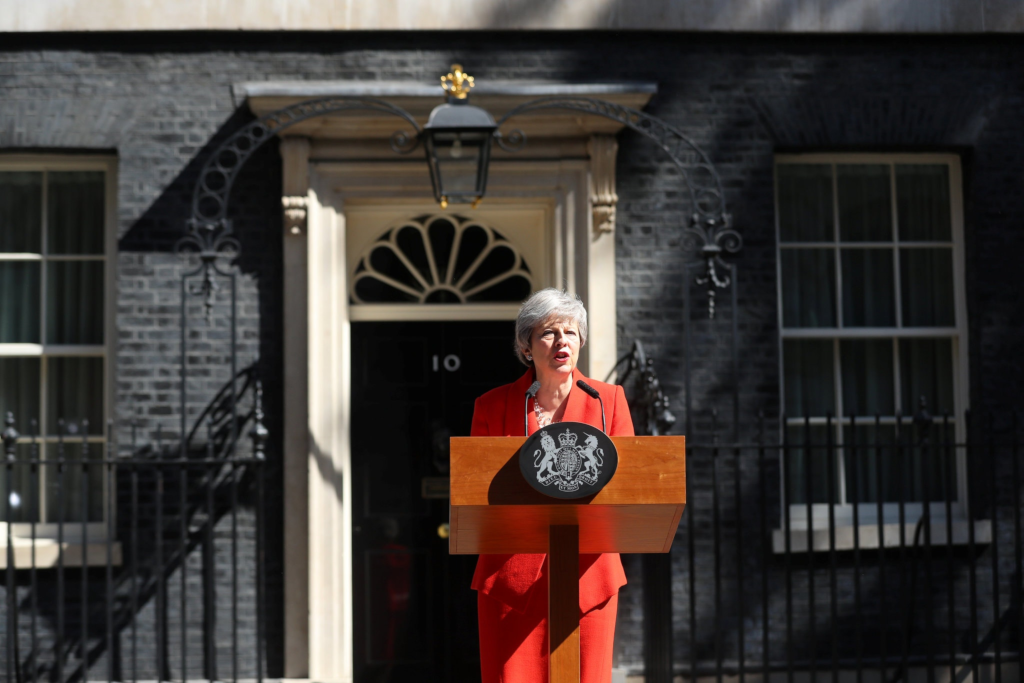 Theresa May, who became leader of the United Kingdom's Conservative Party in the wake of the vote approving the nation's exit from the European Union and who has spent the majority of her time in office trying to steer the nation toward 'Brexit,' has announced that she will step down as Conservative Party leader on June 7th, meaning that we will see a new British Prime Minister within the next several weeks:
Facing a cabinet rebellion, Theresa May announced on Friday morning her decision to leave office. She spoke briefly after meeting with Graham Brady, a powerful leader of backbench Conservative lawmakers.

Standing in front of 10 Downing Street, Mrs. May said it was in the "best interests of the country for a new prime minister" to lead Britain through the Brexit process. She announced plans to step down as the leader of the Conservative Party on June 7, with the process to replace her beginning the following week.

"I feel as certain today as I did three years ago that in a democracy, if you give people a choice you have a duty to implement what they decide. I have done my best to do that," she added. "I have done everything I can to convince MPs to back that deal. Sadly, I have not been able to do so."

Mrs. May's voice cracked as she said she was honored to serve the country as the "second female prime minister, but certainly not the last," and said the role had been the honor of her life.

Conservative lawmakers have been deeply frustrated by Mrs. May's failure to deliver on Brexit, which became the government's central — some would say its sole — preoccupation after the country voted to leave the union in a 2016 referendum.


But the breaking point has come at an awkward moment, with President Trump scheduled to arrive in Britain on June 3 for a state visit and to take part in events to commemorate the 75th anniversary of the D-Day landings that preceded the end of World War II.


Mrs. May's ability to soak up political punishment and plow on regardless won her admiration, even from some of her many critics. But the pressure on her increased after disastrous local election results this month, when the Conservatives lost more than 1,300 seats in municipalities around the country and voters vented their frustration over the Brexit infighting and deadlock.


Then, the government announced that Britain would, after all, take part in elections to the European Parliament this week — another symbol of Mrs. May's failure to achieve a withdrawal. Britons voted on Thursday, but the results will be announced on Sunday, after all the European Union countries have gone to the polls. They are expected to be catastrophic for the Conservatives.
More from The Guardian:
Theresa May has bowed to intense pressure from her own party and named 7 June as the day she will step aside as Conservative leader, drawing her turbulent three-year premiership to a close.

Speaking in Downing Street, May said it had been "the honour of my life" to serve as Britain's second female prime minister. Her voice breaking, she said she would leave "with no ill will, but with enormous and enduring gratitude to have had the opportunity to serve the country I love".

The prime minister listed a series of what she said were her government's achievements, including tackling the deficit, reducing unemployment and boosting funding for mental health.


But she admitted: "It is and will always remain a matter of deep regret to me that I have not been able to deliver Brexit."

May's announcement came after a meeting with Graham Brady, the chair of the backbench Tory 1922 Committee, which was prepared to trigger a second vote of no confidence in her leadership if she refused to resign.


Her fate was sealed after a 10-point "new Brexit deal", announced in a speech on Tuesday, infuriated Tory backbenchers and many of her own cabinet – while falling flat with the Labour MPs it was meant to persuade.


The leader of the House of Commons, Andrea Leadsom, resigned on Wednesday, rather than present the Brexit bill to parliament.


A string of other cabinet ministers had also expressed concerns, including Sajid Javid, Jeremy Hunt, Chris Grayling and David Mundell.


In particular, they rejected May's promise to give MPs a vote on a second referendum as the Brexit bill passed through parliament, and implement the result – which they felt came too close to endorsing the idea.

The prime minister will remain in Downing Street, to shoulder the blame for what are expected to be dire results for her party from Thursday's European elections – and to host Donald Trump when he visits.

The 1922 Committee will set out the terms of a leadership contest, to kick off on 7 June, which is expected to last perhaps six weeks.

(…)

May's departure came after three years of wrangling with Brexiters on her own backbenches about what future relationship with the European Union they would be prepared to accept.


That became considerably more difficult when she lost her majority at the 2017 general election, after spearheading what was widely regarded as a disastrous campaign, promising "strong and stable leadership in the national interest".

Brexit is likely to dominate the race to succeed May, with time increasingly tight for a new team to set out any new direction before the deadline of 31 October for Britain's departure from the EU.


May's longtime friend Damian Green, the former first secretary of state, defended her record on Friday.


He said: "All prime ministers, in the end, take responsibility for what happens on their watch, but I think that it's undeniable that suddenly and unexpectedly becoming prime minister after the seismic shock of the Brexit referendum meant that she was dealt an extremely difficult hand to play. And the truth is that having an election a year later, which cut the Conservative party's majority, then [made it] impossible."
This is all the end result of a process that began shortly after May became Prime Minister nearly three years ago and committed herself to accomplish the goal of guiding the United Kingdom out of the European Union. While that may have seemed like a straightforward goal, the actual execution has proven to be far more difficult, and it's unclear exactly where the United Kingdom is headed regardless of who the Prime Minister ends up being after the Conservative Party goes through its second leadership fight since 2016.
All of this comes just a few months after the House of Commons, in a historic rebuke of a sitting government, rejected the May government's Brexit proposal, a development which has put the entire Brexit process in doubt and raising the possibility of a so-called "hard Brexit" in which they would be no withdrawal deal at all. Since then May has apparently struggled to come up with changes to the plan that she and her negotiators had reached with the European Union's negotiators that will pass the House of Commons and, so far at least, it does not appear that there's been any progress at all. Instead, it appears that May has been dividing her time between trying to get additional concessions from the E.U. and trying to find a way to close the massive gap in votes that she faced in the House of Commons back in January. In neither case does she seem to be making any significant progress. Indeed, her resignation announcement today comes just a few days after it was announced that she had withdrawn a plan to present a new proposal to Parliament early next month went it became clear that there was not sufficient support for that plan.
What all this means is hard to say, but for the moment at least it is unlikely to impact either the ongoing Brexit negotiations or the inevitability of the United Kingdom's exit from the European Union. Both the British government and the European Union have made clear that once the United Kingdom pulled the trigger on formally withdrawing from the European Union that there would be no walking away from the process and that it really wouldn't be possible for Britain to take back its decision to leave the Union. That process began on March 29, 2017, when Prime Minister Thersa May invoked the provisions of Article 50 of the European Union treaty. At that point, the two-year clock started ticking and, at least for now, the formalization of the exit was to have been completed by March 29th, 2019. That date, of course, has been postponed. Originally that new deadline was supposed to have been roughly six weeks ago, but it has since been punted even further down the road to October 31st.
It's still unclear what the terms of that exit will look like, and there have been several months of political turmoil in London as Prime Minister May tries to come up with a deal that her own party will accept, which is proving to be exceedingly difficult. Additionally, there really isn't any mechanism in British law for the decision to be reversed even it if were possible under the treaty. The law that authorized the government to go ahead with the referendum doesn't contemplate any kind of a second vote that would attempt to reaffirm or overturn the results of the vote, and as previous polling has noted the British public seems to accept the reality that Brexit will happen regardless of what the terms of the final agreement or what the consequences for the United Kingdom might end up being.
Before we get to that point, though, the Conservative Party will need to select a new leader who will replace May as Prime Minister. The Guardian has a fairly good rundown of the leading contenders to replace May, but the leading candidate appears to be Boris Johnson, the former Mayor of London and British Foreign Secretary who has been angling behind the scenes for a shot at becoming Prime Minister for several years now. In any case, after the candidates come forward the Tory members of Parliament will vote among themselves and the top two candidates that come from that process will be presented to the members of the Conservative Party, who will vote in a process that could take up to six weeks. In the meantime, May will stay in place as a caretaker Prime Minister but her ability to govern will be limited given her lame duck status. The new Prime Minister will take office pretty much immediately after the conclusion of the Tory leadership election.
When the history is written, it's unlikely that May will receive many laudatory evaluations. Other than her failure to bring the Brexit process to a conclusion, May has accomplished little of note and, indeed, managed to make her party's political situation more difficult when she called snap elections in 2017 that ended up resulting in a loss of power that required her to enter into a power-sharing agreement with the Northern Ireland-based Democratic Unionist Party. It's also worth noting that May is the fourth Conservative Prime Minister to be brought down by issues dealing with the United Kingdom's relationship with Europe. To a large degree, both Margaret Thatcher and John Major were brought down by internal disputes in the Conservative Party regarding Europe. Meanwhile, David Cameron was brought down by the outcome of the Brexit Referendum. Whether the next Prime Minister, whether its Boris Johnson or someone else, is able to avoid that fate is something only time will tell.