Theresa May Set To Become Next British Prime Minister On Wednesday
A quick succession of events this morning means that Theresa May will become Britain's Prime Minister far sooner than anticipated.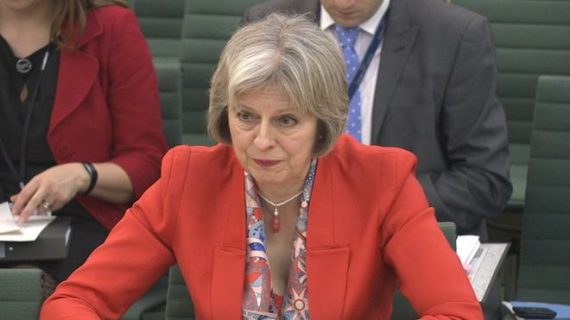 The contest to become the next leader of the Conservative Party, and thus the next Prime Minister of the United Kingdom, came to an abrupt end today after a series of events that unfolded in rapid succession over the course of a few hours. First Andrea Leadsom, one of the two women who were fighting for the position announced that she was withdrawing from the race. In her announcement, Leadsom said that she had determined that she lacked support in the party to sustain a realistic bid and was thus resigning for the good of the party. In reality, Leadsom had been under fire all weekend after remarks in which she seemed to claim that the fact that she was a mother made her more qualified than her rival, Home Secretary Theresa May, remarks for which she soon found she had to apologize, but the damage had already been done. In the immediate hours after Leadsom's withdrawal it was unclear whether this would mean that May would immediately become party leader and Prime Minister, or whether one of the other candidates who had not made it out of the first round of voting would take Leadsom's place. That question was answered when those other candidates began issuing statements saying that they would get behind May's leadership bid and by the announcement from Prime Minister David Camerson that he would make his resignation official on Wednesday at which point May would take over as leader of the Conservative Party's majority in Parliament and, presumably, receive the necessary permissions from Queen Elizabeth II to form a government, although this last step is generally just a formality:
LONDON — Theresa May, a relative moderate who has served for the last six years as home secretary, suddenly emerged victorious on Monday in the race to succeed David Cameron as Britain's prime minister, bringing to an accelerated conclusion a political drama set off by the nation's vote to leave the European Union.

Mr. Cameron said that the transfer of power would be completed by Wednesday evening. Ms. May would be the second woman to lead Britain, after Margaret Thatcher, who served as prime minister from 1979 until 1990.

In another day of fast-paced developments, Ms. May's only rival to become leader of the Conservative Party and successor to Mr. Cameron, Andrea Leadsom, abruptly pulled out of the contest, saying she did not have sufficient support from the party's members of Parliament.

Ms. Leadsom withdrew after a weekend in which her candidacy was all but consumed by remarks she made in an interview suggesting that she was better qualified because she is a mother, which Ms. May is not.

Conservative leaders quickly coalesced around Ms. May, ruling out the possibility of reopening the race to give the party's rank-and-file members a choice. Graham Brady, chairman of the 1922 committee of Conservative lawmakers, which sets the rules for party leadership contests, said that there was "no need to rerun the election," and that Ms. May was now the only candidate.

There appeared to be no hurdles to her ascension, especially after the two most prominent Conservatives behind the victory of the campaign to leave the European Union — Boris Johnson and Michael Gove — signaled their support for her.

Ms. May, 59, is now set to take over at a time of immense upheaval for Britain. The nation must not only negotiate its withdrawal from the European Union, a process fraught with economic and political risks, but it must also hold itself together amid a clamor from Scotland for independence. Early signs are that Britain's economy has already taken a substantial hit from the exit vote, or "Brexit."

"The economy and businesses in UK and around the world need certainty so it is in everyone's interest Theresa takes over as PM in coming days," George Osborne, the chancellor of the Exchequer, wrote on Twitter.

Hours before Ms. Leadsom, the 53-year-old energy minister, announced her decision to leave the race, Ms. May, who had supported remaining in the European Union, set out her governing vision in a speech in Birmingham.

She indicated that there would be no reconsideration of the vote to leave the bloc, and that her priority would be reclaiming greater power for Britain to control immigration, even if it meant sacrificing access to the Continent's single market for goods and services.

But she also presented herself as a "one nation" Conservative who would seek to address the needs of the poor and of minorities. She called for greater worker participation on corporate boards, and she suggested that there had to be limits to tax cuts if society was to meet the needs of all of its people.
Thus, May will end up in office some two months earlier than she otherwise would have, which is likely a good thing for her given the full plate she will have upon taking office. In addition to all of the ordinary duties of the Prime Minister and the legislation that must be passed in the regular course of business, May will immediately be forced to deal with the practical issues and other impact from last months Brexit vote, which she has pledged to respect going forward even though she was a supporter of the 'Remain' side of the argument. This impact includes the potential damage to the British economy that many believe will be inevitable as Great Britain seeks to untangle itself from the European Union. Assuming that she can keep her majority together through 2020, May will also be forced to deal with many of the political consequences of this vote, including the possibility of another bid for a Scottish Independence Referendum as well as moves by Northern Ireland for greater autonomy of its own in the wake of the decision in a vote largely dominated by English voters to cut ties with the Eur open Union. Finally, May and her fellow Cabinet members will have to find a way to define the future of a Great Britain that is in Europe but not a part of Europe, including the renegotiation of international trade and other agreements to replace those trade relationships lost with the exit from the E.U. It's going to be a tough job all around, and all eyes will be on May to deliver on her promises.