Theresa May Survives No-Confidence Vote But The Future Remains Unclear
Theresa May survived the Labour Party's call for a no-confidence vote, but the future for her and for her country remain as hazy as ever.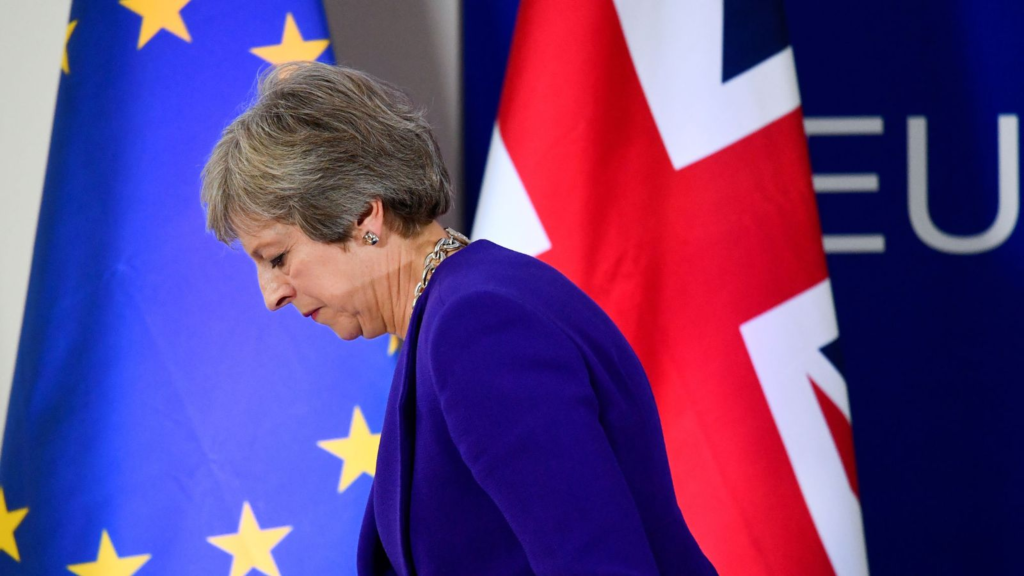 As expected, British Prime Minister Theresa May has survived today's no-confidence vote, but that still leaves unresolved both the future of Brexit and her own political future:
LONDON — Prime Minister Theresa May narrowly survived a vote of no-confidence in Parliament on Wednesday, but the result did little to quell the turmoil gripping the British government over her plan for leaving the European Union, coming a day after she suffered a historic defeat on the blueprint.

The House of Commons voted 325 to 306 to reject an opposition motion of no confidence. If successful, it almost certainly would have ousted her from power and probably would have forced a general election, adding still more layers of uncertainty in a country fast approaching the March 29 date for leaving the bloc — yet unable to agree on how to do so.

On Tuesday, Parliament dealt Mrs. May a crushing defeat, voting 432 to 202 to reject her painstakingly negotiated agreement with Brussels for leaving the European Union, or Brexit — by far the biggest losing margin for a government on a major issue in modern times.

Yet, a day later, more than 100 lawmakers from Mrs. May's own Conservative Party who had opposed her Brexit bill voted to support her government, as did legislators from the Democratic Unionist Party in Northern Ireland who also hate Mrs. May's plan.

The head-snapping sequence of events leaves Mrs. May — the leader of an intractably divided party, with a split cabinet, no parliamentary majority and no clear path forward on Brexit — more politically wounded than ever, yet somehow still standing.

Ordinarily, a prime minister would be expected to resign after suffering a big defeat on a signature bill, but Brexit has rewritten the rules of British politics. And once again, Mrs. May, who has defied many predictions of her political demise, lived to fight another day.

Her ability to soak up political punishment and survive is an acute frustration to Jeremy Corbyn, leader of the opposition Labour Party, who began the no-confidence motion by reminding lawmakers that Tuesday's vote was "the largest defeat in the history of our democracy," adding that Mrs. May was leading a "zombie government."

Ian Blackford, the leader of the Scottish National Party's lawmakers at Westminster, accused the prime minister of presiding over a "political collapse," adding that, in its pursuit of Brexit, the country was "on a path to self-destruction."

But with the no-confidence motion having failed, attention will turn rapidly to whether Mrs. May has a credible Plan B for Brexit. After surviving the vote, Mrs. May said that she would invite opposition party leaders to talks about Brexit. Mr. Corbyn called for her to first rule out the option of leaving the European Union without any agreement.

Earlier, the prime minister had vowed to somehow forge a deal that could win passage, yet when pressed she declined repeatedly to offer any specifics about what might change.

Nonetheless, there is growing speculation that she could seek a postponement of the March 29 deadline for Brexit, and suggestions that she will ultimately have to compromise with Labour lawmakers who want to keep a permanent customs union with the European bloc.

In a call with business leaders on Tuesday evening, the chancellor of the Exchequer, Philip Hammond, tried to reassure them that Britain could avoid a disorderly departure without any agreement, and raised the possibility of an extension to the negotiating period under Article 50 of the European Union's treaty.

On Wednesday Mrs. May was careful not to rule out the prospect of extending the negotiating period, but noted that the bloc would agree on such a course only if "it was clear there was a plan that was moving toward an agreed deal."

And while Mrs. May insisted that any Brexit plan must allow Britain to have its own trade policy, something that is impossible inside a customs union, the justice secretary, David Gauke, described that policy as "our starting point" and told Sky News, "I don't think it's a question of being boxed in."

On Monday, Mrs. May is required to return to Parliament with proposals on how she intends to proceed, and that will give lawmakers the opportunity to add alternative suggestions — ranging from a customs union or a second referendum to a no-deal departure. Those could be voted on next week, giving some indication of whether there is any sign of a growing consensus among lawmakers.

The risk for Mrs. May is that, if she fails to move fast enough, she could lose control of Brexit to a newly emboldened Parliament.
As I noted this morning, this outcome is hardly a surprise given the fact that there was little chance that May would see members of her own party defect to express no confidence in the confidence, a vote that would set in motion a process that could have resulted in their party losing power or in new elections that would have an uncertain outcome given the current state of British politics. Additionally, May had received assurances from Tory's partner in government, the Democratic Union Party from Northern Ireland, that it would continue to support May in no-confidence votes. Given the party unity and the support of the D.U.P., there was no way that May would lose the vote today, and that essentially means that she'll stay in power notwithstanding that she had just suffered what appears to have been the worst Parliamentary defeat of any government in British history. The damage, however, is done.
Even with this victory, it's unclear where things stand from here and how May can possibly forward with successfully. As previously noted, she has until Monday to present Parliament with an alternative plan or plans for resolving the Brexit issue and, while she does not need to get approval for these proposals from E.U. officials, the question of whether any of them have a chance of being accepted will loom over any subsequent debate. As I've noted, the chief E.U. negotiators have already said after yesterday's vote that there is very little room for movement on the current deal, so it's unclear what May can ask for that might actually be acceptable if and when she takes it to the negotiating table. The same thing can be said about the MPs who voted against the existing deal.
That being said there are a number of alternatives that May could propose. These include amendments to the current deal, the outlines of entirely new proposals that would effectively replace the existing deal, an extension of the current March 29th Brexit deadline, a second referendum that could potentially lead to a victory for "Remain" that would obviate the need for a Brexit deal, and a "hard," no-deal Brexit. As I've noted before, the last alternative is generally considered the worse of all possible worlds but it may end up becoming reality if May is unable to get agreement from Parliament regarding how to proceed forward.