Brittney Griner is Gay and No One Cares
Prominent female athletes have been able to be openly gay for decades. Why can't their male counterparts?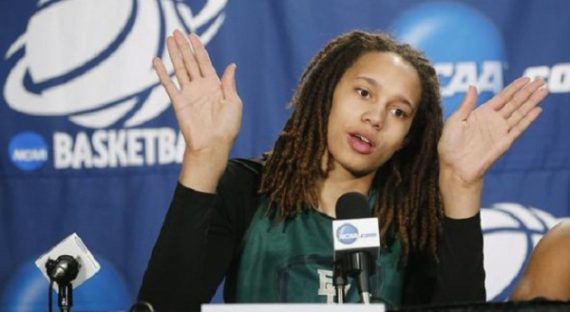 Brittney Griner, just picked first overall in the WNBA draft, nonchalantly mentions that she's a lesbian. Why are female athletes able to do so without controversy but not males?
ESPN ("Brittney Griner discusses being gay"):
Brittney Griner, the No. 1 pick in Monday's WNBA draft, acknowledged Wednesday in interviews that she is gay.

Griner, a 6-foot-8, three-time All-America center during an illustrious career at Baylor, said she has previously talked about her sexuality, but this appears to be the first time she's discussed the matter publicly.

In a group interview with SI.com that included Elena Delle Donne and Skylar Diggins, the Nos. 2 and 3 picks in Monday's WNBA draft, the players were asked, in women's sports as opposed to men's, why athletes coming out is accepted.

"I really couldn't give an answer on why that's so different," Griner told SI.com. "Being one that's out, it's just being who you are. Again, like I said, just be who you are."
Part of the answer is the intermixture of sexuality and gender are different. We're just barely at the point where extreme athletic prowess—especially in a body that's unusually tall or muscular—in a women is compatible with general notions of femininity. Indeed, not all that long ago, women who were particularly strong and engaged in traditionally male activities like basketball were presumed to be lesbians. Conversely, while our notions have thankfully evolved tremendously, there's still a widespread notion that gay males are less than manly. And, of course, male athletes are considered the height of masculinity. So, there's a paradox at work for male athletes that doesn't exist for their female counterparts.
UPDATE: Robert Harkin observes that I've neglected to mention that "nobody cares about women's sports." While overstated for humorous effect, that's actually almost certainly a part of the explanation. The WNBA wouldn't exist if the free market were operating on its own; it's managed to exist solely based on subsidy from the NBA. Then again, women's tennis is wildly popular—often, moreso than the men's game—and there have been prominent open lesbian players going back at least as far as Billie Jean King.