Charles "CQ" Brown Confirmed as Joint Chiefs Chairman
The Senate is voting one-by-one in the face of the Tuberville hold on top nominees.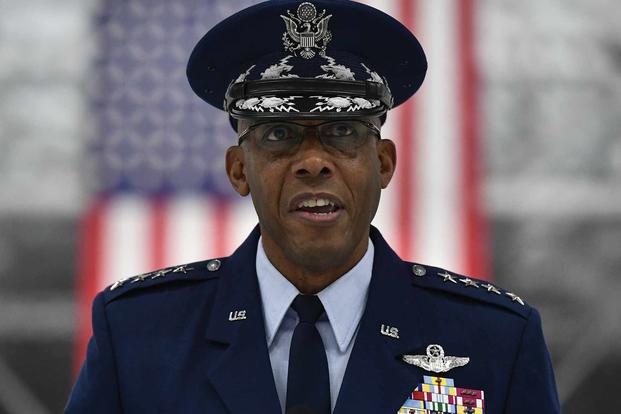 WaPo ("Senate confirms Joint Chiefs chair in respite from Tuberville blockade"):
The Senate on Wednesday confirmed Air Force Gen. Charles Q. Brown Jr. as the next chairman of the Joint Chiefs of Staff, with Democrats briefly relenting in their ongoing feud with Sen. Tommy Tuberville (R-Ala.) to push through President Biden's nominee for the military's top job.

The 83-11 vote avoids what had been the embarrassing prospect of a temporary administrator filling the Pentagon's most prestigious post. Yet it leaves about 300 other senior officers ensnared in Tuberville's months-long hold on military promotions with no clear path to advancement, as the underlying political standoff over the Defense Department's abortion policy exhibits no signs of abating.

Brown, who becomes only the second African American, after Gen. Colin Powell, to ascend to the chairman's post, was confirmed after Senate Majority Leader Charles E. Schumer (D-N.Y.) chose to peel away the nomination for an individual vote. Senior officer promotions are typically approved by the Senate through unanimous consent to avoid lengthy floor debates and the politicization of votes around military commanders.

Schumer also moved forward with what could be individual confirmation votes on Marine Corps Gen. Eric M. Smith and Army Gen. Randy George to lead their respective services, appearing to leave open the possibility that the Senate will move to install new heads of the Navy and Air Force once their nominations clear scrutiny from the Senate Armed Services Committee.

The 11 senators voting against Brown were all Republicans: Mike Braun (Ind.), Ted Cruz (Tex.), Josh Hawley (Mo.), Mike Lee (Utah), Roger Marshall (Kan.), Eric Schmitt (Mo.), J.D. Vance (Ohio), Ron Johnson (Wis.), Cynthia M. Lummis (Wyo.), Marco Rubio (Fla.) and Tuberville.

A spokesperson for Brown said the general had no immediate comment.

In a statement congratulating Brown, Defense Secretary Lloyd Austin called him "a tremendous leader" and said "it is well past time" to confirm the other military nominees. "The brave men and women of the U.S. military deserve to be led by highly-qualified general and flag officers at this critical moment for our national security," he added.

Tuberville imposed his hold on all senior military nominations in February, staging a dramatic protest of the financial assistance rendered to service members and their dependents who must leave the state where they are stationed to obtain an abortion. The Biden administration established the travel-reimbursement policy after the Supreme Court overturned Roe v. Wade in June 2022, as Republican-led states began to ban or severely restrict access to reproductive health care.

Until Wednesday, Democrats had refused to vote on the nominations individually, as Tuberville suggested they should. Schumer and other Democrats had long argued that to deviate from the Senate's standard procedure of approving noncontroversial military nominations in large batches would serve only to encourage other lawmakers with political grievances to attempt a similar gambit, but they reversed course with Brown's soon-to-be predecessor, Gen. Mark A. Milley, approaching his Sept. 30 legal deadline to step down from the chairman's post.

An independent assessment by the Congressional Research Service last month found that working on all frozen nominations one-by-one would take months, even if the Senate focused on virtually nothing else.

After Brown's confirmation vote, the Senate late Wednesday approved a motion to advance George's nomination to lead the Army, with a final confirmation vote expected sometime Thursday. Efforts to advance Smith's nomination to take over the Marines also should take place Thursday.

In a statement attacking Tuberville as "the sole cause of this crisis," Sen. Jack Reed (D-R.I.), who chairs the Senate Armed Services Committee, said that Democrats "have no problem with voting on the most senior military officers" instead of the usual process of unanimous consent.
NYT ("Senate Confirms Chairman of Joint Chiefs of Staff, Sidestepping Tuberville Blockade") adds:
"The Senate will overwhelmingly vote to confirm them, and these three honorable men will finally be able to assume their positions," Mr. Schumer said on the Senate floor. "And the abortion policy that Senator Tuberville abhors will remain in place. Senator Tuberville will have accomplished nothing."

While Mr. Tuberville said he welcomed their quick approvals, he added he would not relent in his push to do away with the abortion access policy. He was among 11 G.O.P. senators who voted against General Brown's nomination, despite having indicated to reporters in recent months that he would support it.

"They finally figured out I wasn't going to give in. I'm still not," Mr. Tuberville told reporters on Wednesday. "They've got to do the right thing and move the policy back."

The White House praised the action but criticized Mr. Tuberville for refusing to back down.

Mr. Schumer's move, said John F. Kirby, a White House spokesman, was good for the three generals, their military branches and the Defense Department overall, but it "doesn't fix the problem or provide a path forward for the 316 other general and flag officers that are held up by this ridiculous hold."
It's frankly bizarre that Schumer and company didn't do this weeks ago. While it's impractical to vote individually on all of the 300-plus nominees who are piling up, they could easily vote on the key billets.
What this is not doing, however, is "circumventing" or "a respite from" Tuberville's hold. He's simply withholding unanimous consent and this is the consequence of that: it's either vote one by one or not at all.
Further, while the criticism of Tuberville is quite justified, his use of this tactic is not unprecedented. Indeed, Tammy Duckworth put a blanket hold on all confirmations for colonel and above in July 2020. Bernie Sanders has a hold on President Biden's nominee for Director of the National Institutes of Health in an effort to force action on drug prices. JD Vance has had a hold on Justice Department nominees for months as well. The difference is simply one of scale and scope. While Duckworth's hold was actually wider than Tuberville's, it was resolved in a matter of days whereas this one has dragged on for months.
The thing is, this isn't even a traditional hold, wherein on Senator is blocking a confirmation. Tuberville is simply withholding unanimous consent, forcing a debate and floor vote.
Still, it's clearly well past time to reform Senate rules. It's not really clear why nominees for one- and two-star officers are even subject to a Senate vote.