Joint Chiefs Stymied by One Idiot Senator
Tommy Tuberville's stunt is now impacting the highest levels of the military.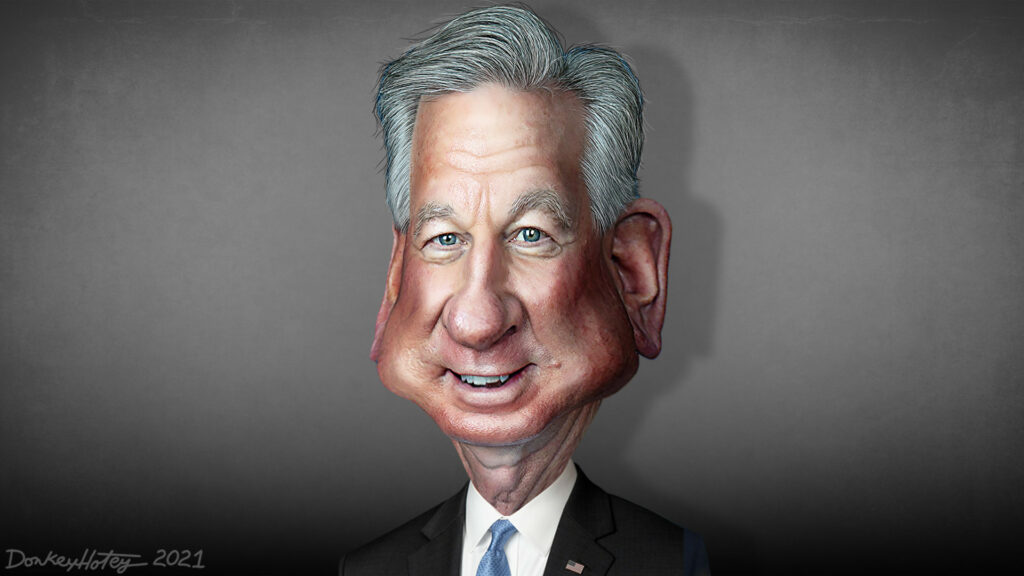 NYT ("Tuberville Blockade Over Abortion Policy Threatens Top Military Promotions"):
A lone Senate Republican's bid to reverse a Pentagon policy ensuring abortion access for service members is delaying the smooth transfer of power at the highest echelons of the armed forces, including in the ranks of the Joint Chiefs of Staff, as a monthslong partisan dispute over social policy drags on.

Senator Tommy Tuberville, a conservative from Alabama, has been single-handedly blocking hundreds of promotions for high-ranking generals and admirals since February, refusing to relent unless the Defense Department scraps a policy — instituted after the Supreme Court struck down the constitutional right to abortion last year — offering time off and travel reimbursement to service members who need to go out of state for abortions.

Now, Mr. Tuberville's tactics are on the brink of disrupting the Pentagon's ability to fill its top ranks. More than half of the current Joint Chiefs are expected to step down from their posts during the next few months without a Senate-approved successor in place, leaving the president's chief military advisory body in an unprecedented state of flux at a time of escalating tensions with China and Russia.

The Biden administration and Senate Democrats have vociferously condemned Mr. Tuberville's blockade as dangerous and misplaced. But while many Republicans are deeply uncomfortable with his tactics, G.O.P. leaders' criticism has been more restrained.

"I don't support putting a hold on military nominations," Senator Mitch McConnell, Republican of Kentucky and the minority leader, told reporters recently when asked about Mr. Tuberville's actions. That has not been enough to dissuade the Alabama senator or his staunch supporters in the G.O.P. ranks, who have stood in for him when he was not at the Capitol to press his objections to a policy that has angered the anti-abortion Republican base.

The resulting impasse is beginning to take a tangible toll on the military. On Monday, the first of the departing Joint Chiefs, Gen. David H. Berger, the Marine commandant, will retire in a "relinquishment of office" ceremony, leaving his current deputy and nominated successor, Gen. Eric Smith, to take over without Congress's blessing.
That this has gone on as long as it has is frustrating and, as the report notes, it's about to get really serious.
When General Berger retires today, the Marine Corps will not have a Commandant. His successor, General Smith, is widely expected to continue to carry out the vision outlined in Force Design 2030 but, crucially, he will not have the authority to issue a new Commandant's Planning Guidance until and unless he becomes the Senate-confirmed Commandant rather than a mere Acting Commandant. Additionally, Smith will effectively be filling the duties of the Commandant and Assistant Commandant, both full-time jobs. This means that he'll have to delegate portions of both jobs to the various Deputy Commandants who, in turn, will have to delegate portions of their jobs to other officers.
Already, we've held up countless promotions at lower ranks. Including a friend and former teaching partner of mine's promotion to brigadier general. This is impacting people's livelihoods in addition to the normal operation of the military services.
That a single Senator—a backbencher, no less—has the ability to do this is just nuts. But, seemingly, the only workaround is a process that's so cumbersome they're not even bothering.
[Tuberville] has suggested that Congress pass Republican-sponsored legislation to reverse the Pentagon's abortion access policy — or a competing Democratic bill to give the policy the force of law. He has dared Senate leaders to circumvent his blockade by voting on the promotions individually, arguing that he would be ready to approve some promotions if forced to take a vote.

But Senate aides say none of his suggested offramps are workable. Senate leaders believe it would be nearly impossible to collect enough votes, between the Democratic-led Senate and the Republican-led House, to send legislation either affirming or overturning the Pentagon's policy to the president's desk. And they are queasy about trying to get around Mr. Tuberville's protest procedurally because of the amount of time it would take to plow through the Senate's arcane hurdles for all the nominations he is holding up.

Senate leaders are also resisting pressure from rank-and-file lawmakers to make an exception for the Joint Chiefs, fearing that doing so would legitimize Mr. Tuberville's protest — and encourage others harboring grievances with Pentagon policies to emulate his approach.

In the meantime, Mr. Tuberville has steadily rejected the compromises that Senate leaders have offered him. He refused to relent in exchange for holding a closed-door vote in the Armed Services Committee last month against a bill undoing the Pentagon's policy. And he has publicly eschewed the idea of settling his dispute by voting on the Pentagon's policy as an amendment to the annual defense policy bill, which is expected to begin moving through the House next week.
As to the dispute itself, it's a response to a policy announced last October:
The Pentagon will pay for service members to travel to obtain abortions, in a move the military says will ease the burden on troops who wish to receive reproductive care and are stationed in states where the procedure is no longer legal, the department announced Thursday.

Defense Secretary Lloyd Austin on Thursday directed the Defense Department to establish travel and transportation allowances to ensure service members and their dependents have access, according to a memo.

"Our Service members and their families are often required to travel or move to meet our staffing, operational, and training requirements. Such moves should not limit their access to reproductive health care," Austin wrote.

The "practical effects of recent changes" will ultimately hurt military readiness, Austin wrote, referring to the Supreme Court's June decision to strike down Roe v. Wade.

Austin noted that "significant numbers" of service members and their families will be forced to travel, take time off work, and pay more out of pocket to receive reproductive care.

"In my judgment, such effects qualify as unusual, extraordinary, hardship, or emergency circumstances for Service members and their dependents and will interfere with our ability to recruit, retain, and maintain the readiness of a highly qualified force," he wrote.

Under current law, most abortions cannot be performed at military medical facilities and service members' Tricare health insurance does not cover the cost of obtaining the procedure privately. The Hyde Amendment of 1976 prohibits the use of federal dollars for abortion unless the life of the mother is in danger.

The new policy will allow service members and dependents who must travel to access reproductive care to request travel allowances and an administrative absence from their normal duty stations so they don't need to take leave, according to a DoD official who spoke on condition of anonymity to discuss the matter ahead of the policy announcement.
I'm of two minds on this policy. First and foremost, it strikes me as humane and eminently sensible. The rules of the game changed overnight and military personnel's healthcare decisions shouldn't be subject to the whims of politicians in whatever state they happen to have been ordered to serve. Secondarily, though, I'm skeptical that the Secretary of Defense has the authority to repurpose taxpayer dollars in this fashion.
Relatedly, while Tuberville is a clown unfit to serve in the Senate, he has a point. This really ought to be a decision made by Congress, not by fiat by the executive branch. I haven't seen estimates of what this policy cost. While almost certainly a drop in the bucket given the staggering size of the Defense budget, it nonetheless has to be a substantial amount of money.
Moreover, there's the matter of the aforementioned Hyde Amendment. Successive Congresses for nearly four decades have prohibited the use of federal tax dollars to pay for abortions. While the Biden Justice Department has ruled that this does not prohibit funding "expenses, such as a per diem or travel expenses, that are incidental to the abortion," this seems to violate the clear intent of the law.
Regardless, this standoff is yet another illustration of the sorry state of Congress. The rules simultaneously allow a single Senator—one percent of the body!—to hold up hundreds of promotions and nominations on mere whim and yet make it impossible to resolve the dispute because doing things through normal order is impossible. As much as I disdain Tuberville, his core request—the Congress either overturn Austin's order or vote it into law—is frankly, not unreasonable on its face. Yet, since Congress doesn't pass laws on simple majority vote, it can't actually do that.
And, of course, there's this:
Though Mr. Tuberville has few backers in the Senate, he has been buoyed in his resistance by support from home, where constituents have cheered on his protest, and billboards paid for by the conservative Heritage Foundation line stretches of highway.

They read, "Senator Tuberville, thank you for standing for life, and against wokeness in the military."
Sigh.