Chris Sununu 2024
Does a successful, moderate governor stand any chance in today's GOP?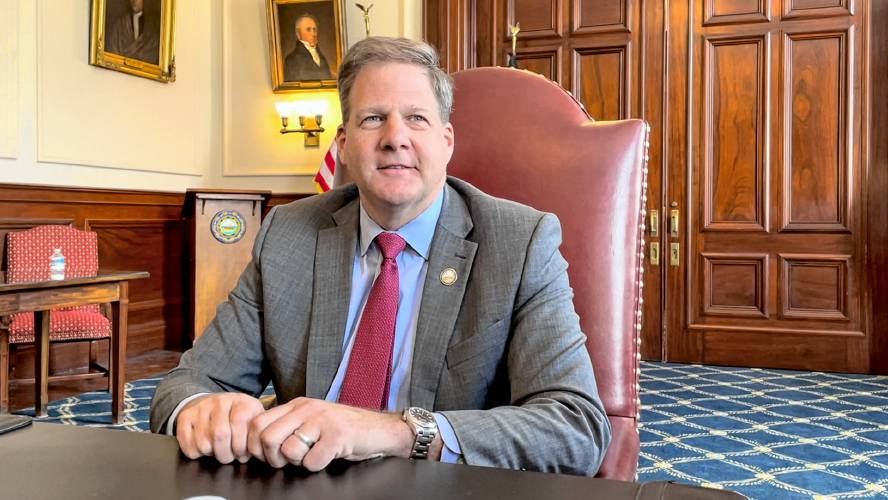 The Dispatch ("Chris Sununu Leans Into the White House Race"):
Chris Sununu is accelerating plans to run for president, with close allies telling The Dispatch the New Hampshire governor wants to seek the Republican nomination and is exploring avenues for mounting a viable 2024 campaign.

In telephone calls and in-person meetings, Sununu is pitching a potential White House bid to wealthy Republican donors in New Hampshire who have backed his four gubernatorial campaigns—and to top GOP financiers across the country. The response is encouraging the governor to move forward. Sununu's political operation has conducted polling to test messaging and political competitiveness with Republican voters and is holding conversations with prospective campaign staff in the key, early primary states.

If he runs, Sununu would enter the contest no later than June 30, he says.
The timing seems to have more to do with the state's legislative calendar than anything external.
The Concord Monitor's Paul Steinhauser offers these insights:
Sununu, a vocal Republican critic of Trump, has long argued that the former president, if nominated next year, will lose the general election. Asked if a growing field of GOP presidential rivals will only divide the opposition and allow Trump to capture the Republican nomination, Sununu said no.

"You can't kind of tell people not to run. Whoever wants to run is going to run," he added.

But Sununu said that "there is going to be a process of which it's going to be narrowed down a lot more aggressively than it did in '16," pointing to the 2016 cycle when a crowded and divisive field of candidates opened the door to Trump's nomination victory ahead of his White House win.

"Everyone understands that it just needs to narrow down, and my guess is that it will narrow down the end of the fall and as we go into early next year. And it will narrow down quickly. If you were going to tell me there's going to be 10 or 12 people in the race through March and April of next year, yeah, that's going to be a problem. But that's not going to happen. That's going to winnow down very quickly," he said.

Asked by Fox News what his biggest concern would be if he launched a presidential campaign, the governor said that "the state comes first. Making sure, if we do this, all the pieces are in place to make sure, whatever needs there are, are going to be met. And that's something I'm quite passionate about. We're not going to walk away from this state. … I wouldn't do anything that would put in the state in any sort of harm's way."

Pointing to Sununu's out-of-state travel, the New Hampshire Democratic Party recently charged that the governor "has never viewed being the governor as anything but a stepping stone. At every opportunity, Chris Sununu has left Granite Staters in the dust to build his celebrity status."
Puck's Tara Palmeri ("Chris Sununu Talks '24") adds:
Sununu told me that there's a "61 percent chance" he runs for president—his words—and 39 percent chance that he just plays the role of kingmaker in New Hampshire, where he has some of the highest approval ratings in the country. In a long and candid conversation, he told me that he wants to wait until his legislature is out of session to make a decision. Unlike most pundits and operatives who argue for the value of early entry, Sununu thinks that he can make up his mind by mid-June. Indeed, Sununu has been criticized for a Hamletesque quality, one in which he appears to signal alternatively that he is running and then isn't. But he is a contemplative guy. He told me there's only a 50 percent chance he runs for re-election in New Hampshire, where he's on his fourth consecutive two-year term, more than his dad, former governor John Sununu, and any other Republican in New Hampshire, ever.
Sununu sees confident he can raise enough money to mount a credible campaign and, after four terms (albeit short ones) he may simply be up for a new challenge. Still, while he's reasonably well qualified to seek the office—and there may well be a demand for an under-50 President after years of geriatrics—I just don't see him as a plausible nominee in the current Republican Party.
I wish it weren't the case. On paper, at least, he's bright and well-seasoned. He's an MIT-educated environmental engineer and worked in that field for years. Before entering into elective politics, he was on the state's Executive Council. As governor, he's been the sort of moderate you'd expect in the Granite State. He's reasonable on abortion and LGBTQ issues, supported COVID vaccination and masking and post-BLM police reform, and has been rabidly anti-Trump. That's what a conservative party in 2023 should look like.
But, of course, the very things that make him attractive to me make him anathema to the post-Tea Party, and certainly post-Trump, Republican primary voter. I just don't think there are enough moderates to overtake the MAGA win.