Democrats' Chaotic Skullduggery
There was some quiet meddling going on.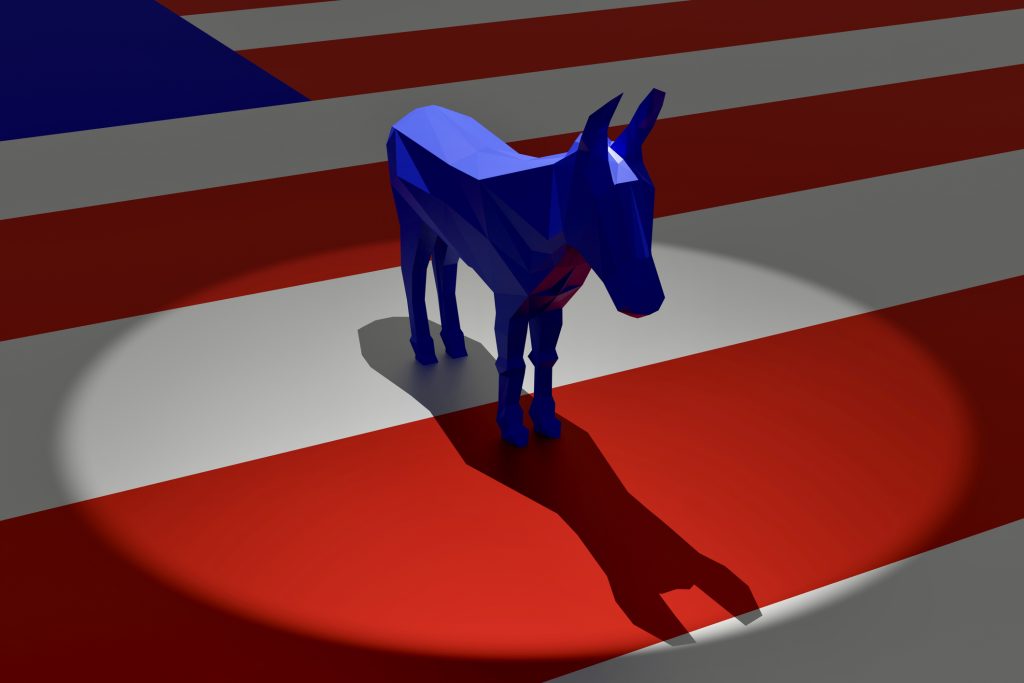 An odd piece in the NYT by Blake Hounshell explains "How Democrats Quietly Meddled in G.O.P. Senate Recruitment." I thought perhaps this was going to be a rehash of the story about Democrats spending money to boost MAGA candidates in GOP primaries; instead, it's about efforts to discourage more moderate Republicans from running.
They called it the "Summer of Chaos."

In 2021, as Democratic strategists brainstormed ways to defend their threadbare control of the Senate, they began an aggressive communications strategy with the goal of choosing their adversaries.

Their best chance of hanging on, Senator Gary Peters of Michigan told staff members at the Democratic Senatorial Campaign Committee, was to focus like a laser on the four seats they needed to keep: Arizona, Georgia, Nevada and New Hampshire.

"We knew we needed to localize the races and disqualify our Republican opponents," said David Bergstein, the group's communications director.

But Peters, the committee's chairman, also authorized a bit of skulduggery. The emerging plan had two main components: deterring potentially strong Republicans from entering races against those "core four" Democratic incumbents, and "maximizing the chaos" within Republican primaries.
Chaos and skullduggery! Oh, my.
In this, Democrats had an unwitting ally in Donald Trump, who insisted on supporting only candidates who would back his stolen-election lies.

Two Republican governors had Democrats especially worried: Chris Sununu of New Hampshire and Doug Ducey of Arizona. Both were popular, relatively moderate and skilled at raising cash. Republican leaders in Washington were recruiting them hard to run for Senate.

But each man had points of vulnerability, Democrats thought. Could they keep them out?

It's hard to say how much of a difference the Democrats' meddling ultimately made. Some Republicans and allies of Ducey and Sununu say that other factors — including a shared disdain for the Senate and, perhaps, presidential ambitions — were more central to their calculations.

But either way, their decisions not to run loom large in the rearview mirror. Republicans failed to reclaim the Senate in large part because of unproven candidates chosen by Trump. Now, the recriminations are flying.
It's certainly true that Republicans would have had better odds had Sununu and Ducey run. Maggie Hassan beat Don Bolduc pretty handily but Sununu is a much better candidate. I'm honestly not sure that Mark Kelly was that vulnerable but, again, Ducey had to be stronger than Blake Masters.
But what chaotic skullduggery did Democrats unleash?
For Sununu, the Democrats' potential leverage was his shifting position on abortion.

Running for governor in 2016, he had declared himself "pro-choice," albeit with some caveats. About two-thirds of voters in New Hampshire say abortion should be legal in all or most cases, polls show.

In June 2021, however, pushed by conservative lawmakers, Sununu signed a budget bill that restricted abortion after 24 weeks of pregnancy with no exceptions for rape or incest. Sununu had little choice; vetoing the budget would have shut down the government while the pandemic was still raging. But in approving it, wrote James Pindell of The Boston Globe, the governor had just "touched one place that no Republican should ever go in New Hampshire."

Democrats sensed an opportunity. They had picked up on gossip that some in Sununu's inner circle were worried about the abortion attacks. True or not, they began ginning up news coverage on the topic.

"Targeting Sununu over abortion will be a key part of the Democrat's playbook," read one article in The Concord Monitor, referring to the incumbent senator up for re-election, Maggie Hassan. "It's easy to imagine ads and commercials blasting Sununu over abortion flooding the TV and radio airwaves and on digital."

Sununu was under heavy pressure to run from Mitch McConnell, the Senate minority leader, who said he would make a "great candidate," and from Senator Rick Scott, the chairman of the National Republican Senatorial Committee. He appeared torn.

Then he stunned McConnell and his advisers in November 2021 by not only turning them down without notice, but also publicly attacking the job of senator as "sitting around having meeting after meeting, waiting for votes to maybe happen."

"Unbelievable," Josh Holmes, a political adviser to McConnell, tweeted in reaction.

Allies of Sununu say abortion had nothing to do with the decision. "This is not a guy who backs down from a fight," said Dave Carney, a longtime New Hampshire Republican operative.

"I was going to run," Sununu said later, during a forum at Rice University. But his conversations with senators — one told him he would get more vacation time, while another said he would no longer have to balance a budget — soured him on the idea. "They said all the wrong things."

Twisting the knife, he went on: "You cannot ever convince me, if you took all 100 members of the U.S. Senate, got rid of them tomorrow, and replaced them with 100 random adults in this room right now, that we would be worse off. No way."
So . . . they subtly previewed a rather obvious attack venue? One that, it seems to me, would be pretty easy to counter. ("My position on the issue has long been clear. I had no choice but to sign the bill—and Roe was still in place at the time, so it was really meaningless.")
Honestly, it sounds like Sununu really had no desire to be in the Senate. And who could blame him? While many Senators are former Governors (indeed, both of Virginia's are, which is pretty typical since we don't allow Governors to serve consecutive terms) it really is a step down. And being a Senator with an opposition party President would be even less rewarding; you're basically ensured to spend the next two years getting nothing done. Beyond that, if Sununu has his eye on running for President, taking a lot of votes on controversial issues only harms him.
For Ducey, the Democrats' point of leverage was his refusal in 2020 to go along with Trump's insistence that the presidential election was stolen.

Throughout 2021, Trump made it known that he would not endorse Ducey if he ran for Senate, and other Republican candidates in Arizona began competing for the former president's affections.

But Republican leaders ignored Trump and kept recruiting Ducey aggressively. And though Ducey repeatedly said he was not interested, Democrats grew nervous in January 2022 when they caught wind from people in Arizona of fresh discussions between Ducey, McConnell and Scott.

Democrats tried to force those quiet conversations into the open by passing word of the talks to reporters in Washington, hoping that Trump would see the stories and tee off on Ducey. The Arizona governor, meanwhile, would get an inkling of what he could expect if he entered the primary.

At a rally in Arizona on Jan. 15, 2022, Trump duly obliged, trashing Ducey as "a terrible, terrible representative of your state."

By then, Ducey had already made up his mind — but he left McConnell and Scott hanging for two more months. "If you're going to run for public office, you have to really want the job," he finally wrote in a letter to donors in March. "Right now I have the job I want."

Trump gloated. "Smart move, Doug," he said in a statement.
So, the bastard Democrats told reporters in Washington that Ducey was talking to Senate leadership about running? That's some chaotic skullduggery if ever I heard it.
By the time their vicious primary season ended, Republicans had nominated five political novices backed by Trump: Blake Masters, a hard-edge venture capital executive, in Arizona; Don Bolduc, a far-right retired Army officer, in New Hampshire; Herschel Walker, a troubled former football star, in Georgia; Mehmet Oz, the celebrity surgeon, in Pennsylvania; and J.D. Vance, the "Hillbilly Elegy" author, in Ohio.

All struggled to raise money, build campaign infrastructures or appeal to independent voters. Only Vance won outright, with Walker's race heading to a runoff next month.

In August, McConnell griped publicly about the "quality" of the candidates that Trump had saddled him with, amid a running feud with Scott over tactics, strategy and money.

Republicans are now having a public throw-down about just whose fault it is that they lost the Senate. Conservative elites are blaming Trump; his allies are blaming McConnell; Scott and McConnell's allies are blaming one another.

There's plenty of grist for each side, but the case against Trump and his collection of "goofball" candidates, as McConnell privately called them, seems stronger.
Well . . . yes.
I mean, at the end of the day, Republican primary voters chose these candidates. As Steven Taylor has explained here multiple times, our primary system is just a really dumb way to choose candidates for these offices, in that they attract a small, unrepresentative subset of voters and, in most cases, allow plurality winners. But Democrats use the same basic system and are much less prone to nominating unqualified nutjobs.
In the first nine months of 2022, Republicans in eight battleground states raised $140 million less than their Democratic counterparts. That forced the Senate Leadership Fund, a super PAC close to McConnell, to try to pull the G.O.P. candidates' "chestnuts out of the fire," as Senator Bill Cassidy of Louisiana put it, with nearly $260 million in spending across eight states.

Even so, Democrats were still outspending Republicans in most battleground races — and lashing them with attack ads portraying them as venal, phony and extreme on abortion.

"This is the second cycle in a row that their candidates didn't raise money," said J.B. Poersch, the president of Senate Majority PAC, a group close to Chuck Schumer, the Senate majority leader. "There's something systemic going on."
I tend to agree with David Byler that campaign money doesn't matter above a certain threshold. But there's a circularity at work, too: poor candidates don't attract a lot of money because they're a poor investment.
Deep into the piece, we get back to a practice that, while effective, I think is genuinely problematic:
During the New Hampshire primary, Democrats ran ads aimed at helping Bolduc defeat Chuck Morse, a state lawmaker favored by the Republican establishment. Sununu, who backed Morse, said Bolduc was "a conspiracy theory extremist," and McConnell's allies ran ads against him.
But, otherwise, this is just a story about Republicans nominating terrible candidates.
The committee, short on money, pulled out of New Hampshire first. By late October, after spending $16 million, the S.L.F. concluded that its ads were no longer moving voters in Bolduc's direction, and decided to redeploy $6 million elsewhere. But days later, in an unusual reversal, the committee announced a fresh $1 million investment after an internal poll showed Bolduc within two percentage points, while Scott made a point of campaigning with him.

"It looked like a margin-of-error race going into Election Day," said Chris Hartline, the communications director for the N.R.S.C. Bolduc ended up losing by nine points.

The story was similar with Masters. He raised just $13 million for his own campaign on his way to the biggest loss of any Republican Senate candidate in Arizona since 1988. But even as votes were still being tallied, he blasted McConnell.

"Had he chosen to spend money in Arizona," Masters complained on Fox News, "this race would be over and we would be celebrating a Senate majority right now."

As my colleague Shane Goldmacher reported, McConnell's allies had hard data to back up their dim view of Masters. They concluded in late summer that he lacked the ingredients to beat Kelly regardless of what they might spend. Independent voters and "soft Republicans" in the S.L.F.'s polling and focus groups found him especially unpalatable, while Kelly's image barely budged.
So, apparently, national media pundits weren't the only ones fooled by late-breaking polling. Regardless, it's not like the party can't raise a few million dollars to replace the wasted spending.
For all the Republicans' infighting and money troubles, Democrats could easily have lost the Senate. If Senator Raphael Warnock wins the Dec. 6 runoff in Georgia against Walker, they will have saved all their "core four" — making 2022 the first year their party has not lost any Senate seats during a midterm election under a Democratic president since 1962, and the first time no Senate incumbent has lost in either party since 1914.
But, again, this is about candidate selection, not skullduggery. Normal Republicans can still win in Arizona and New Hampshire. But it's really hard to beat a career fighter pilot and astronaut. Georgia is turning purple but it's still fundamentally a Republican state. But Democrats managed to run a charismatic preacher against a whacko appointed Senator and then a moron ex-football player and serial abortionist.
Again, I think funding weak opposition candidates is dirty pool. But floating obvious attack points to the press? Not so much.