Jon Kyl To Leave Senate By December 31st
Jon Kyl was named to replace John McCain back in September, but as expected he's already announcing that he'll be leaving at the end of the year.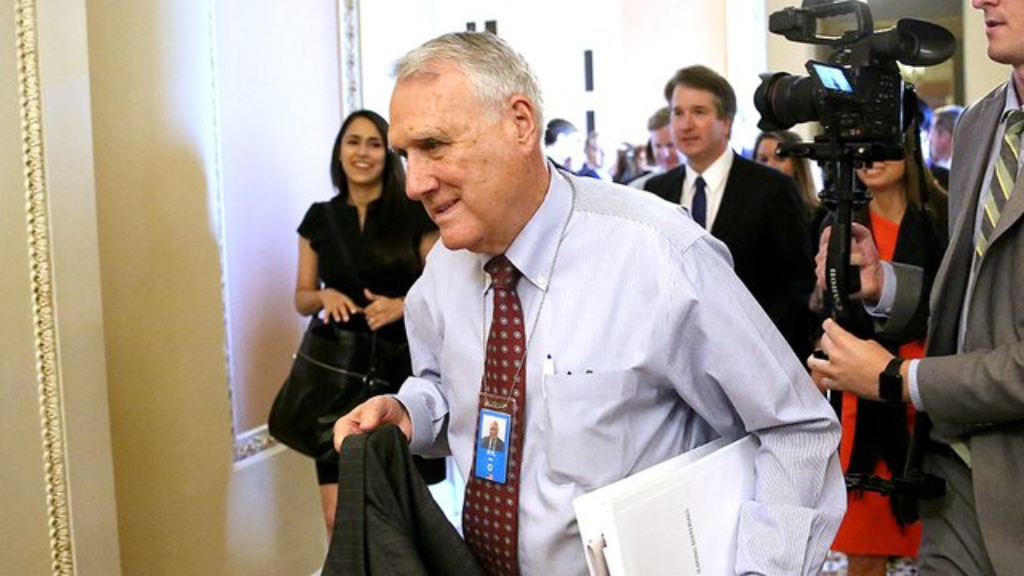 Just three months ago, Arizona Governor Doug Ducey named former Senator John Kyl, who had served as a Senator from 1995 to 2013 before being replaced by retiring Senator Jeff Flake, to fill the seat vacated by Senator John McCain after his death in late August. Under Arizona law, the person Ducey named would serve until the next General Election in 2020, but Kyl had made it clear that he was inclined to only serve as a temporary replacement and may choose to resign by the end of this year. Today, it was announced that Kyl would in fact resign effective December 31st, meaning that Ducey will now name a new replacement who would likely serve the remainder of the time between now and the next election:
Sen. Jon Kyl (R-Ariz.) plans to resign from the Senate on Dec. 31, vacating the seat he has held since the death of Sen. John McCain and clearing the way for Arizona's governor to name another Republican to the post.

Gov. Doug Ducey (R) said in a statement Friday that he had received a resignation letter from Kyl. Ducey is required under law to name another Republican to the seat.

After McCain's death in August, Ducey appointed Kyl, a well-known former Republican senator, to fill his seat. Kyl committed to serving through at least the end of this year — making no promises about returning for the 2019 Congress.

Until recently, it appeared that Ducey was likely to appoint Rep. Martha McSally, who narrowly lost a race for Arizona's other Senate seat in November. But her stock has fallen in the eyes of the governor, according to two people familiar with his thinking, as Ducey approaches one of the most significant decisions of his political career.

Still, McSally remains a finalist for the appointment as Senate Republicans leaders have vouched for her publicly and privately.

Ducey's outgoing chief of staff, Kirk Adams, is also a possibility. Adams announced last month that he was leaving Ducey's office, and Friday was slated to be his last day.

In his statement, Ducey said that "Senator Kyl didn't need to return to the Senate."

"His legacy as one of Arizona's most influential and important political figures was already without question," Ducey said. "But he did return, and I remain deeply grateful for his willingness to step up and serve again when Arizona needed him. I wish him and his family all the best."
I mentioned the possibility of McSally replacing Kyl last month when it was clear that she had lost the fight for Flake's seat to Senator-Elect Kyrsten Sinema, and while her name apparently remains near the top of the list of potential replacements, there are other names, mostly unknown outside of Arizona, that could end up being named to the seat. AzCentral.com has profiles of these potential candidates, which includes Ducey's Chief of Staff Kirk Adams, and State Treasurer Eileen Klein. Each of these potential candidates is much younger than Kyl and presumably would intend to run for the seat in the 2020 Special Election, after which they will have to run again in 2022, which marks the end of McCain's current term. As noted, the only limitation on Ducey's choice is the requirement under Arizona law that the person named as a replacement be a member of the same political party as the person being replaced. The interesting thing is that whoever is named will end up being the Senior Senator from Arizona even if they are sworn in just a day or two prior to Sinema's swearing-in on January 3rd.
In any case, it was known for some time that Kyl would only be a placeholder, and the main reason for his selection was to help to preserve the Republican majority in advance of the Kavanaugh nomination vote and the election. Given that, it is likely that Ducey has had plenty of time to consider who he might select to replace Kyl just as he did when it was clear that McCain would not live much longer. Given that, I suspect we'll get an announcement of a replacement at some point prior to the end of the year.