What Happens With John McCain's Senate Seat?
Here's what will happen regarding the selection of a successor to Senator McCain.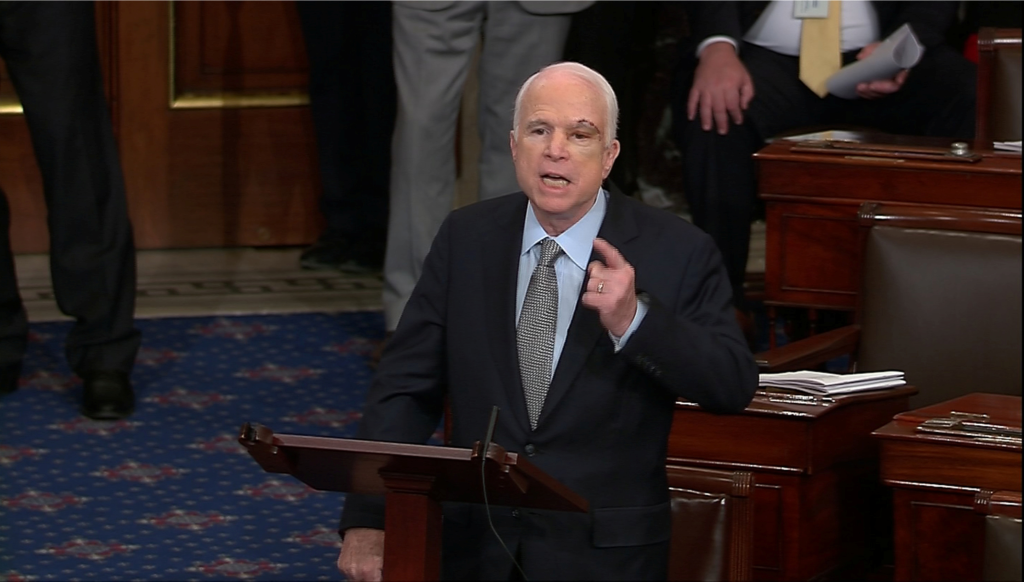 While the nation in general and Washington D.C. in particular continues to absorb the news of Senator John McCain's death on Saturday, the question of the mechanics of his replacement is already being discussed, not the least because of the impact it will have on the balance of power in that body for the remainder of the year:
PHOENIX — Sen. John McCain held his seat in the Senate for nearly 32 years. After McCain's death Saturday, it will fall to Arizona Gov. Doug Ducey to name his successor.

State law gives Ducey, a Republican, the power to fill the Senate vacancy for the next two years, until a special election in 2020 for the right to complete the final years of McCain's term. The seat will then be up again for a full six-year term in the 2022 election. Arizona law also stipulates that the appointee must be from McCain's party.

Ducey has avoided any discussion in recent months about which Republican he might appoint to fill McCain's seat, citing respect for the senator and his family. The governor released a lengthy statement Saturday praising McCain as an "icon" and "American hero," but did not mention any considerations on a timeline for appointing a replacement in the Senate.

"Here at home, we were most proud to call him a fellow Arizonan," said Ducey. "Like so many of us, he was not born here, but his spirit, service and fierce independence shaped the state with which he became synonymous."

The name most widely cited as a potential appointee is Cindy McCain, the senator's wife. Ducey and his wife spent time with the McCains in May, which fueled speculation about a potential appointment.

The Arizona Republic on Friday also cited as potential appointees Kirk Adams, the governor's chief of staff and a former state lawmaker; Barbara Barrett, a businesswoman and former gubernatorial candidate; and former Sen. Jon Kyl, who retired from the Senate in 2013.

The newspaper also cited as potential choices former Reps. Matt Salmon and John Shadegg; Karrin Taylor Robson, who serves on the state board of regents; and Eileen Klein, whom Ducey appointed as state treasurer earlier this year.

Ducey, who is running for reelection this fall, has ruled out appointing himself to the seat. The governor has also eliminated others from contention: Ducey and his office have criticized speculation about replacements multiple times this year, and Ducey singled out people actively campaigning for an appointment with a furious rebuke at the end of last year.

"To the politicians out there that have been openly lobbying for this position, they've basically disqualified themselves by showing their true character," Ducey told a local radio station in December.
More from The Washington Post:
Arizona Gov. Doug Ducey will be tasked with appointing a successor to John McCain, the six-term Republican senator who died Saturday at age 81.

As McCain battled brain cancer, Ducey, a Republican, did not speculate publicly about who he might tap to replace him. Since McCain died after the deadline to file for this November's election, most close observers have concluded that the new senator will not face voters until the 2020 general election.

Republicans in the state have privately discussed a long list of potential appointees in recent months, including McCain's wife, Cindy; Ducey's chief of staff, Kirk Adams; State Treasurer Eileen Klein; former congressman John Shadegg; and former U.S. senator Jon Kyl. Most recently, Kyl has been in Washington helping Supreme Court nominee Brett M. Kavanaugh navigate the Senate confirmation process.

Arizona law says the appointee must be from the same party as the person vacating the seat.

A Republican strategist familiar with the governor's thinking told The Washington Post earlier this year that Ducey would want someone who could function in the post and keep the job.

Ducey is up for reelection this year. His spokesman has said he would not appoint himself to the Senate seat.
The issue of who might replace McCain should he have decided to retire from the Senate before the end of his current term or if, as has now happened, had he died in office was one that was the subject of speculation and consternation for several months. Under Arizona law, had McCain either retired or passed away prior to May 31st then the possibility existed that there would have been two elections for the Senate on the ballot in Arizona this year. One would have been, of course, for the seat being vacated by Senator Jeff Flake at the end of the current Congress when his term expires. The other would have been for a Special Election for McCain's seat. With the possibility already existing that Democrats could pick up Flake's seat in the fall, many Arizona Republicans worried that a second open seat election could have spelled electoral disaster for the party. This is especially true given the fact that the GOP Primary for Flake's seat, which takes place on Tuesday, pits Congresswoman Martha McSally, who is favored by the state and national party leaders, against Kelli Ward, a State Senator who has been a Tea Party favorite who ran against McCain in 2016, and former Maricopa County Sheriff Joe Arpaio. As things stand now, Ward and Arpaio appear to be dividing the Trumpidian vote between them, which should allow McSally to win on Tuesday. Had McCain stepped down or died before May 31, then the Governor would have been obligated to schedule the Special Election for McCain's seat for this November. Based on the current law, and the fact that the filing deadlines to get on the November ballot passed months ago, though, it appears that whoever Governor Ducey names will hold the seat until the next General Election in November 2020 at which time there will be a Special Election to fill the remainder of McCain's term, which expires in 2022.
In any case, there have been reports out of Arizona that Ducey has been in discussions with McCain and others regarding potential successors to the Senator when it became necessary to make that appointment. It was during those discussions, apparently, that the idea of appointing Cindy McCain to replace her husband first came up. Such a move would not be unprecedented. When Senator Hubert Humphrey died in 1978, his wife Muriel was appointed to replace him although it was understood at the time that she would only be holding the seat as a placeholder and would not be running in any Special Election. In that case, Mrs. Humphrey only ended up serving for roughly eight months before being replaced by Republican David Durenberger. In this case, if Mrs. McCain were appointed to replace her husband she would serve for just over two years at least unless she decided to run for re-election in her own right. One factor arguing against Mrs. McCain to succeed her husband is that she is perceived as being even more of a political moderate than her late husband and appointing her could cause problems for Ducey in November with pro-Trump voters in Arizona. In addition to Mrs. McCain, other names that have been mentioned include former members of Congress from Arizona such as Matt Salmon and John Shadegg, as well as former Senator Jon Kyl. Kyl, however, is currently busy serving as the person helping the White House guide the nomination of Judge Brett Kavanaugh through the Senate so it's unclear if he'd be willing to return to the Senate even for a brief period of time. Other names that have been mentioned are statewide elected officials in the state.
Presumably, Governor Ducey will not take long to name McCain's successor, and Governor Ducey has already said that he will not name a successor until after McCain is buried. In any event, given the GOP's slim majority in the Senaete at the moment, it is somewhat important to get a replacement named so that the business of the Senate, including the confirmation process for Judge Kavanaugh, can go forward.