No, Citizens United Didn't Ruin Our Democracy
Money has increasingly dominated American politics but the court case had little to do with it.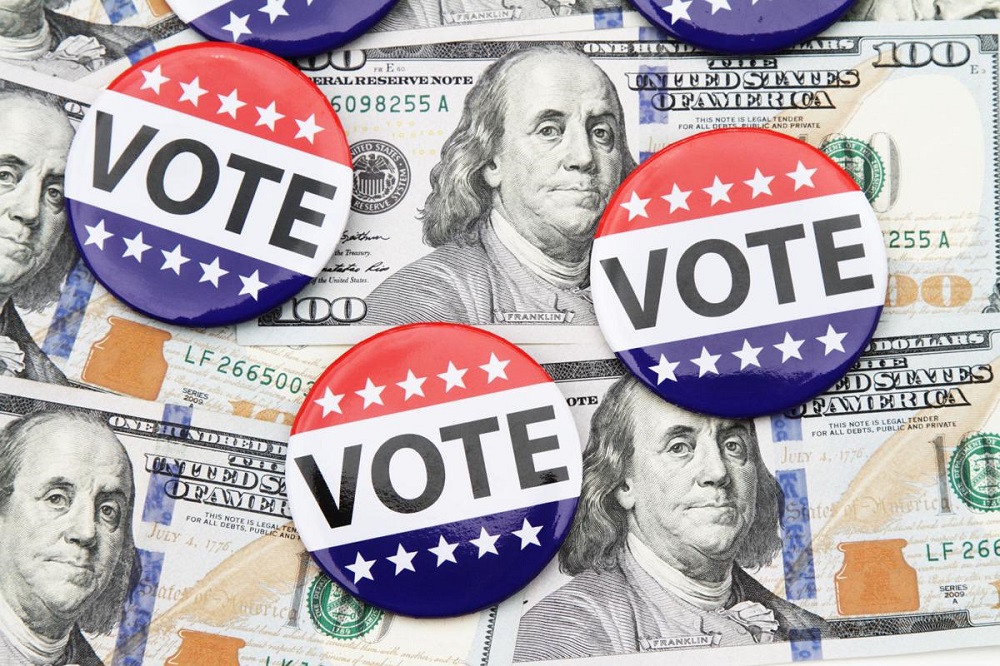 In "John Roberts comes face to face with the mess he made," WaPo columnist Dana Milbank recycles a familiar trope:
Roberts's captivity is entirely fitting: He is forced to witness, with his own eyes, the mess he and his colleagues on the Supreme Court have made of the U.S. political system. As representatives of all three branches of government attend this unhappy family reunion, the living consequences of the Roberts Court's decisions, and their corrosive effect on democracy, are plain to see.

Ten years to the day before Trump's impeachment trial began, the Supreme Court released its Citizens United decision, plunging the country into the era of super PACs and unlimited, unregulated, secret campaign money from billionaires and foreign interests. Citizens United, and the resulting rise of the super PAC, led directly to this impeachment. The two Rudy Giuliani associates engaged in key abuses — the ouster of the U.S. ambassador to Ukraine, the attempts to force Ukraine's president to announce investigations into Trump's political opponents — gained access to Trump by funneling money from a Ukrainian oligarch to the president's super PAC.
Almost none of that's true.
Not only did Trump spend far less than his 2016 opponent, Hillary Clinton, but he garnered far less in Super PAC money. Bloomberg:
He didn't win the money race, but Donald Trump will be the next president of the U.S. In the primaries and general election, he defied conventional wisdom, besting better financed candidates by dominating the air waves for free. Trump also put to use his own cash, as well as the assets and infrastructure of his businesses, in unprecedented fashion. He donated $66 million of his own money, flew across the country in his private jet, and used his resorts to stage campaign events. At the same time, the billionaire was able to draw about $280 million from small donors giving $200 or less. Super-PACs, which can take contributions unlimited in size, were similarly skewed toward his opponent, Hillary Clinton. Ultimately, Trump won the presidency despite having raised less than any major party presidential nominee since John McCain in 2008, the last to accept federal funds to pay for his general election contest.

Clinton and her super-PACs raised a total of $1.2 billion, less than President Barack Obama raised in 2012. Her sophisticated fundraising operation included a small army of wealthy donors who wrote seven-figure checks, hundreds of bundlers who raised $100,000 or more from their own networks, and a small-dollar donor operation modeled on the one used by Obama in 2012. She spent heavily on television advertising and her get-out-the-vote operation, but in the end, her fundraising edge wasn't enough to overcome Trump's ability to dominate headlines and the airwaves.
The report has excellent graphical breakdowns but this one is most illustrative:

Trump was sui generis, running a celebrity campaign that relied almost entirely on "earned" media. Almost all of the Super-PAC money went to his Democratic opponent. And, while she easily won the most votes, she failed to win the necessary Electoral College votes.
Now, that doesn't mean that Trump wasn't influenced by wealthy donors. As the NYT reported during the transition,
Some of his high-level nominees, who include millionaires and billionaires, made large donations to his campaign or to "super PACs" supporting him. For example, Linda McMahon, the professional wrestling mogul whom Mr. Trump has chosen to lead the Small Business Administration, donated $7 million to two pro-Trump groups. The records also show that the men he intends to nominate for his secretaries of Labor, Treasury and Commerce all made six-figure contributions to his campaign, the Republican National Committee or another group supporting him.

Still, Mr. Trump's campaign also benefited from a far-reaching network of ordinary Americans who gave small amounts of money, an illustration of his powerful grass-roots appeal. Sixty-five percent of the amount donors gave directly to his campaign came from people who donated $200 or less.
But, of course, with Trump, it's just as plausible that he saw these donations as a show of loyalty than that the appointments were a reward for the donations per se.
Beyond the specifics of the 2016 race, though, the fact of the matter is that Citizens United simply didn't do what its critics claim. As a 2018 essay in left-of-center Vox explains,
The inundation of elections with private cash is not the result of Citizens but rather was facilitated by the 1976 decision Buckley v. Valeo. That case established the legal framework sanctioning billions of dollars of independent private campaign spending. In it, the Court ruled that limits on campaign donations — direct donations to candidates — are constitutional but said it was unconstitutional to limit non-donation expenditures, such as independently funded advertisements.

Such independent spending — which cannot be coordinated with candidates, according to the Court — was protected under the First Amendment as not just speech but political speech. The idea is that money is a necessary instrument for supporting a political candidate, whether it's paying for yard signs or taking out an ad in the newspaper.
Not unreasonably, the Court ruled that limitations on independent expenditures would constitute limitations on one's ability to support a candidate through any number of media. Placing a dollar limit on such expenditures would arbitrarily prevent certain kinds of campaign support simply by the fact of how expensive they are.

Our inability to trace campaign donations to their source — the dark money issue — is the result of the lack of federal regulations to make disclosure mandatory. And such regulations are legal; the Court said as much in Citizens, with eight of nine justices agreeing on that point! The only thing standing in the way of transparency is congressional stonewalling. In 2010, Republican senators defeated a disclosure law 59 to 39, which would have made it more difficult for donors to use legal loopholes to hide their identities.

Citizens simply has not had the seismic legal impact that many think. Since Buckley protected money as speech, the only question was whether corporations were legitimate speakers. It may surprise some to hear, but the Court had already answered this question in 1978. In First National Bank of Boston v. Bellotti, the Supreme Court recognized a corporate right to free speech, concluding that the value of speech in the course of political debate does not depend on the identity of the speaker. Citizens simply followed the precedent of these two cases.

So when liberals intone that "corporations aren't people," thinking they are making a knock-down argument against Citizens, they miss the point. Citizens did not make corporations persons. And corporations do not need to be persons to receive First Amendment protections. Citizens upheld the liberty, provided by Bellotti, of corporations to speak, and they speak under the rules provided by Buckley.
Indeed, a piece in Slate right after Citizens United was issued correctly pointed out that "The Floodgates Were Already Open."
Citizens United, the fourth in a series of decisions from the Roberts Court that has narrowed or struck down campaign finance regulations, has garnered headlines of shock and awe. But the writing for it has been on the wall since the court's 2007 decision in FEC v. Wisconsin Right to Life. That case, which interpreted the same provision of the same law as Citizens United, held that corporate and union ads were constitutionally protected so long as they did not explicitly endorse or oppose candidates. The difference now is that corporations and unions can tell you directly who to vote for. In other words, before Citizens United, a corporation or union could sponsor ads with its treasury funds that said "Tell Congressman Smith to stop destroying America." After Citizens United, they can add at the end "and, by the way, don't vote for him."
The same essay pinpointed the actual downside of the ruling, even if it predicted the effects incorrectly:
The political parties as institutions were probably the losers. Their power is now diminished relative to that of outside groups funded (now in unlimited amounts) by corporations and unions. Perhaps this is a good thing: The extreme cohesiveness and polarization of the political parties might be countered by independent, nonparty bases of support that influence candidates. At the same time, and I'd argue more likely, the decision might polarize the parties even further, because independent spenders tend to advocate extreme positions.
It's true that wealthy donors like the Koch Brothers (until David's recent passing) and Sheldon Adelson have been giving more money than ever. But that has nothing to do with Citizens United, which was about corporate, not individual, contributions.
Politicians on the left and right have been trying to regulate money in politics since the Watergate scandal. Because the stakes keep escalating, however, the amount of money keeps skyrocketing. That's partly because the Supreme Court, going back to Buckley vs Valeo, has understood that the ability to spend money on advertising amounts to speech in the modern era. Mostly, though, it's because people with money (and that includes organizations funded by small donations) hire smart lawyers who figure out loopholes in the laws and regulations. That's what gave us PACs, 527s, Super PACs, dark money, and all the rest.
As we've been pointing out here for years—including during Stephen Colbert's amusing odyssey illustrating the absurdity of our election laws and the ease by which they're bypassed—almost all of the outrages attributed to Citizens United were possible before the ruling. (See, for example, my 2012 posts "Stephen Colbert's Super PAC Joke's On Him" and "What Citizens United Changed: Not Much.") Corporate contributions weren't a major problem a decade ago and they're not more of a problem now.
To be clear, I share Milbank's frustrations:
The consequences? Falling confidence in government, and a growing perception that Washington had become a "swamp" corrupted by political money, fueled Trump's victory. The Republican Party, weakened by the new dominance of outside money, couldn't stop Trump's hostile takeover of the party or the takeover of the congressional GOP ranks by far-right candidates. The new dominance of ideologically extreme outside groups and donors led lawmakers on both sides to give their patrons what they wanted: conflict over collaboration and purity at the cost of paralysis.
But Citizens United had little to do with that. (Milbank's critiques of other Roberts-era decisions that have allowed Republicans at the state level more latitude in suppressing minority voting have more merit.)