Stephen Colbert's Super PAC Joke's On Him
Virtually everything Stephen Colbert is doing was legal before Citizens United.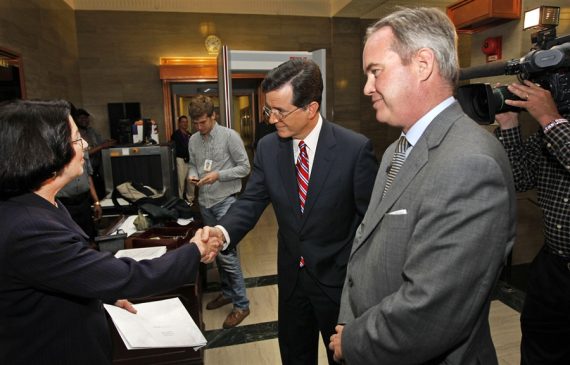 Stephen Colbert's longstanding bit about his Super PAC has been amusing. But it has little to do with Citizens United or, indeed, anything new in campaign finance law.
Slate's Dahlia Lithwick ("Colbert v. the Court: Why, in the battle over Citizens United, the Supreme Court never had a chance") is the latest to swoon over the shtick.
The comedian/presidential candidate/super PAC founder has probably done more to undermine public confidence in the court's 2010 Citizens United opinion than anyone, including the dissenters. In this contest, the high court is supremely outmatched.
Citizens United, with an assist from a 1976 decision Buckley v. Valeo, has led to the farce of unlimited corporate election spending, "uncoordinated" super PACs that coordinate with candidates, and a noxious round of attack ads, all of which is protected in the name of free speech. Colbert has been educating Americans about the resulting insanity for months now. His broadside against the court raises important questions about satire and the court, about protecting the dignity of the institution, and the role of modern media in public discourse. Also: The fight between Colbert and the court is so full of ironies, it can make your molars hurt.

[…]

It all started when Colbert announced that, as permitted by Citizens United, he planned to form a super PAC("Making a better tomorrow, tomorrow"). As he explained to his viewers, his hope was that "Colbert Nation could have a voice, in the form of my voice, shouted through a megaphone made of cash … the American dream. And that dream is simple. That anyone, no matter who they are, if they are determined, if they are willing to work hard enough, someday they could grow up to create a legal entity which could then receive unlimited corporate funds, which could be used to influence our elections."
Then last June, like a winking, eyebrow-wagging Mr. Smith, Colbert went to Washington and testified before the FEC, which granted him permission to launch his super PAC (over the objections of his parent company Viacom) and accept unlimited contributions from his fans so he might sway elections. (He tweeted before his FEC appearance that PAC stands for "Plastic And/Or Cash.") In recent weeks, Colbert has run several truly insane attack ads (including one accusing Mitt Romney of being a serial killer). Then, with perfect comedic pitch, Colbert handed off control of his super PAC to Jon Stewart (lampooning the FEC rules about coordination between "independent PACS" and candidates with a one-page legal document and a Vulcan mind meld). Colbert then managed to throw his support to non-candidate Herman Cain in the South Carolina primary, placing higher on the ballot than Rick Perry, Jon Huntsman, and Michele Bachmann.
But, as Paul Sherman of the Institute for Justice points out ("Colbert's Super PAC Surprisingly Un-Super"), "Virtually everything Stephen Colbert is doing was legal before Citizens United."
Colbert's PAC, which raised more than $825,000 through the end of the year, has raised almost no corporate money.  Indeed, the only two corporate donations he reported to the Federal Election Commission amount to $714, total.  In addition to barely raising any corporate money, Colbert's Super PAC accepted only one contribution from an individual (of $9,600) in excess of the $5,000 limit that applies to regular PACs.

In other words, more than 99% of the money Colbert has raised to mock Citizens United and Super PACs is money that has been legal under the campaign finance laws for decades.
So, the law might be mockworthy in its absurdity–okay, the law is mockworthy in its absurdity–but it's been that way for a long time.
Then again, as I've noted before, I'm not entirely sure that Colbert's intent was ever to mock Citizen's United per se. While he muddied the waters a bit with the jokes about corporate money, he mostly seems just to be illustrating the absurdity of our campaign laws and their very weak attempts to keep money out of politics.
Indeed, while I'll admit to not knowing many of the particular absurdities of the law prior to Colbert's shining a sardonic light on them, I've been arguing for longer than I can remember that attempts to keep money out of politics are as futile as attempts to keep politics out of politics. Every closed loophole creates several new ones–usually even more egregious than the last in its contempt for the spirit of the law.
Sherman adds, "campaign finance laws are rarely a hindrance for people with television shows espousing political messages that are already popular.  Those people already have the ability to get their message out to a national audience.  Political upstarts or outsiders—the real beneficiaries of the rulings in Citizens United and SpeechNow.org v. FEC—don't have that option."
I'm not unsympathetic to Colbert and others who point to the outsized influence of those with big money on the process. But I'm not particularly worried about it in the particular arena of major election campaigns, given the degree to which they operate in the sunshine. I'd frankly prefer that Mitt Romney and Newt Gingrich themselves were spending the money and directly controlling the ads, rather than having the additional implausible deniability provided by having the money spent by Super PACs, 527s, and others who are ostensibly–or, in some cases, actually–independent doing it on their behalf. Television ads may be persuasive but they are, by definition, quite public.
I'm much more concerned with the influence that the extremely wealthy have in crafting and shaping our laws and regulations behind the scenes. That's where the real power lies and it's almost completely hidden from view.