Cincinnati Cop Indicted For Murder In Traffic Stop Shooting Death
A police officer in Cincinnati has been indicted for murder in a case that seems to be a pretty clear cut example of improper use of force.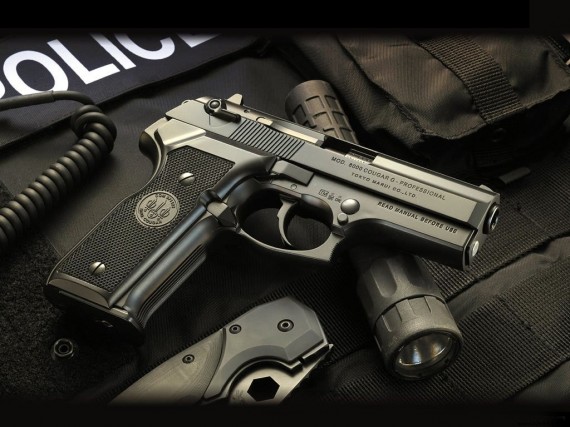 A University of Cincinnati Police Officer has been indicted for murder in the shooting death of an African-American man, and it is the video from his own body camera that provides the most damning evidence against him:
A University of Cincinnati police officer was indicted on murder charges on Wednesday in the fatal shooting of a driver this month that a prosecutor called "totally unwarranted" and "senseless."

In the indictment handed up by a grand jury in Hamilton County, the officer, Ray Tensing, is accused of killing the driver, Samuel DuBose, during a traffic stop near the campus on July 19.

At a news conference, the county prosecutor, Joseph T. Deters, said that Officer Tensing "purposely killed" Mr. DuBose after the officer lost his temper in what he called a "chicken crap" traffic stop.

"I've been doing this for 30 years," Mr. Deters told reporters. "This is the most asinine act I've ever seen a police officer make, totally unwarranted." A body-camera video of the shooting was also being released.

"He purposely killed him," Mr. Deters said of Officer Tensing. "He should never have been a police officer."

Officer Tensing turned himself in on Wednesday after his indictment, according to reports

The death of Mr. DuBose, who was black, at the hands of Officer Tensing, who is white, joined a string of recent episodes — in Staten Island, Cleveland, North Charleston, S.C., and Ferguson, Mo., among others — that have raised hard questions about law enforcement use of force, and the role of race in policing. Video cameras have recorded many of the episodes and nonlethal encounters like the arrest of Sandra Bland, who died three days later in a Texas jail cell, offering disturbing evidence of the confrontations that often contradicts the accounts of people involved.

(…)

Mr. DuBose, 43, a father of 10, was just south of the university campus, driving a green 1998 Honda Accord without a front license plate, when Officer Tensing began following him, according to an account that Jason Goodrich, chief of the university police, gave on Monday. Moments later, the officer pulled Mr. DuBose over on a side street, a few blocks from the campus, Mr. Goodrich said.

He said that when Officer Tensing asked for a driver's license, Mr. DuBose handed him a bottle of alcohol instead. But Mr. Goodrich gave no more insight into the confrontation that followed, in which the officer fired one shot that struck Mr. DuBose in the head.

Another university officer who arrived shortly after the shooting, Eric Weibel, wrote in his report that Officer Tensing told him that "he was being dragged by the vehicle and had to fire his weapon," and that "Officer Tensing stated that he was almost run over." A third officer, he wrote, said he had seen Officer Tensing being dragged.

"Looking at Officer Tensing's uniform, I could see that the back of his pants and shirt looked as if it had been dragged over a rough surface," Officer Weibel wrote.

On an audio recording of police radio communications, after Officer Tensing shouted "Shots fired! Shots fired," a dispatcher asked who was injured. It is not clear if he replied "I am injured" or "I'm uninjured."

"I almost got run over by the car," the officer said. "He took off on me. I discharged one round. Shot the man in the head."
The body camera video shows that the situation unfolded far differently from what Officer Tensing claimed happen. Rather than being dragged across any kind of surface, or DuBose making any effort to fight with the officer, what we see is Tensing asking DuBose several times if he had a driver's license and when DuBose makes an effort to get out of the car, Tensing shoots him in the head, killing him:
Leading up to today's announcement of charges against Officer Tensing, there was some anticipation in the community that a failure on the part of prosecutors to take action against the officer could lead to unrest in Cincinnati, which has a history of such things. Back in 2001, the city was racked with several days of rioting after another African-American male was shot and killed by a city police office during a traffic stop under circumstances that were remarkably similar to what happened to DuBose with the exception that, at the time, police body cameras were not a common thing. Prior to that shooting, there had been a long history of tension between the policy and African-American community over allegations of targeting and abusive behavior toward African-Americans by police. To some extent, it seemed during the run-up to today's announcement that the authorities in the city were doing their best to avoid a repeat of what had happened fourteen years earlier.
As for the case itself, the video speaks for itself and seems to be a fairly damning piece of evidence against the officer. Shooting a man in the head before you even have a chance to evaluate the situation is bad enough, doing so in the course of what started out as a traffic stop because of a missing or misplaced license plate. DuBose was posing no threat to Tensing at the time that he shot him, and the fact that Tensing gave a version of events that clearly does not comport with what the body camera recorded is fairly damning evidence that he was conscious of the fact that he done something wrong and was seeking to cover it up by creating a story about having been provoked and in fear of his life. Given the fact that he obviously knew his body camera was recording the entire event, one has to wonder what made him think he could even get away with telling such a blatant lie. Of course, the fact that previous incidents like this in Cincinnati have not resulted in an indictment, that police officers are rarely indicted in these sorts of situations, and that prosecutors are often reluctant to pursue charges because of their need to maintain a good relationship with the departments they work with may have led Tensing to think he could get away with this.
Along with everything else that this case says about the ongoing issues about police abuse that have been at the forefront of our political discussion since the Michael Brown shooting, this case is perhaps the best argument we've seen for body cameras since the debate started. Were it not for the fact that Officer Tensing was wearing a camera, it is unlikely that any investigation of his shooting would have uncovered sufficient evidence to rebut his version of events and we likely would have been left with a situation similar to the one that the Grand Jury in the Michael Brown case faced. Perhaps the forensic and ballistic evidence alone would have been enough to call Tensing's story into doubt, but those doubts may not have been enough to persuade a Grand Jury to indict.
There is still a trial to come, of course, and Officer Tensing is entitled to the same presumptions of innocence that we all are, but at least he was indicted and that is a good first step.