Cleaning Up College Sports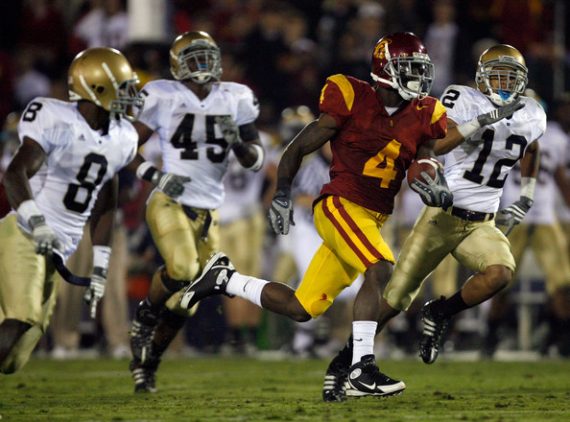 Denver business ethics prof James O'Toole proposes a new intercollegiate athletic league for true student-athletes.
The old ideal of the serious student who also is a fine amateur athlete has become progressively corrupted in recent decades, particularly in the top-rated football and basketball programs at roughly 100 universities. As television revenues and professional sports salaries have soared, these universities have taken to offering scholarships to athletes who have little interest in obtaining an education and, instead, view their increasingly brief tenures in higher education as a form of unpaid minor-league preparation for their future professional sports careers. In effect, universities now suit-up unpaid mercenaries in their school colors, then cash in on their efforts.
True.
For a variety of financial, cultural and political reasons, all efforts to reform this corrupt system have failed and, realistically, are likely to fail in the future because the NCAA is dominated by large public colleges and universities whose alumni and governing legislatures have little appetite for change.
Also true.
But, O'Toole argues, some schools still care about academics but, for a variety of reasons, don't want to leave big time athletics.
Stanford and Notre Dame could take the lead in establishing a national conference of first-rate academic institutions that offer athletic scholarships only to true student athletes, as defined, largely, by an iron-clad commitment to graduate with their classmates in four years. An invitation to join this conference could be extended to other private institutions with both high academic standards and proud athletic traditions – such as Northwestern, Duke, Boston College, Pittsburgh and Brigham Young (which could substitute a suitable variation on the four-year graduation policy to accommodate Mormon missions). The three United States service academies might also be asked to join.

The 12th member of this conference, I suggest, should be my alma mater, USC, where I was on the track team in the early 1960s and on the faculty for more than two decades. In the last dozen years, USC's academic reputation has improved markedly, largely because of policies adopted under its soon-to-retire president, Steven Sample. Unfortunately, as a result of the current NCAA sanctions imposed on the university, Sample finds his excellent record sullied at the end of his term. But as the new president, Max Nikias, prepares to take office, he is well-positioned to turn the current crisis into an opportunity to create an athletic program worthy of the university's emerging academic status.
So, having been hugely embarrassed by breaking the rules to compete in the Big Time, USC is now going to join a Choir Boy League?
Leaving that aside, I like the idea insofar as it goes. But why would any of these schools actually join?  USC, Duke and Notre Dame, in particular, are raking in mad money under their current arrangements.
But, even if they could be persuaded, who would they compete against? Only schools within the conference? You can't fill out a football season, much less a baseball or basketball schedule, with only 11 opponents.
Alas, I'm afraid the genie is out of the bottle.  College football, in particular, was never a pristine business — the use of ringers and other win-at-any-costs schemes date back to the 1890s — and big television dollars have made it almost impossible to pretend that academic excellence is the primary consideration.
via Margaret Soltan