Colombia's Vote for Peace
Today Colombians got to the polls to vote in a plebiscite on the FARC peace accord.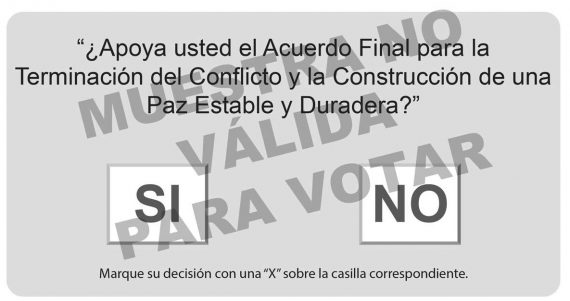 Having signed a final peace accord with the FARC guerrillas earlier this week (after a multi-year process of negotiations), the voters in Colombia are being asked the following question this morning:
"Do you support the final accord to end the conflict and to build a stable and lasting peace?"
While the "Sí" vote is expected to win, there is substantial pro-"No" coalition led by former President Álvaro Uribe.  Those who oppose the accord see the process as promoting impunity and injustice in the face of the crimes committed by the FARC over the decades.
It should be noted that the Colombian Constitutional Court ruled that at least 13% of eligible voters had to approve of the accords for the plebiscite to be valid.  This translates roughly into 4.5 million votes (specifically, the Colombia news weekly, Semana, puts the "magic number" at 4,536,993).  This is relevant only insofar as Colombia has a history of low voter turnout.
For a backgrounder on the conflict with the FARC see my piece from last month in Origins:  Colombia: On the Brink of Peace with the FARC? If you can read Spanish I would also recommend the web site of the High Commission for Peace.   Additionally, WaPo provides 5 stories to read as Colombia votes on the FARC peace deal.
Peace deals of this nature are always difficult and perfect justice is impossible.  However, as one who has studies Colombia for roughly a quarter century, having lived there for a time, I am optimistic that this deal will help move Colombia further down the path to peace.  It will certainly not solve all of Colombia's problems, but it represents numerous steps in the right direction.
A key issue that I will be watching will be the integration of the FARC into political life and electoral/party politics.
Hopefully we will next see a peace deal with the ELN, and the guerrilla wars will finally be over in Colombia.  This will not solve ongoing criminal violence, but it will represent important progress.