Cordoba House Imam "Extremist" in "Sheep's Clothing"?
Steve Emerson has reportedly found 13 hours of tape of Cordoba Initiative chairman Imam Feisal Abdul Rauf and found him to be a "radical extremist cleric who cloaks himself in sheep's clothing." Does it matter?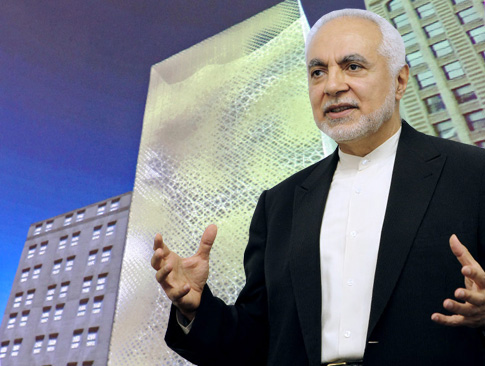 Steve Emerson has reportedly found 13 hours of tape of Cordoba Initiative chairman Imam Feisal Abdul Rauf and found him to be a "radical extremist cleric who cloaks himself in sheep's clothing."
Pam Gellar, a leader in the movement opposing the building of the mosque and community center two blocks from Ground Zero, reports that the tapes will reveal Rauf:
Defending wahhabism – a puritanical version of Islam that governs Saudi Arabia

Calling for the elimination of Israel by claiming a one-nation state, meaning no more Jewish State.

Defending Bin Laden's violence

Demonstrating that there is a lot more to this man than merely a cleric.
Ace, Weasel Zippers, Dave Price,  and others are running with the story and argue that it vindicates their opposition to the project and that those of us defending it "got played for chumps."  Ace also uncorks the delightful pun "un-mosqued."
While Emerson is a bit polemical for my tastes, he's a legitimate expert.   He was doing yeoman's work on pointing out the real dangers of Muslim extremism long before the 9/11 attacks.   His 2002 American Jihad:  The Terrorists Living Among Us is a valuable addition to the cannon and his 1994 PBS documentary of the same title won the Polk Award.  And, while he's been banging the "jihadis in our midst" drum for years, he's always exceedingly careful to point out that the vast number of Muslims are decent folks.   He's worth taking seriously.
That said, I'd really like to have more than a thumbnail sketch of the findings.  Emerson's blog is defunct and, while he's listed a contributor, he hasn't posted on Counterterrorism Blog in ages.  So, I'm not privy to his analysis.
What does "Defending wahhabism" mean, for example?   I think it's despicable and dangerous but also think they have a right to exist.  Indeed, there's a Saudi Islamic school within walking distance of my house.    Is Rauf a fan of wahhabism?  In sympathy with its extreme ideas?  Or merely acknowledging that we have to find a way to co-exist since they're not going anywhere?
Ditto "Defending Bin Laden's violence."   Is he merely acknowledging that bin Laden is motivated by America's foreign policy and not just his hatred of our "freedom"?   Or is he actually saying that murdering innocents is justified, or even laudable?
The Israel thing is dubious on its face.  I happen to support a two-state solution that involves a Palestine that's carved out of parts of Jordan and Egypt and not just the Occupied Territories.  (No, it's not going to happen.  It's just the only theoretically viable option I can see.)   But calling for a non-ethnic state in which Jews and Arabs co-exist, even if it means as a practical matter that Jews won't have the power to govern, isn't exactly heinous.
And, isn't there more to all of us than our jobs?
For the sake of argument, however, let's stipulate that Rauf is a secret Wahhabist who hates Jews and sympathizes with terrorists.   Does it change anything?
Certainly, it doesn't alter his group's legal rights to build a community center that's been approved by local zoning authorities.   The 1st Amendment protects freedom of worship and freedom of expression, even of outrageous thoughts.  Especially those, in fact.
But it would undermine Rauf's claims that "My colleagues and I are the anti-terrorists. We are the people who want to embolden the vast majority of Muslims who hate terrorism to stand up to the radical rhetoric. Our purpose is to interweave America's Muslim population into the mainstream society."    If, instead, he's actually intent on building some kind of Super Madrasah to radicalize New York City's Muslim population, he'd lose my sympathy and his moral high ground.
For me, his right trumps my objection on the grounds of ought.  But the case for the latter would be much stronger.