Defense Budget Cuts
Stephanie Guttman, author of something called The Kinder, Gentler Military, takes to NRO to tell us how easy it is to cut the Defense budget. She inadvertently does just the opposite.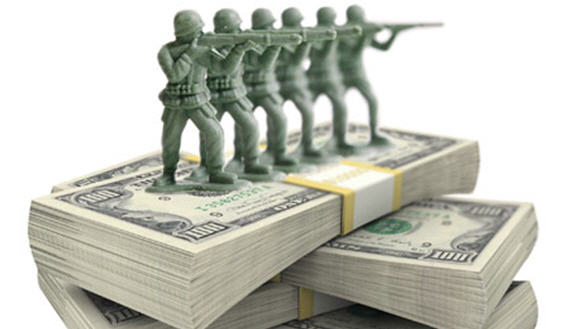 Stephanie Guttman, author of something called The Kinder, Gentler Military, takes to NRO to tell us how easy it is to cut the Defense budget.  She inadvertently does just the opposite.
She writes, "I'm not a line-by-line expert on the military budget, but common sense says there's a nice layer of lard that can be pared before we hit muscle and bone."  Fair enough.  Her examples?
● "How about the thousands of troops in Germany and the UK?"
How about 'em? Presumably, Guttman isn't proposing we do away with them — we're stretched pretty thin as it is — merely moving them home.
They're forward-deployed much nearer likely venues for conflict than they would be at, say, Fort Hood. They're only marginally more expensive overseas and more than make up for that by the powerful signal their presence sends to our NATO allies.
● "All-Army Sports. We have a war going on. We don't need professional sports teams." [Did you know that the Army fields its own sports teams? I didn't, but here's their website.]

● "The US Army Soldier Show. Yes, it was founded by Irving Berlin, but we need Soldiers in our warfighting units, not tap dancing around the world (literally.)" [Their website. He is not talking about the hallowed USO Shows. Those are a private venture.]
These things, military bands, the various demonstration teams (the Black Knights parachute team, the Blue Angels flight team, and the like) do indeed seem like low-hanging fruit. But they're apparently a very powerful recruiting tool and more than pay for themselves in that arena.
● "The Commander of the Army and Air Force Exchange Service. The PX system does not need a General Officer in command. Hire a competent executive away from Wal-Mart, Sears, or JCPenneys and let him go to town." [While we're at it, do we really need expensively-trained servicemen and women manning the base supermarkets and ship's stores anyway? Isn't this a job that we might consider privatizing?]
AAFES employs precisely two flag officers: a major (2-star) general  and a brigadier (1-star) general. They oversee "3,100 facilities worldwide, in more than 30 countries, five U.S. territories and 50 states. AAFES operates some 181 main stores and more than 1,000 fast-food restaurants, such as Taco Bell, Burger King, Popeyes and Cinnabon." And they account for $9.8 billion in sales.
A two-star makes around $175,000 a year.  You really think you're going to find a civilian executive to manage that operation more cheaply?
And the checkout counters — indeed, the entire store operation — is civilian run, largely by wifes and husbands of service members. The notable exception is those stores being run aboard naval vessels at sea, who are staffed by very low ranking sailors. There are, shall we say, good reasons for that.
Speaking of wasting trained personnel, that same retired Army man recommends taking a look at "the number of aides-de-camp to General Officers who have that all important duty of holding hats, carrying briefcases, and basically being personal servants. Since most of the servants are commissioned officers, if the duties are so important, then assign them to some wounded enlisted soldiers who are not capable of combat duties."
Aides-de-camp are promising officers who shadow general officers to learn. They're not personal servants but, depending on the rank and billet of the general, some combination of executive assistant and chief of staff. It's an invaluable job that yields tremendous benefits for both the general and the aide.  Oh, and there are only 230 generals in the entire Army, 208 in the Air Force, and 60 in the Marine Corps. The Navy is capped at 216 admirals.
If we're looking to cut the budget, by the way, the issue isn't too many aides but too many general and flag officers! Indeed, the Secretary of Defense is looking to make steep cuts.  (Although there are some good counterarguments, notably the need for stars on ones shoulders in quasi-diplomatic assignments, which appear to be the norm for the foreseeable future.)
There are doubtless some efficiencies to be gained by further consolidating bases and administrative functions, especially those service support functions that serve all the service branches. For example, there has been talk for years of combining AAFES and the Navy Exchange Service and yet it hasn't happened.
But most of the low hanging fruit has been plucked at this point.  The only way to achieve real savings is to cut back on the operational tempo. If we expect our military to be able to deploy anywhere, any time and stay for years on end performing counterinsurgency or stability operations, then we're going to have to expect to continue pouring absurd amounts of money into Defense.