Delayed September Jobs Report Disappoints
Nothing to write home about in the September Jobs Report.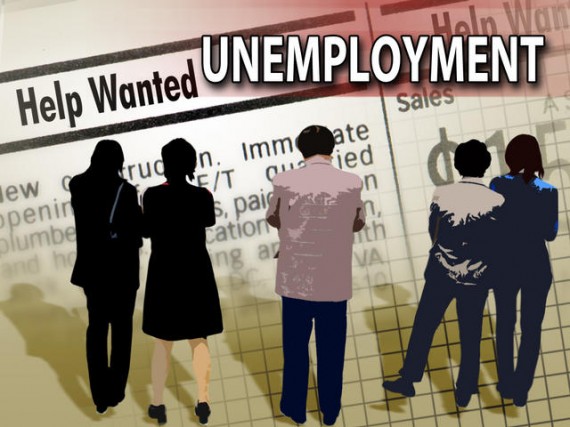 Delayed nearly three weeks by the government shutdown, the September Jobs Report released today by the Bureau of Labor Statistics fell far short of expectations. The consensus forecast going into this morning was that we'd see something in the neighborhood of 180,000 net new jobs added for the month, not a very good number but at least somewhat respectable. Just prior to the shutdown, the ADP report, which is sometimes but not always a harbinger of what to expect from the BLS report, came back with 166,000 new jobs added. Instead of hitting either of those targets, though, the official report fell far short of the target, indicating that the economy is still barely just trudging along:
Total nonfarm payroll employment rose by 148,000 in September, and the unemployment rate has little changed at 7.2 percent, the U.S. Bureau of Labor Statistics reported today. Employment increased in construction, wholesale trade, and transportation and warehousing.

The unemployment rate, at 7.2 percent, changed little in September but has declined by 0.4 percentage point since June. The number of unemployed persons, at 11.3 million, was also little changed over the month; however, unemployment has decreased by 522,000 since June. (See table A-1.)

(…)

Total nonfarm payroll employment increased by 148,000 in September, with gains in construction, wholesale trade, and transportation and warehousing. Over the prior 12 months, employment growth averaged 185,000 per month. (See table B-1.)

Employment in construction rose by 20,000 in September, after showing little change over the prior 6 months.

Employment in wholesale trade rose by 16,000 in September. Over the prior 12 months, this industry added an average of 7,000 jobs per month.

Transportation and warehousing added 23,000 jobs in September. Most of the increase occurred in transit and ground passenger transportation (+18,000).

In September, employment in professional and business services continued to expand (+32,000). Over the prior 12 months, employment growth in this industry averaged 52,000 per month. Employment in temporary help services continued to trend up in September (+20,000).

Within retail trade, job gains occurred in building material and garden supply stores (+5,000) and in automobile dealers (+4,000). In the financial activities industry, employment in credit intermediation and related activities declined by 8,000 in September.

Employment in health care changed little (+7,000) in September. Thus far in 2013, health care has added an average of 19,000 jobs per month, compared with an average
monthly increase of 27,000 in 2012.

Within leisure and hospitality, employment in food services and drinking places was essentially unchanged over the month (-7,000). Job growth in this industry averaged 28,000 per month over the prior 12 months.

Employment in other major industries, including mining and logging, manufacturing, information, and government, showed little change in September.

(…)

The change in total nonfarm payroll employment for July was revised from +104,000 to +89,000, and the change for August was revised from +169,000 to +193,000. With these revisions, employment gains in July and August combined were 9,000 more than previously reported.
Counterbalancing out all of this news is the fact that 136,000 people left the workforce in September, a number nearly equal to the number of net jobs added and which mostly explains the slight dip in the overall unemployment rate itself. More broadly, though, the U-6 unemployment rate remains high at 13.6% and the labor force participation rate remains low at 63.2%.  Overall, the average jobs creation rate over the past year is at 185,000 net jobs per month. However, as economist Justin Wollers points out, that average has been declining from an average of 209,000 in the last quarter of 2012 and 207,000 in the 1st quarter of 2013, to 182,000 in the second quarter of the year and (pending revisions for August and September) 143,000 for the third quarter of the year. That's a worrisome trend, and the impact of the government shutdown is only likely to make the final quarter of the year even more disappointing.
As CNBC notes, this is a largely disappointing result:
"Today's blistering jobs report has quickly reminded America that our economic problems are getting worse, despite talking point reassurances from Federal Reserve officials," said Todd Schoenberger, managing partner at LandColt Capital.

The report likely will do little to move the needle on monetary policy.

Most market-watchers now expect the Federal Reserve to continue its $85 billion a month bond-buying program until well into 2014. Consensus sentiment is now that the central bank won't even start easing back on, or "tapering," the purchases until the spring.

(Read more: Thanks, Congress: Data delay means no Fed taper)

The September report provided another reminder that while the jobs market continues to heal it is far from robust.

The bulk of the jobs came from professional and business services, which added 32,000 positions, while there were 20,000 more temporary jobs. Transportation and warehousing rose by 23,000, and there were 20,000 additional construction positions.

One of the strongest areas of job creation over the past several years, leisure and hospitality, lost 7,000 jobs for the month.
Another point worth keeping in mind is that this is likely the last jobs report we'll see for a few months that won't be impacted in some way by the government shutdown:
While many economists now believe the slowing of monetary stimulus will happen in December, they also acknowledge that the shutdown has muddied the data Fed officials use make that timing decision, which may end up delaying the Fed's plans.

"The Fed's core criteria to change policy is clear evidence of a sustained improvement in the labor market outlook," Ian Shepherdson, chief economist at Pantheon Macroeconomics, wrote in a note to clients. "Such evidence will not be available this year" because the shutdown depressed employment in October and then likely caused a corresponding bounce back in November.

The next "clean" report — that is, a jobs snapshot not affected by the whiplash of a federal government shutdown and reopening – won't come until January 2014, when hiring data for December will be released. As a result, Mr. Shepherdson predicted, this data disruption will force the Federal Reserve to hold off any reduction in its stimulus efforts till next year.

By that time Janet L. Yellen, the president's pick to succeed Mr. Bernanke when his chairmanship ends on Jan. 31, may be at the head of the central bank. She is widely expected to continue the policies set in place by Mr. Bernanke.
It's quite probable that Yellen may push the Fed to delay tapering if the numbers keep up like this. After all, this is hardly the type of jobs report that indicates that we're anywhere near having a healthy economy, and other events in Washington are just likely to increase economic uncertainty in the months going forward.