Does 'Go The F- To Sleep' Encourage Violence Against Kids?
Some people have no sense of humor.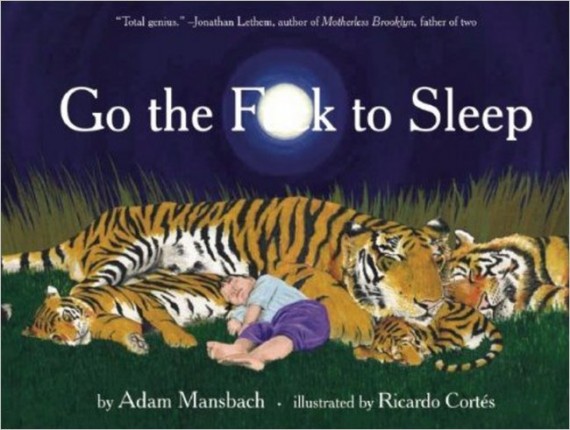 Some people have no sense of humor. For example, Karen Spears Zacharias.
As the title suggests, "Go the F*** to Sleep" mocks the parental frustrations of trying to lay a child down to bed. Crass in concept and execution, this is an expletive-filled bedtime story intended solely for the amusement of parents.
Right!
Joan Demarest is an attorney in Corvallis, Oregon, and the mother of three young boys. Demarest told me that initially she thought the book was funny. That was before she read it. "Now I find it unsettling. I don't like violent language in association with children."

She has good reason to be concerned about the message behind such a parody. Demarest was the prosecuting attorney in one of Oregon's most high-profile child murder cases. She understands the fear that far too many children endure because the lines of what's appropriate parenting have become blurred.

Nobody is suggesting that there's a connection between Adam Mansbach's book and child abuse or child neglect.
Except, of course, Zacharias and Demarest.
Still, there's no denying the reason "Go the F*** to Sleep" should be kept out of reach of children is because of its violent language and because of the way it demeans children.
Well, we've already established that this is a book aimed at parents, not children. Also: Children of the age that won't go the fuck to sleep? They can't read.
"Imagine if this were written about Jews, blacks, Muslims or Latinos," says Dr. David Arredondo. He is an expert on child development and founder of The Children's Program, in the San Francisco metropolitan area, which provides consultation and training for those working with troubled youths.

It is hard to imagine this kind of humor being tolerated by any of the marginalized groups Arredondo cited. Consider the lines on page 3:

"The eagles who soar thru the sky are at rest
And the creatures who crawl, run and creep.
I know you are not thirsty. That's bulls**t.
Stop lying.
Lie the f*** down, my darling, and sleep."
Yes, because Jews, blacks, Muslims and Latinos are notorious for inventing excuses to prolong bedtime. Oh: And being a small child is not an immutable characteristic of one's existence; it's a phase of life. All of us, including Adam Mansbach, were children once upon a time.
The irony, says Arredondo, is that the people buying the book are probably good parents.

"The people reading this book are educated parents, who actually care about their children and are frustrated that often their children don't behave the way storybooks display."
That is ironic!
Parents often don't act in the way storybooks depict either. Putting kids to bed can be a challenge, and it may be an even bigger problem for this generation of parents because the sacred bedtime ritual of reading to children has gone away.

"I think it's pretty important to note that most kids in this country do not get read to at all when they go to sleep," Arredondo says.
Sad, if true. But, as already established, this book is aimed at the other sort of parents. Indeed, most of the humor of the book would have been lost on me three years ago, in that it had been four decades since I'd last read a children's book. It only works as a satire on the genre of books aimed at pre-schoolers.
Author Adam Mansbach is undoubtedly the kind of father who heaps love, affection and attention upon his daughter. (He reportedly had the idea to write the book because of his exasperation with her at bedtime.) But sadly, his book accurately portrays the hostile environment in which too many children grow up.
Parents have been frustrated with their children from the the beginning of time. The frustration of getting kids to bed has, presumably, gotten worse in modern times, as more of us are on schedules. But the overwhelming majority of us accept this is part of the package; the challenges are the price of the joy and are looked upon fondly and with pride.
The violent language of "Go the F*** to Sleep" is not the least bit funny, when one considers how many neglected children fall asleep each night praying for a parent who'd care enough to hold them, nurture them and read to them.
But, for the dozenth time, you ninny, these aren't the people buying the book. Parents who don't give a crap about their kids aren't buying books about the hardships of parenting because parenting is only hard if you give a crap. Indeed, lousy parents tend not to impose bedtimes at all–letting the kids stay up to all hours of the night is the easy path and lets the parents get on with doing what they'd rather be doing.