Donald Rumsfeld Has 'Absolutely No Idea' if His Tax Returns Are Accurate
Our tax system is so complicated that whether we're filing our returns correctly is a known unknown.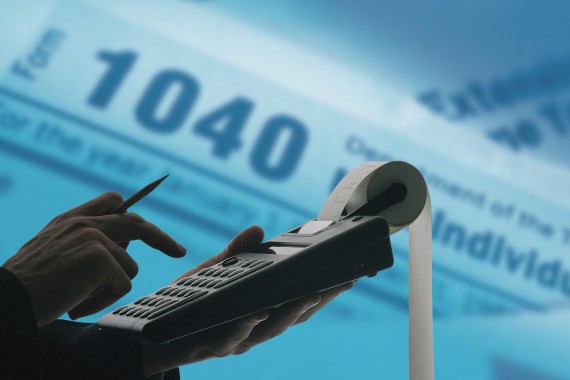 Donald Rumsfeld, Secretary of Defense under Presidents Gerald Ford and George W. Bush, tweets, "That I & most Americans have no idea whether our taxes are accurate tells us something. My annual letter to the #IRS."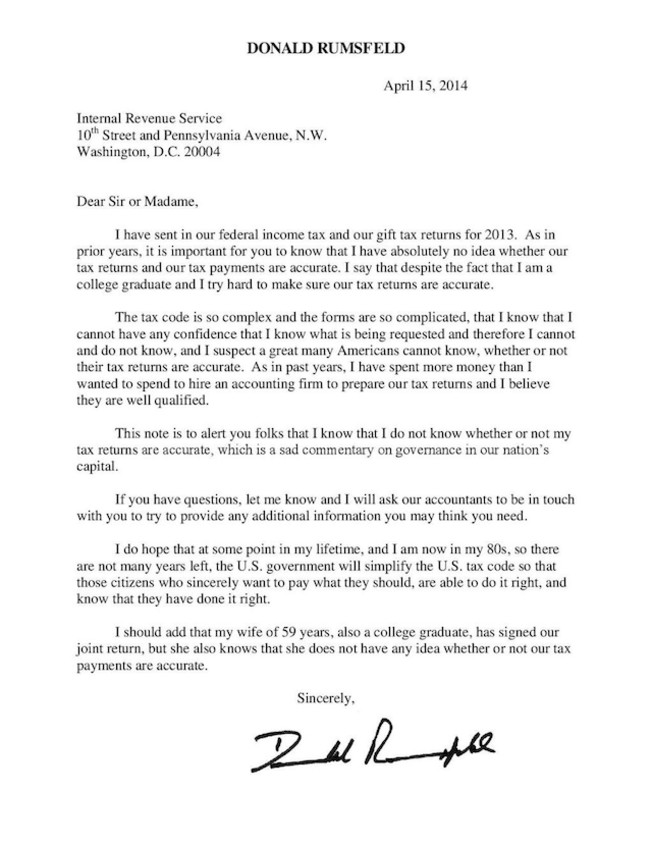 For those reading on mobile phones or otherwise unable to read the image, Rumsfeld notes that he and his wife, both college graduates, have signed their joint return in good faith but "The tax code is so complex and the forms so complicated,  that I know that I cannot have any confidence that I know what is being requested and therefore I cannot and do not know" whether they are accurate despite "paying more money than I wanted to spend to hire an accounting firm to prepare our tax returns and I believe they are qualified."
The letter is amusing and makes a reasonable point but is, of course, misdirected. The tax code is so complicated not because of the doings of the IRS but rather because Congress has riddled it with exemptions, boondoggles, and trickery to achieve innumerable public policy goals of debatable merit.
The result is a system so complicated that even people who do taxes for a living don't get it right.
The Government Accountability Office sent people undercover to 19 randomly selected tax preparers, and all but two calculated the wrong refund amount. The errors ranged from calculating $52 less to $3,718 more than the right amount. (The GAO, unlike H&R Block in its ads, is careful to say that the sample can't be generalized.) Some of these mistakes might be honest. But they don't bode well for the accuracy of Americans' tax returns.
Ezra Klein passes on a suggestion for how the IRS could help:
"It's so frustrating," says Austan Goolsbee. "Taxpayers have been turned into the Internal Revenue Service's lowest-paid employees. They're doing the IRS's work for nothing."

Goolsbee is an economist at the University of Chicago's Booth School of Business. But from 2010 to 2011 he chaired President Obama's Council of Economic Advisers. And like so many economists who've come to Washington before him he saw an obvious way to make tax day a whole lot simpler. But he couldn't get it passed.

"If you're a person with one job and one bank account and a reasonably simple tax situation," Goolsbee says, "every piece of information that you're sending to the IRS is information they already have!" And that makes it easy for them to fill out your tax return on your behalf.

It's important to stop for a moment and clear something up: The IRS would just be filling out your tax form and sending it to you for approval — or modification. You could choose to sign off or you could scrap it and start anew. "It's totally optional if you don't want to use it or you don't trust them," Goolsbee says. "You can just crinkle it up and throw it away."
This makes total sense but it's not going to happen.
In a paper for the Hamilton Project, Goolsbee estimates that a national system along these lines could save taxpayers about 225 million hours and $2 billion in tax preparation fees every single year.

Goolsbee wasn't alone on this one. President Obama supports automatic tax filing, too. So, in fact, did President Reagan. But it never quite seems to pass Congress.

"The reason it doesn't happen nationally is it creates a strange coalition of opponents," Goolsbee says. First, it offends the anti-tax activists, like Grover Norquist, who want taxes to be a difficult as possible. Then it threatens the massive tax-preparation firms like Intuit, makers of TurboTax. Then there's the IRS, which in the manner of so many government agencies, doesn't want to take on a new, difficult task.
Of course, even if somehow implemented, it wouldn't help Rumsfeld, whose tax situation is much more complicated than it is for the average American. Indeed, it wouldn't help me, either. For I don't know how many years in a row now, my accountant filed an extension for me yesterday and I'll still be dealing with my past year taxes halfway through this year. Partly, that's a function of procrastination on my part. But, running as I do a small business in addition to my day job, my tax situation is ridiculously complicated and the rules as to what deductions I can claim, how much I can contribute to my retirement accounts, and so forth not only change on an annual basis because Congress keeps tweaking the system but change depending on a variety of factors that I have no way of keeping up with.
It doesn't help that the filing deadline is April 15 but companies are allowed to send me the forms required to comply with such deadline as late as the last week in March. Presumably, it's complicated on their end, too, but that would seem to call for a later filing deadline.
While I complain as much as the next guy, if not more so, about the bloat and inefficiencies of government, I don't mind paying my fair share. But I do mind the amount of time and resources it takes to do it.