Donald Trump Threatens To Boycott Next GOP Debate Over Format Disputes
Donald Trump is threatening to boycott the next Republican debate if there aren't format changes. The GOP should call his bluff.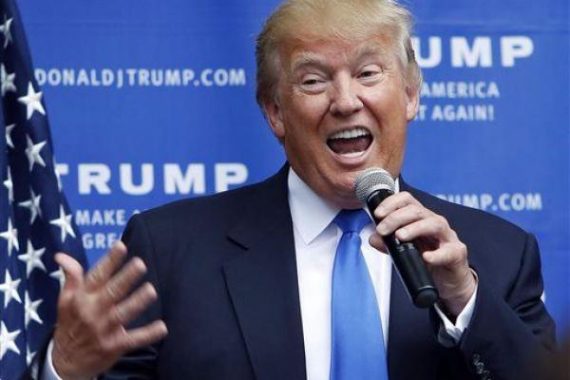 Donald Trump is apparently threatening to pull out of the next Republican debate if format changes aren't made:
A Republican National Committee conference call to discuss plans for the Oct. 28 GOP debate with top advisers to the presidential campaigns spiraled into chaos on Thursday afternoon as Donald Trump threatened to pull out of the debate if his demands for the format are not met.

On the call, according to three sources who were on the line, Corey Lewandowski, Trump's campaign manager, said that if the debate does not include opening or closing statements and is longer than two hours total, including commercial breaks, the real estate mogul would have to reconsider his participation.

Neither Lewandowski nor Trump's spokeswoman, Hope Hicks, responded to a request for comment.

The fiery exchange was one of many on the 29-minute call, which the RNC abruptly scheduled after several campaigns complained a day earlier about CNBC's planned format for the Boulder debate — particularly the stipulation that candidates not be allowed to give opening and closing statements.

Two top RNC officials, Katie Walsh and Sean Spicer, began the call by telling campaigns that Chairman Reince Priebus had been in contact with CNBC over the matter of opening and closing statements and by saying his job is to advocate for the candidates and that they wanted to make sure he was clear on what their demands were. RNC officials wanted to know what the "red line" was for each campaign, and whether crossing that line would mean they wouldn't attend.

Then things went south.

First, Jason Miller, a top strategist for Ted Cruz, said his campaign would consider bailing if there weren't opening and closing remarks. Then, Chris LaCivita, an aide to Rand Paul, chimed in: "If we don't have opening and closing statements, CNBC can go f— themselves."

After Lewandowski spoke, others chimed in — including Beth Hansen, who called the conference call a "debacle."

Sarah Huckabee Sanders, an adviser to Mike Huckabee, expressed concern that not all candidates would have equal time to speak during the debate.

Then it was Marco Rubio campaign manager Terry Sullivan's turn. Rubio would be present at the debate — he'd be in Boulder "hell or high water," regardless of the final decision, but he wanted the campaigns to speak with one voice and agreed with other campaigns on the need for opening and closing statements.

Peter Flaherty, an adviser to Jeb Bush, voiced his position — that the former Florida governor intended to participate in the debate no matter what, but that he'd like there to be opening and closing statements.

Ken McKay, Chris Christie's campaign manager, expressed concern about stating his position on an open conference call line.
Trump himself took to Twitter to reiterate the position that his campaign advisers apparently took in the conference call:
The @GOP should not agree to the ridiculous debate terms that @CNBC is asking unless there is a major benefit to the party.

— Donald J. Trump (@realDonaldTrump) October 15, 2015
.@CNBC is pushing the @GOP around by asking for extra time (and no criteria) in order to sell more commercials.

— Donald J. Trump (@realDonaldTrump) October 15, 2015
Why is the @GOP being asked to do a debate that is so much longer than the just-aired and very boring #DemDebate?

— Donald J. Trump (@realDonaldTrump) October 15, 2015
The fact that the Trump campaign appears to be united with most of the other campaigns in the demand that there be opening and closing statements makes it seem likely that the format will end up being adjusted in order allow for this. In reality, of course, it probably doesn't much matter to Trump if he gets to give an opening or closing statement because, as Allahpundit puts it, the message that Trump is delivering in this campaign isn't all that different from the things he's been saying for the past thirty years or more, and certainly no different from what he's been saying throughout the campaign. For the other candidates, though, the opportunity to deliver even short statements at the start and end of the debate could be the one chance their candidate gets to make an impression on viewers free from rebuttal by another candidate or questioning from one of the moderators. Trump's campaign is likely agreeing with the other candidates about that point in order to gain leverage for what appears to be their chief complaint coming out of the last two debates, namely the length of the debate itself. On this point, I have to admit that the Trump people may have a good point.
The first Republican debate, which aired on Fox News Channel on August 6th, lasted roughly two hours without commercials, with commercials it stretched to nearly two and a half hours. The second Republican debate on CNN on September 16th lasted a full three hours from 8pm Eastern to 11pm, a time that the candidates and their campaign, and even most political pundits agreed was agonizingly long. The length of both of these affairs contrasts with Tuesday's first Democratic debate, which lasted just over two hours. To some degree, of course, the Republican debates have been longer because there have been more participants; there were ten candidates in the August debate, for example, and eleven in the debate last month. The Democratic debate, meanwhile, was limited to just five candidates. Even taking that into account, though, it strikes me that a two-and-a-half to three hour debate on a weekday evening is just a little bit excessive. Moreover, given the fact that the criteria that CNBC is using to determine eligibility for the main debate is likely to mean that there will be at most eight candidates participating, and possibly fewer, it seems that it would be fairly easy for the producers of the debate to trim down the length considerably without cutting down on the substance.
All that being said, it seems to me that the RNC needs to be careful to appear to be caving in to Trump or any of the other candidates regarding the terms on which they will appear in this or other future debates. On some level, I suppose, Trump probably figures that he doesn't need the debates as much as the other candidates do and that his absence would likely lead to lower ratings for the debate itself, and he's probably right on both those points. Additionally, as Harry Enten pointed out on Twitter today, Trump's numbers in the polls have declined after each debate even though he remains in the lead, so there may be some incentive for him to limit debate time. Given all of that, neither the RNC nor CNBC should let themselves be seen as allowing any candidate, but especially Trump, dictate the terms of a debate. Indeed, my advice to them would be to call Trump's bluff to some extent, even if they do give in on something like opening and closing statements. In the end, he's not going to skip the debate because he's not going to want to miss a chance to perform on a stage in front of an audience. Letting him do that at the same time that he's dictating the terms under which he'll do so just plays right into his hands.