Fear of a Black General?
My latest for Defense One.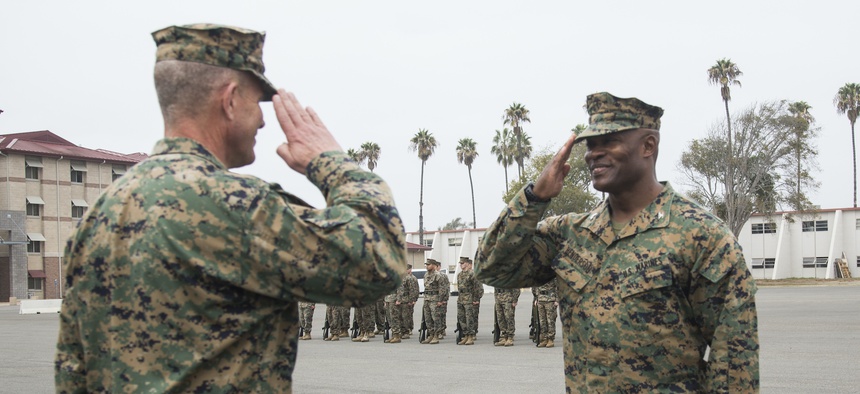 Defense One has published my essay "Fear of a Black General?"
A disturbing new report notes that "never in its history has the Marine Corps had anyone other than a white man in its most senior leadership posts" and charges that the Corps is "an institution where a handful of white men rule over 185,000 white, African-American, Hispanic and Asian men and women." The reality is more complicated. For one thing, most Marines are directly led by noncommissioned officers, whose ranks are much more diverse. For that matter, so is the officer corps writ large, and few Marines will ever meet a general. But the issue bears a closer look.
The New York Times report in question is built around an anecdotal case of a superstar black colonel who has not been selected for brigadier general in three tries. I demonstrate that this isn't particularly problematic; most Marine colonels are superstars and only 8% of them get promoted.
Still, while a single anecdote can be dismissed, the overall data is worrisome. The report notes that the Corps has seen only 25 Black officers make one-star rank, only six have made three-star, and "none has made it to the top four-star rank, an honor the Marines have bestowed on 72 white men." Further, "Out of 82 Marine generals overall today, there are six African-American brigadier generals and one African-American major general." 

Obviously, America has a long history of racial discrimination and Black servicemembers were only relatively recently admitted to the officer corps as anything like equal members. Still, the Army had a Black one-star general, Benjamin Oliver Davis Sr., in  1940—eighty years ago next month. The Air Force's Daniel "Chappie" James Jr. became the nation's first Black four-star general in 1975. Colin Powell became Chairman of the Joint Chiefs of Staff in 1989. Michelle Howard became the first Black woman to pin on four-star rank in 2014. And Charles Q. Brown, Jr. became the first Black service chief just last month. Against this record, the Marines' lack of even a single Black four-star merits investigation.  
I then delve into plausible benign explanations for the problem before concluding:
It is challenging to make an objective evaluation of the situation from the outside. Even the above-cited RAND report, which is the source of most of the data in this essay and which was commissioned by various Defense Department offices, had to rely only on Defense Manpower Data Center data because they were denied access to service data. It would behoove the Marine Corps to make more detailed information available to scholars for examination.  
If you're interested in the arguments and evidence in between, they're available at the link.