FISA Court Does Job Congress Assigned It
Don't blame "secret courts" for the government's expanded spying on American citizens and allies.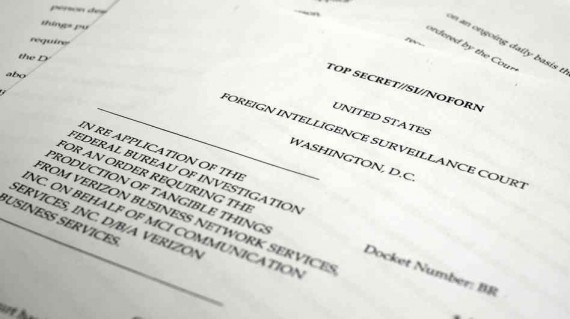 A widely circulated report by Eric Lichblau of the NYT, "In Secret, Court Vastly Broadens Powers of N.S.A.," misunderstands how our system works.
In more than a dozen classified rulings, the nation's surveillance court has created a secret body of law giving the National Security Agency the power to amass vast collections of data on Americans while pursuing not only terrorism suspects, but also people possibly involved in nuclear proliferation, espionage and cyberattacks, officials say.

The rulings, some nearly 100 pages long, reveal that the court has taken on a much more expansive role by regularly assessing broad constitutional questions and establishing important judicial precedents, with almost no public scrutiny, according to current and former officials familiar with the court's classified decisions.

The 11-member Foreign Intelligence Surveillance Court, known as the FISA court, was once mostly focused on approving case-by-case wiretapping orders. But since major changes in legislation and greater judicial oversight of intelligence operations were instituted six years ago, it has quietly become almost a parallel Supreme Court, serving as the ultimate arbiter on surveillance issues and delivering opinions that will most likely shape intelligence practices for years to come, the officials said.

[…]

"We've seen a growing body of law from the court," a former intelligence official said. "What you have is a common law that develops where the court is issuing orders involving particular types of surveillance, particular types of targets."

In one of the court's most important decisions, the judges have expanded the use in terrorism cases of a legal principle known as the "special needs" doctrine and carved out an exception to the Fourth Amendment's requirement of a warrant for searches and seizures, the officials said.

The special needs doctrine was originally established in 1989 by the Supreme Court in a ruling allowing the drug testing of railway workers, finding that a minimal intrusion on privacy was justified by the government's need to combat an overriding public danger. Applying that concept more broadly, the FISA judges have ruled that the N.S.A.'s collection and examination of Americans' communications data to track possible terrorists does not run afoul of the Fourth Amendment, the officials said.

That legal interpretation is significant, several outside legal experts said, because it uses a relatively narrow area of the law — used to justify airport screenings, for instance, or drunken-driving checkpoints — and applies it much more broadly, in secret, to the wholesale collection of communications in pursuit of terrorism suspects. "It seems like a legal stretch," William C. Banks, a national security law expert at Syracuse University, said in response to a description of the decision. "It's another way of tilting the scales toward the government in its access to all this data."

While President Obama and his intelligence advisers have spoken of the surveillance programs leaked by Mr. Snowden mainly in terms of combating terrorism, the court has also interpreted the law in ways that extend into other national security concerns. In one recent case, for instance, intelligence officials were able to get access to an e-mail attachment sent within the United States because they said they were worried that the e-mail contained a schematic drawing or a diagram possibly connected to Iran's nuclear program.

In the past, that probably would have required a court warrant because the suspicious e-mail involved American communications. In this case, however, a little-noticed provision in a 2008 law, expanding the definition of "foreign intelligence" to include "weapons of mass destruction," was used to justify access to the message.
Now, I find all of this worrisome. But Lichblau assigns agency to the wrong body; the FISA Court is simply doing the job specifically assigned to it by Congress in 1978 and vastly expanded in 2008. The problem isn't that we have some secret Star Chamber taking away our freedoms but that our elected representative continually trade away our liberty in hopes of gaining a small measure of additional security. And the US Supreme Court has generally gone along with that for decades, interpreting both the 4th Amendment protections against unreasonable searches and the 5th Amendment protection against self-incrimination as narrowly as possible.
The FISA Court itself is a necessity if we are to maintain both secrecy in the conduct of intelligence operations and some independent judicial oversight. We have all manner of specialized courts that deal with narrow fields outside the scope of ordinary law: bankruptcy, taxation, international trade, federal claims, veterans appeals, alien terrorist removal, and matters stemming from enforcement of the Uniform Code of Military Justice.  It stands to reason that we'd have one dealing with foreign intelligence, which is not only highly complicated but requires extreme discretion.
Nor do the rulings described here strike me as in any way outlandish in light of 4th Amendment precedents long since established by the Supreme Court. I'd much rather have the federal government have the right to store and scan the metadata from my phone calls—at zero inconvenience to me or intrusion into my life—than hassle me every time I want to fly somewhere, much less stop traffic for hours on end in a fishing expedition for drunk drivers. Local police officers can stop you pretty much at any time and in any public place to conduct a pat down search on the thinnest of pretexts; the likelihood of them doing so depends on your neighborhood and the color of your skin. And it's been established for decades—by the US Supreme Court, not the FISA Court, and long before 9/11—that phone records and the like are not private information subject to the strictures of the 4th Amendment; only the content, not the fact, of the calls is considered private.
Similarly, the notion that the FISA judges are issuing broad rulings, establishing precedent for types of operations rather than reviewing individual petitions, is hardly unusual. It is both a court of original jurisdiction and an appellate court. It stands to reason that it would over time establish a sort of common law to guide the decision-makers in the intelligence community as to what sorts of surveillance it can and can not conduct.
Finally, it's worth noting that the FISA Court is subordinate to the US Supreme Court. To be sure, given its secretive nature, this is more theoretical than practical. It's not obvious to me as a non-lawyer and non-insider who exactly has the standing to appeal its decisions. But, presumably, members of the Congressional intelligence oversight committees—the only outsiders with knowledge of the court's rulings—who strongly object to decisions they consider overly broad or in violation of the Constitution could in fact petition for certiorari.