Who's In Charge Of The FISA Court? John Roberts, And Apparently Just John Roberts
Chief Justice Roberts is the only person who gets to say who sits on the FISA Court.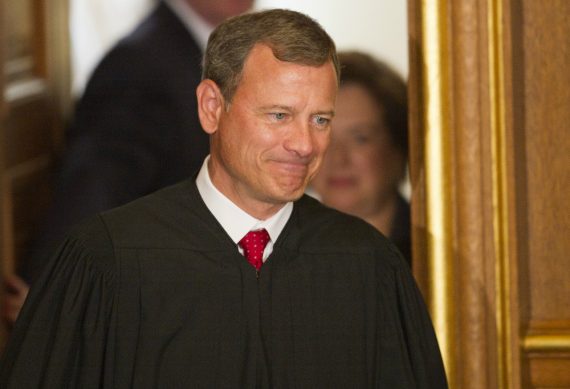 When it comes to the Foreign Intelligence Surveillance Court, which isn't so much a Court unto itself as it is a rotating group of Federal Judges appointed to hear warrant requests and other matter designated as appropriate for secret proceedings under the Foreign Intelligence Surveillance Act, there's nobody more powerful than Chief Justice John Roberts:
The 11 FISA judges, chosen from throughout the federal bench for seven-year terms, are all appointed by the chief justice. In fact, every FISA judge currently serving was appointed by Roberts, who will continue making such appointments until he retires or dies. FISA judges don't need confirmation — by Congress or anyone else.

No other part of U.S. law works this way. The chief justice can't choose the judges who rule on health law, or preside over labor cases, or decide software patents. But when it comes to surveillance, the composition of the bench is entirely in his hands, and, as a result, so is the extent to which the National Security Agency and the Federal Bureau of Investigation can spy on citizens.

"It really is up to these FISA judges to decide what the law means and what the NSA and FBI gets to do," said Julian Sanchez, a privacy scholar at the Cato Institute. "So Roberts is single-handedly choosing the people who get to decide how much surveillance we're subject to."
One some level, I suppose this makes sense. Like James Joyner, I accept the general idea of the need for a Court that conducts secret, or to use the precise legal terminology sealed, proceedings when dealing with matters as potentially sensitive as requests from law enforcement to conduct surveillance on people who may be agents of foreign governments or involved with foreign terrorist elements. Because all warrant requests in a normal Federal District Court are matters of public record, it would simply be impractical and unwise for those matters to be easily accessible on the public record in a manner that could potentially tip off targets of an investigation. Indeed, even in these courts there are procedures that allow law enforcement to keep their warrant requests, Criminal Complaints, and even Grand Jury Indictments under seal until its felt advisable to make them public. That works in the odd case here and there, but it's easy to see how things could fall through the cracks if FISA cases were all processed through a non-FISA Court.
It's also easy to see how it is that the Chief Justice ended up being the person responsible for staffing the FISA Court itself.. In addition to heading the Supreme Court, Roberts, whose official title is Chief Justice of the United States, sits at the top of the entire Federal Judiciary. The Court's administrative arm reports directly to  him, for example, and he directly involved in the preparation and presentation of the Judiciary Department's budget request to Congress each year, among other administrative responsibilities. When the FISA law was adopted in 1978, Congress no doubt saw the idea of the Chief Justice making these appointments, from among a group of Federal Judges who had already been confirmed to lifetime appointments by the Senate, as the best and most efficient manner in which to staff the Court. Ezra Klein, though, sees a danger of group think setting in:
Roberts's nominations to the FISA court are almost exclusively Republican. One of his first appointees, for instance, was Federal District Judge Roger Vinson of Florida, who not only struck down the Affordable Care Act's individual mandate but the rest of the law, too. (The Supreme Court disagreed.) Vinson's term expired in May, but the partisan tilt on the court continues: Only one of the 11 members is a Democrat.

Critics contend the FISA court is too compromised to conduct genuine oversight. It meets in secret, and the presiding judge hears only the government's argument before issuing a decision that can't be appealed or even reviewed by the public. "Like any other group that meets in secret behind closed doors with only one constituency appearing before them, they're subject to capture and bias," said Elizabeth Goitein, co-director of the Brennan Center for Justice's Liberty and National Security Program.

A Reuters investigation found that from 2001 to 2012, FISA judges approved 20,909 surveillance and property search warrants while rejecting only 10. Almost 1,000 of the approved requests required modification, and 26 were withdrawn by the government before a ruling. That's a startling win rate for the government.

(…)

The FISA court is composed of federal judges. All are appointed by the same man. All but one hail from the same political party. And unlike judges in normal courts, FISA judges don't hear opposing testimony or feel pressure from colleagues or the public to moderate their rulings. Under these circumstances, group polarization is almost a certainty. "There's the real possibility that these judges become more extreme over time, even when they had only a mild bias to begin with," Cato's Sanchez said.

Just as the likelihood of polarization in the FISA court is more pronounced than in normal courts, the stakes are also higher. If trial judges are unduly biased, their rulings can be overturned on appeal. But FISA judges decide the momentous questions of whom the government may spy on and how. Their power is awesome, and their word is final. As the great legal scholar Kanye West said, no one man should have all that power.
To be fair, there are explanations other than partisanship that likely account for the largely Republican makeup of FISA Judges under Roberts tenure today. Judging from this list of recent Judges on the Court, it seems quite apparent that there is a bias toward appointing older and more experienced Judges to this Court. For example, Judge Vinson, who Klein specifically mentions in the quote above, was appointed to the Court in 2006, his 23rd year on the Federal Bench. Former members of the FISA Court Judge Thomas Hogan and Judge Claude Hilton were also appointed well into the second decade of their time on the bench. There are understandable reasons why this would be the case. Given the sensitive and complicated nature of the cases that FISA Judges it's not at all surprising that Roberts' selections for this assignment would be drawn from more senior members of the Judiciary and, right now, that is primarily made up of judges appointed between 1981 and 1989 by Presidents Reagan and George H.W Bush. So, it's likely less a conspiracy or blatant partisanship than it is a pure accident of history. The seven year length of service on the FISA Court also contributes to this to some extent. Give it 5-10 years and we'll start seeing Judges appointed by President Clinton appointed to FISA assignments.
Leaving that aside, though, Klein does make some good points. The secret and one-sided nature of the Court's proceedings make it likely that FISA Judges are likely to be biased toward the government, but I'd be interested to see whether there's really that much of a difference between FISA proceedings and those in a normal Federal District Court. When law enforcement applies for a warrant to a U.S. District Court Judge, they don't give notice to the party they are seeking to execute it against, or any third parties that may be impacted by it. The difference, of course, is that the applications are generally public and can be subjected to further review. Nonetheless, it's largely the case that Judges grant warrant requests far more than they grant them (though admittedly not with the "success" rate of the FISA Court) so I'm not sure it's correct to single out the FISA Court, or the fact that the Judges on it are all appointed by one man.