Footnoting Social Media
Blake Hounshell finds the footnotes in Andy Carvin's latest book somewhat amusing:
Blake Hounshell finds the footnotes in Andy Carvin's latest book somewhat amusing: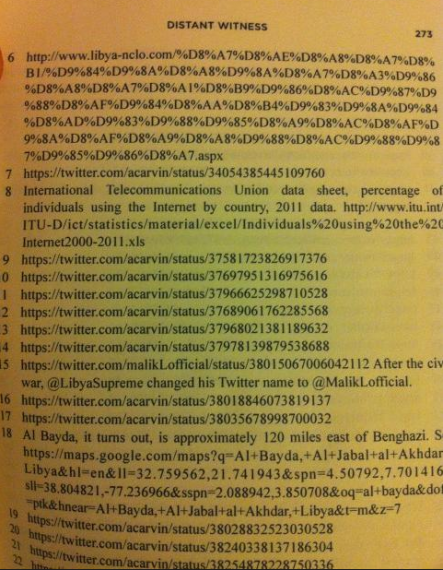 He's right, on a number of levels. A series of URL's without other information are almost useless for a paper book (imagine trying to type footnote 6's URL into a browser manually). Most of the cites, on this page at least, are just his own tweets. And, as a bonus, Twitter doesn't archive content all that long, so Carvin's tweets from a year ago are likely gone into the ether, so there will be zero value to the citations.
I don't know what citation guide, if any, Carvin is using. I don't know of any that use just URLs; most at least include identifying information about the source. So, for example, footnote 6 would usually begin with The National Conference of the Libyan Opposition, the title of the page in question, any other information about the page that would help the reader understand its value, and then the URL.
As to the ephemeral nature of tweets, I'm not sure what protocol future researchers will use to solve the problem.  In this particular case, the whole book is about social media and the Arab Spring. So it's not as if it's just one or two tweets are cited; it's the basis for much of the research. So, it'd definitely be a service to the readers to preserve the tweets being cited in some fashion. My instinct would be to archive all of them in some way–screencaptures, maybe, if there's not something more sophisticated available–on a site that I could ensure would be available to those using the book, either a personal website on a domain related to the book (distantwitness.com?), the author, or the author's institution.