Gingrich Likely to Fight on After Florida Debacle
An epic collapse in Florida should spell the end of Newt Gingrich's presidential run. It won't.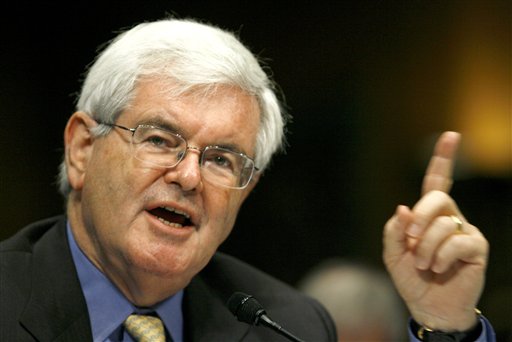 The collapse of Newt Gingrich's lead in the Florida polls seems to point to an epic win for Mitt Romney in tomorrow's primary and the beginning of a coronation for the longtime frontrunner. But John Heilemann argues persuasively that Gingrich is likely to remain in the race to the bitter end.
On the Sunday shows, Gingrich repeatedly called Romney a liar and decried his rival's "carpet-bombing" of him with negative ads. But outside the church, Gingrich went further, calling Romney a "pro-abortion, pro-gun-control, pro-tax-increase moderate from Massachusetts" who has been using "money from Wall Street" to spread his pernicious lies. Gingrich called this "as big an outrage I've had in my career." He predicted that Romney would be unable to secure the requisite number of delegates to claim his party's nomination. "When you add the two conservatives together," Gingrich argued, referring to himself and Rick Santorum, "we clearly beat Romney." The challenge for Gingrich would be to convert the anti-Willard majority into a pro-Newt one, he said, which he vowed to spend the coming months doing in a "straight-out contest" that would go on all the way until the GOP convention.

[…]

Pledges to continue the fight unabated in the face of harsh and/or humiliating outcomes are staples of presidential campaigns. And they are also patently meaningless. (Please recall Jon Huntsman's feigned brio on the night of the New Hampshire primary — and his departure from the race a few days later.) But in Gingrich's case, he might be serious, so much has he come to despise Romney and the Republican Establishment that has brought down on him a twenty-ton shithammer in Florida, and so convinced is he of his own Churchillian greatness and world-historical destiny. The same antic, manic, lunatic bloody-mindedness that has made him such a rotten candidate in the Sunshine State may be enough to keep him the race a good long time.

Waging a protracted battle would likely be an act of futility for Gingrich, but it could turn out to be something much worse for Romney. That is why it's so important for the latter not just to win on Tuesday but to win big — very big.
Even aside from Gingrich's pettiness and self-importance, he's potentially right that he's got a shot at winning over conservative voters if Rick Santorum will just drop out. Which, given the likelihood of a distant third-place finish in yet another contest and the pressing health issues of his little girl, one presumes is forthcoming.
Thus far, I believe Gingrich's scorched earth tactics have actually benefited Romney. They've forced him to get his tax returns out and start working on an effective communications strategy for addressing the Bain Question. Additionally, he's been forced to actually debate and otherwise engage in the campaign rather than running out the clock. These should serve him well in the fall campaign against the Obama machine.
In 2008, Romney, unlike Mike Huckabee then and Gingrich now, showed the good sense and decency to drop out of the race early once it was clear that John McCain would win the nomination. Nothing in Gingrich's long career points to a propensity for either good sense or decency. Having been besieged in recent weeks by endorsements of his opponent and rather scathing assessments of himself by the Establishment,  he's unlikely to heed calls to act in the best interests of his party. Further, at 68, this is surely his last hurrah.
Gingrich will hang around as long as he keeps getting invited to debates and his billionaire backers keep sending in the checks.