Gitmo Closing Office Closed; Gitmo Still Open
The office working to close the prison at Guantánamo Bay, Cuba has been closed.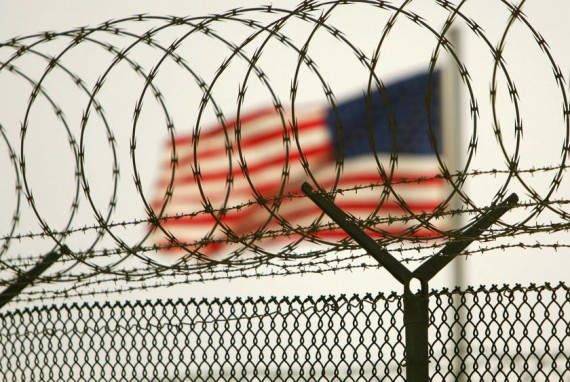 Charlie Savage ("Office Working to Close Guantánamo Is Shuttered"):
The State Department on Monday reassigned Daniel Fried, the special envoy for closing the prison at Guantánamo Bay, Cuba, and will not replace him, according to an internal personnel announcement. Mr. Fried's office is being closed, and his former responsibilities will be "assumed" by the office of the department's legal adviser, the notice said.

The announcement that no senior official in President Obama's second term will succeed Mr. Fried in working primarily on diplomatic issues pertaining to repatriating or resettling detainees appeared to signal that the administration does not currently see the closing of the prison as a realistic priority, despite repeated statements that it still intends to do so.

[…]

Mr. Fried's special envoy post was created in 2009, shortly after Mr. Obama took office and promised to close the prison in his first year. A career diplomat, Mr. Fried traveled the world negotiating the repatriation of some 31 low-level detainees and persuading third-party countries to resettle about 40 who were cleared for release but could not be sent home because of fears of abuse.

But the outward flow of detainees slowed almost to a halt as Congress imposed restrictions on further transfers, leaving Mr. Fried with less to do. He was eventually assigned to work on resettling a group of Iranian exiles, known as the M.E.K., who were living in a refugee camp in Iraq, in addition to his Guantánamo duties.

Ian Moss, a spokesman for Mr. Fried's office, said its dismantling did not mean that the administration had given up on closing the prison. "We remain committed to closing Guantánamo, and doing so in a responsible fashion," Mr. Moss said. "The administration continues to express its opposition to Congressional restrictions that impede our ability to implement transfers."

Besides barring the transfer of any detainees into the United States for prosecution or continued detention, lawmakers prohibited transferring them to other countries with troubled security conditions, like Yemen or Sudan. In the most recent defense authorization act, enacted late last year, lawmakers extended those restrictions and expanded them to cover even detainees scheduled to be repatriated under a plea deal with military prosecutors.

Mr. Obama had threatened to veto the bill, but instead he signed it while issuing a signing statement claiming that he had the constitutional power, as commander in chief, to lawfully override such statutory restrictions on the handling of wartime prisoners. Mr. Obama's intentions were not clear, however, even to internal administration officials.
Closing Gitmo remains a very low priority, indeed. My guess is that the facility will remain open when  Obama finishes his second term.