Greens Accused of Causing Mass Starvation In Africa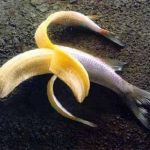 It's a story we've heard before. Over-blown Western environmentalist doomcrying kills millions; this time it's genetically modified food:
"What the Green Movement Got Wrong", broadcast this week, by the same channel that aired the hugely controversial "Great Climate Change Swindle" suggests that the Western green consensus against GM foods had impoverished the southern hemisphere.

"The [Channel 4] programme suggests that were it not for the external pressure of northern environmental organisations, Africans would be happily eating genetically modified foods by now, and hunger would be a distant memory," said a statement from the African Biodiversity Network. "We oppose these ridiculous and malicious claims." …

The GM debate has been particularly intense in Africa which was largely left behind by the so-called "Green Revolution" that fuelled increased yields off the back of scientific breakthroughs made by Nobel laureate Norman Borlaug. Before his death last year Dr Borlaug complained that Western-led anti-scientific NGOs were holding back scientists' ability to solve food insecurity.