Has Soccer Finally Captured American Hearts?
Only two 2013 college football games attracted more viewers that Tuesday's World Cup match vs. Belgium.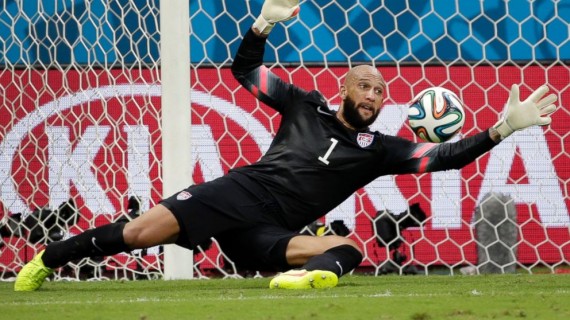 Americans were really interested in following Team USA in the World Cup. How much? Only two college football games last year attracted more viewers.
AL.com ("U.S-Belgium World Cup TV ratings better than all but two 2013 college football games"):
ESPN's World Cup soccer game between the United States and Belgium on Tuesday averaged an overnight Nielsen rating of 9.6, making it the network's highest-ever rating for a World Cup game, according to Variety.com.

That eclipsed ESPN's previous record of 9.1, set by the United States' 2-2 tie with Portugal during the opening round. The United States' loss to Ghana in the second round of the 2010 World Cup also drew a 9.1 rating, but that was an ABC broadcast.

The Neilsen ratings include only in-home viewers, according to Variety, so those watching in bars or at work weren't counted.

What may be even more interesting is that Tuesday's game, which Belgium won 2-1 in extra time to eliminate the U.S., also outdrew all but two college football games from the 2013 season.

The BCS championship game between Florida State and Auburn was the top-drawing college football game of the season at 14.8, according to sportsmediawatch.com. The only other 2013 college football game with a better rating that U.S.-Belgium was the Rose Bowl game between Stanford and Michigan State (10.2).
Now, granted, this is not quite a fair comparison. This is a once-every-four-years event featuring the national team, not one of many weekly games interesting mostly to fans of the two schools participating. Then again, the game was on during the workday on a Tuesday.
After every World Cup—going back at least to the 1994 tournament, hosted on US soil and where the American women won the whole shebang—there is talk that this time it will be different. Enthusiasm for Team USA playing soccer in the world's most important tournament would translate into wild population for American soccer. Thus far, it has failed to materialize.
Major League Soccer, the latest American professional association, launched in 1996 on the heels of the 1994 Cup and has at least had staying power. But it's widely regarded as a minor league. Indeed, most of Team USA's top stars play elsewhere, in one of the top European leagues. And almost all of America's top athletes are still going into the sports traditionally popular here: football, basketball, and baseball.
For a generation now, the promise has been that scads of American kids grow up playing soccer. Alas, they still watch football and basketball and aspire to glory in those sports.