Hillary Clinton 'They Never Told Men Who Lost to Go Away'
The woman who lost the 2016 election is apparently not going to go away.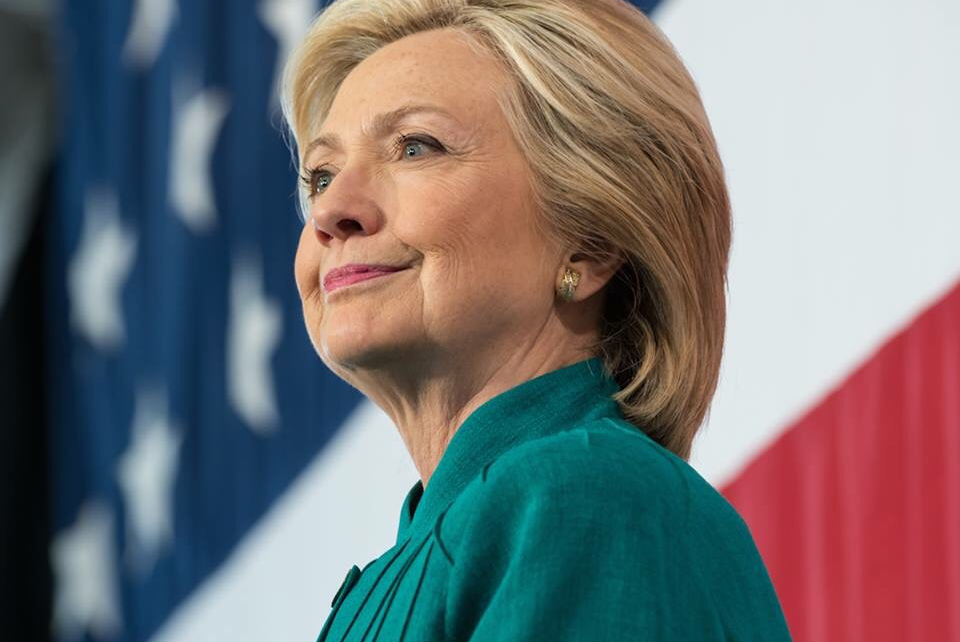 The Hill ("Hillary Clinton fires back at critics: No one told a man who lost an election to shut up"):
Hillary Clinton is striking back at critics telling her to "shut up" following her 2016 loss, saying, "They never said that to any man who was not elected."

"I was really struck by how people said that to me — you know, mostly people in the press, for whatever reason — mostly, 'Go away, go away,'" Clinton said Thursday during an event at Rutgers University.

"And I had one of the young people who works for me go back and do a bit of research. They never said that to any man who was not elected. I was kind of struck by that," Clinton said.

Clinton's remarks came in response to a question from Eagleton Institute of Politics' director Ruth Mandel about the former Democratic presidential nominee's reaction to those who say she should "get off the public stage and shut up."

"I'm really glad that, you know, Al Gore didn't stop talking about climate change," Clinton said to applause.

"And I'm really glad John Kerry went to the Senate and became an excellent secretary of State," the former first lady continued. "And I'm really glad John McCain kept speaking out and standing up and saying what he had to say. And for heavens sakes, Mitt Romney is running for the Senate," Clinton said.

The 70-year-old ex-secretary of State has taken heat in recent weeks, even among some Democrats, for comments she made about Americans who voted for President Trump in the 2016 race.

"I won the places that are optimistic, diverse, dynamic, moving forward," Clinton said earlier this month during a conference in India. "And his whole campaign, 'Make America Great Again,' was looking backwards."

"I think it was a moment in time because what had been expected to happen in the election, which obviously did not," Clinton said Thursday. "And then a lot of angst and second guessing and finger pointing and everything that went on."
While quite a few people, myself included, are frustrated with Clinton's continued commentary on the 2016 election, I don't know anyone who wants her to simply "go away" much less "shut up." No one is saying that she shouldn't go back to the family foundation, campaign for other Democratic candidates, speak out on gun control, or the like. What they are saying is that going around insulting the people who didn't vote for her is decidedly unhelpful to the goal of turning back the Trump tide. And that whining about the results of an election almost any other conceivable Democratic nominee would have won handily is simply unseemly.
Does she face more or different criticism because she's a woman? Probably. There's no way to disentangle the incredible polarization she inspires from her gender. It's particularly complicated since her first two decades in the public spotlight was in a first lady role whose traditional mold she broke.
As to the larger issue of how candidates who have lost presidential elections are treated, it depends more than anything how the losers responded and from where. Let's look at all of the losers from the social media era, thus going back to 2004.
Mitt Romney, 2012:  He pretty much shut up and went away. Yes, he's running for the Senate six years later. But we didn't hear much from him during the second Obama term that he was seeking as his. That's the traditional model and he followed it to a T.
John McCain, 2008:  He remained on the stage as an increasingly cantankerous and bitter rival of the man who defeated him, Barack Obama. And, despite her statements to the contrary, I very much doubt that Secretary of State Hillary Clinton much appreciated having to deal with his opposition. Even some of us that voted for him occasionally expressed frustration that he wouldn't go away. But there was a difference: He remained a United States Senator from Arizona and chairman of the Armed Services Committee. While it was indeed unseemly for him to be such a vocal critic, he did so from an elected position and, arguably, had a duty to the people of Arizona to do so.
John Kerry, 2004: Like McCain, Kerry remained in the Senate. And, while he certainly continued to oppose President Bush throughout his second term, he was relatively quiet about it for a senior US Senator. So, there was no reason for him to be asked to shut up or go away. His service as Secretary of State during Obama's second term is really beside the point; he was at that point acting as an elder statesman. (Similarly, no one was criticizing Clinton for taking that post after she lost to Obama.)
The other example she gives was from a different era, really, but let's consider him, anyway.
Al Gore, 2000:   In some ways, he's the best analog to Clinton: a candidate who lost the Electoral College despite winning the popular vote and having no fallback political office to justify their continued presence in the public sphere. Also, like Clinton, there was a lot of second-guessing of his campaign strategy and inability to connect with ordinary voters on the campaign trail. He more-or-less went away for the first few months of the Bush presidency, going to far as to grow a beard and put on a few pounds. Yes, he famously campaigned on the need to do something about global warming, picking up his pet project going back at least as far as 1992's wrote Earth in the Balance. But I don't think Clinton would be criticized for doing the same sort of thing; championing women's issues or gun control legislation would be a different category than what she's doing now. (Granted, women's issues would be tough given the intersection with Trump's misogyny.) Gore did later emerge as a rather vocal critic of the Iraq War and did receive significant "you lost, get over it" pushback on that front.
Additionally, it's worth noting that Gore was in his early 50s and many considered him a viable candidate for 2004. Clinton is 70. So, in addition to whatever gendered reaction she's getting, she's also facing a real wave of frustration, especially in the Democratic Party, that it's time for the Baby Boomers to get off the stage and make way for a younger generation.