How Conservatives Learned To Discard Their Morality And Love Donald Trump
In the age of Trump, morality is optional for conservatives.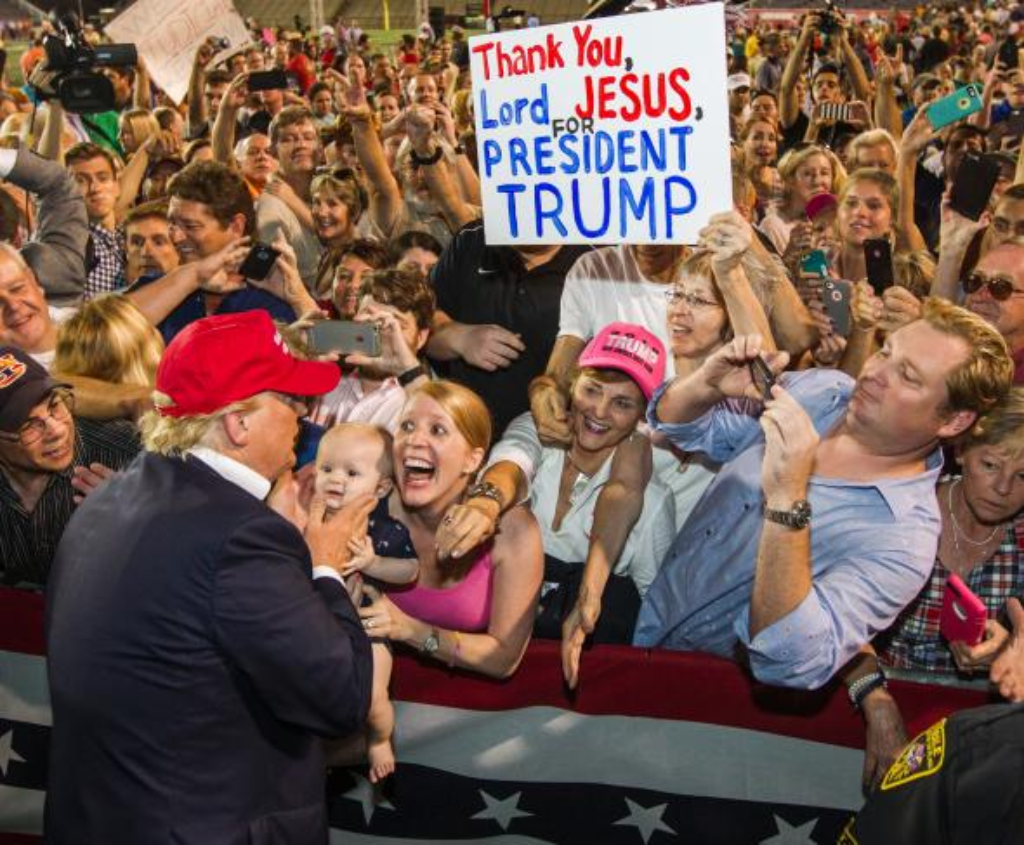 In the Trump Era, Republicans in general and religious conservatives in particular suddenly find that they don't care so much about the idea of the President as a moral as well as a political leader:
Twenty-two percent of Republicans think Donald Trump provides somewhat or very weak moral leadership as President, according to a Gallup poll released Tuesday. Fifty-nine percent of Americans say the same, with 60% of independents and 91% of Democrats agreeing.

When asked if they think it is important for the President to provide moral leadership for the country, Democrats were the most likely to say it was important (77%). Only 63% of Republicans and 62% of independents agreed.

Those numbers have changed substantially since the Clinton administration.

Between 1994-1999, 86% of Republicans thought it was important for the President to provide moral leadership, with a 23-point decrease to 63% in 2018. Democrats have increased by 13 points, with only 64% agreeing with the significance of moral leadership during the Clinton era versus 77% during Trump's presidency.

Both President Clinton and President Trump have faced scandals during their tenure, in office and during campaigns, with the partisan switch reflecting that Republicans now view morality as a less important issue. It was Democrats who were more ambivalent during Clinton's administration.

During the 2000 Republican National Convention, George W. Bush cited the Monica Lewinsky scandal and promised the restoration of honor and dignity to the White House, a rallying message for conservative voters. Now, 77% of Republicans consider the President to be "morally strong." That is comparable to when Clinton was elected in 1996, with 78% of Democrats saying the same. However, when he was impeached in 1998, the number of Democrats who said Clinton was morally strong dropped 32-points. Despite this drop for Clinton on morality, his overall approval rating held strong among Democrats.
More details from Gallup:
WASHINGTON, D.C. — Republicans are much less likely now than they were during the Bill Clinton years to say it is very important for the president to provide moral leadership for the U.S. Democrats, on the other hand, are more likely to believe moral leadership is important now, with Donald Trump in office, than they were under Clinton.

Across four polls conducted during the Clinton administration, an average of 72% of U.S. adults said it was very important for the president to provide moral leadership for the country. A May 1-10 update of the question finds 66% of Americans holding that view.

The modest change at the national level obscures more significant shifts among partisans — a 23-percentage-point decline among Republicans and a 13-point increase among Democrats.

Both Clinton, a Democrat, and Trump, a Republican, faced substantial controversy during their presidential campaigns, and it followed them after they were elected president. It appears that some partisans may discount the importance of the president providing moral leadership when a sitting president from their own party is under scrutiny. At the same time, some supporters of the opposition party may magnify the importance of moral leadership when this is a weak area for the incumbent.

This turning of the tables is evident in the flip in Republican and Democratic views about the importance of the president providing a good moral role model between the Clinton and Trump eras. Republicans, by 22 points, were much more likely than Democrats to say it was very important for the president to be a moral leader when Clinton was in office. Now with Trump in office, Democrats are more likely than Republicans to hold this view, by 14 points.

Independents are slightly less likely now (62%) than during the Clinton years (69%) to regard presidential leadership on morals as important.

By 59% to 40%, Americans believe Trump provides weak rather than strong moral leadership. Republicans and Democrats diverge greatly on this question, with 77% of Republicans believing Trump provides strong moral leadership and 91% of Democrats saying he provides weak leadership. Seventy-eight percent of Democrats believe his moral leadership is "very weak." Independents are much more negative than positive about Trump's leadership on morals.
The data that the poll gathered can be seen first in this chart, which compares the numbers for President Clinton during the height of the Lewinsky scandal to those of President Trump today: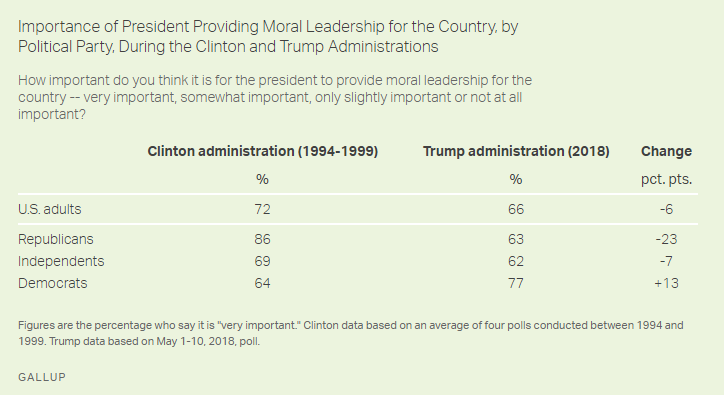 While this chart shows the breakdown of public opinion regarding President Trump today: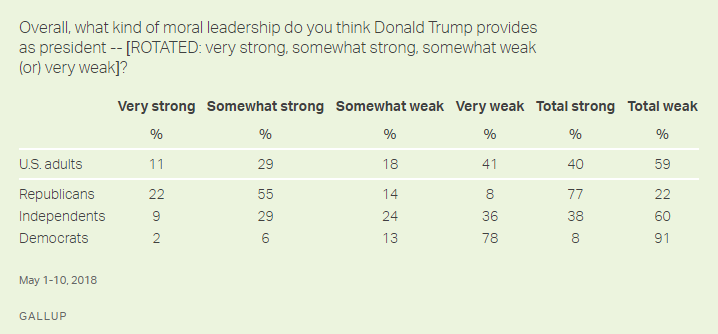 The fact that Republicans and Democrats hold strongly different opinions about the President is, of course, not really much of a surprise. That's generally always the case regardless of who the President happens to be that the members of his own party are strong supporters and most likely to forgive transgressions while those who oppose him are most like to hold those transgressions against him. Outside of the question regarding morals and moral leadership, you can also see it in the fact that Democrats overwhelmingly disapprove of the President's job performance while Republicans overwhelmingly approve of his job performance. To some degree then, the response to this survey is arguably just another reflection of the partisanship that polling typically reveals with regard to a President during the time they're in office.
Even taking all of that into account, though, the extent to which Republicans in general, and religious conservatives in particular, have been willing to look the other way when it comes to this President's obvious moral failings, the behavior he engaged in before becoming a candidate, the way he behaved as a candidate, and the way he acted as a candidate. They stayed faithful to him through the Access Hollywood tape and the revelations by nearly two dozen women who say that Trump had sexually harassed or even assaulted them in the past. They stayed faithful when he made despicable comments on the campaign trail about Mexicans and Muslims, disabled people, women such as Megyn Kelly and Carly Fiorina and when he encouraged his supporters to engage in violence against counter-demonstrators. They remained faithful when he referred to participants in a racist rally in Charlottesville that resulted in the death of a counter-protester as "very fine people."  And, finally, they remained faithful when it was revealed that Trump had affairs with a Playboy model and a porn star while his wife was pregnant with his fifth son. These are the same people who had condemned Bill Clinton from virtually the day he entered the race for President in 1992, and especially when it was revealed that he had been involved in a consensual relationship with a White House intern while President.
While all of this was going on, leaders of the religious conservative movement have bent over backward to defend Trump and to justify their own seeming hypocrisy with some of the most obsequious comments that ever been uttered about this President.
One prominent example of this can be seen in the person of Franklin Graham, the son of the late Rev. Billy Graham who has largely ignored his father's practice of refraining from being overtly partisan in either direction who once said that God himself and put Trump in office, Rather than condemning President Trump, Graham has said that his affair with adult film star Stormy Daniels is "nobody's business."  This is the same person who questioned former President Obama's Christianity and in 1998 said that "Clinton's sins aren't private." At that time, Graham wrote "If he will lie to or mislead his wife and daughter, those with whom he is most intimate, what will prevent him from doing the same to the American public?"" Indeed.
Another prominent evangelical supporter of the President is Jerry Falwell, Jr., the son of the founder of the so-called "Moral Majority" who has taken over his father's role at his church in Lynchburg, Virginia and as the head of Liberty University, the school that the elder Falwell founded in 1971 but which really began talking off in the 1980s as the elder Falwell sought to expand his influence. While Trump was a candidate, Falwell invited Trump to speak to Liberty University students in what was essentially a mandatory must-attend event. Shortly after this Falwell became among the first leaders on the religious right to endorse Trump's candidacy. During the campaign, he was among one of the President's most vocal supporters on the religious right, and that has continued throughout Trump's campaign and his Presidency notwithstanding everything that we've learned about him. Like Graham, in the past Falwell Jr. questioned President Obama's Christianity and joined in the attacks on Bill Clinton. With Trump, though, he sings a far different tune and even defended him in the wake of the President's remarks after the Charlottesville incident. He's also said that Trump is "the Churchillian figure we need."
As a final example. we have Tony Perkins, the head of the Family Research Council. who said that the President should get a "mulligan" for his affair with Stormy Daniels. During President Obama's time in office, Perkins repeatedly attacked the President not only on policy matters but also in other ways. Like Graham, for example, he openly questioned the former President's Christianity  and said that the former President "seems to be advancing the idea of the Islamic religion." Additionally, as with Graham, Perkins was among the harshest critics of Bill Clinton in the 1990s.
In the light of all this, it's not surprising that religious conservatives have largely remained silent about Trump's many obvious moral failings and remain strongly supportive of his Presidency despite the fact that we all know they'd be jumping all over these stories if they had been about a Democratic President. Much like that faction of the Republican Party whose only concerns going into the 2016 Presidential campaign were electing a President who would sign whatever legislation a Republican Congress would pass on issues such as health care reform, regulatory reform, and tax reform, they have largely sold their souls and compromised their supposed faith to get what they want. In the case of the so-called religious right, that has taken the form of things such as the changes Trump has made to regulatory policy regarding abortion, the rights of transgender Americans, and, of course, the appointment of Judges to the nations District Courts and Circuit Courts of Appeal and, ultimately, the Supreme Court.
Michael Gerson made an excellent point about all of this back in March:
There is something else at work here than weary realism — something that Tony Perkins of the Family Research Council recently clarified. Conservatives, he said, "were tired of being kicked around by Barack Obama and his leftists. And I think they are finally glad that there's somebody on the playground that is willing to punch the bully." In this explanation, Trump's approach to public discourse is actually the main selling point. His bullying — his cruelty, crudity and personal insults — is admired because it is directed at other bullies.

his is, perhaps, politically and psychologically understandable. But it has absolutely nothing to do with the Sermon on the Mount. Nothing to do with any recognizable version of Christian ethics. The very thing that should repel evangelicals — Trump's dehumanization of others — is what seems to fascinate and attract some conservative Christians. It is yet another example of discrediting hypocrisy.

The Trump evangelicals are best understood as conservative political operatives, seeking benefits for their interest group from politicians who are most likely to provide them. So how good is the quality of their political advice?

Not particularly good. Identifying evangelicalism with Trump's ethno-populism may have some short-term benefits. But public influence eventually depends on the persuasiveness of public arguments. And close ties to Trump will eventually be disastrous to causes that evangelicals care about. Pro-life arguments are discredited by an association with misogyny. Arguments for religious liberty are discredited by association with anti-Muslim bias. Arguments for family values are discredited by nativist disdain for migrant families.
None of this is surprising, of course, in fact it's something that the late Senator Barry Goldwater, who was once labeled "Mr. Conservative" and today would likely be denounced as a 'Republican In Name Only,' foresaw some thirty years ago:
"Mark my word, if and when these preachers get control of the [Republican] party, and they're sure trying to do so, it's going to be a terrible damn problem. Frankly, these people frighten me. Politics and governing demand compromise. But these Christians believe they are acting in the name of God, so they can't and won't compromise. I know, I've tried to deal with them…

There is no position on which people are so immovable as their religious beliefs. There is no more powerful ally one can claim in a debate than Jesus Christ, or God, or Allah, or whatever one calls this supreme being. But like any powerful weapon, the use of God's name on one's behalf should be used sparingly. The religious factions that are growing throughout our land are not using their religious clout with wisdom. They are trying to force government leaders into following their position 100 percent. If you disagree with these religious groups on a particular moral issue, they complain, they threaten you with a loss of money or votes or both. I'm frankly sick and tired of the political preachers across this country telling me as a citizen that if I want to be a moral person, I must believe in 'A,' 'B,' 'C,' and 'D.' Just who do they think they are? And from where do they presume to claim the right to dictate their moral beliefs to me? And I am even more angry as a legislator who must endure the threats of every religious group who thinks it has some God-granted right to control my vote on every roll call in the Senate. I am warning them today: I will fight them every step of the way if they try to dictate their moral convictions to all Americans in the name of 'conservatism.'"
Goldwater, of course, was reacting to what at the time was the rise of the so-called "religious right," and most prominently took them on when Jerry Falwell Sr. came out against the nomination of Sandra Day O'Connor, saying that Christians should oppose O'Connor. In response, Goldwater was reported as saying "I think every good Christian ought to kick Jerry Falwell in the ass." His words, of course, were prescient. Since the 1990s, we have seen the consequences of the religious right takeover of the GOP, and those chickens have come home to roost in the form of Donald Trump. That they've been willing to sacrifice their supposed morality for political gain should not be surprising. As long as they get what they want, they obviously don't care what the President does.