How Old Is Too Old To Trick or Treat?
We can all agree that Trump and Biden are over the line. But where is it?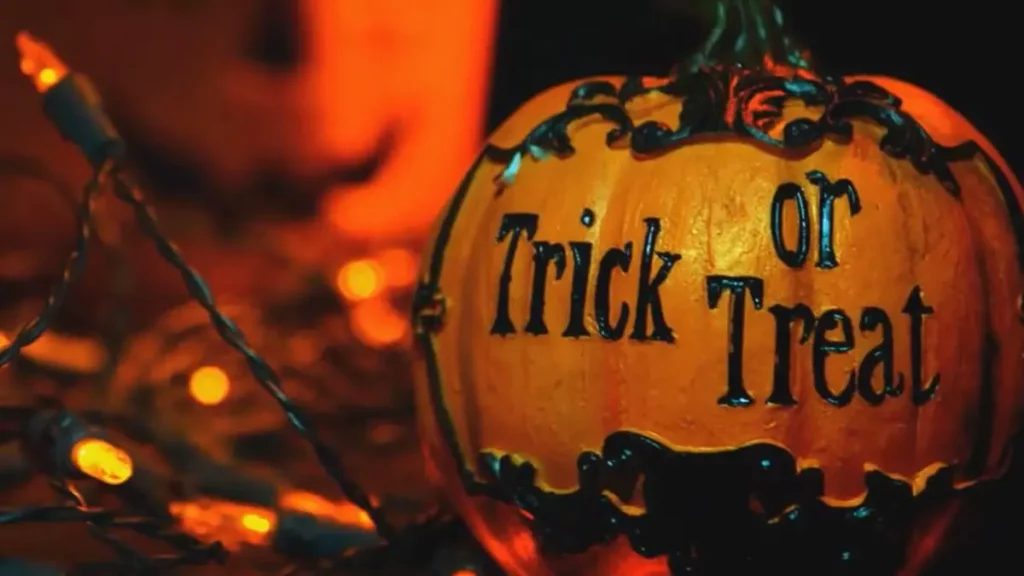 Over the weekend, I saw Annie Atherton's WaPo essay "What age is too old to trick-or-treat? Parents and teens weigh in." As a father of 12- and 14-year-old girls who plan to partake in the event this evening, it's a topic of interest.
One might not think of trick-or-treating as a particularly emotional subject. It's just candy, after all. But for teens and their parents who are wondering when someone is too old to partake in the ritual, the topic can be surprisingly fraught.

Sarah Nicole Landry, a Canadian parent and content creator, recently posted a Tik Tok video asking people to enthusiastically receive teens on Halloween when they are trick-or-treating. "They're kids," she says on the verge of tears, "but they're right on the end."

Her video went viral, with thousands of comments in response. "As a teenager this made me so happy I cried," reads one comment. In fact, dozens of comments say some variation of that. Some teens lamented that they wanted to trick-or-treat, but were afraid of getting dirty looks. Others said their own parents discouraged them.

Landry said she was touched by the response. Three of her four children are adolescents (ages 13, 15 and 17), and she's saddened by the way society often views them as a nuisance, or even a threat. This dynamic was on her mind when she created the video. "I'm really passionate about this," she said. "If we show up for them like this, you become a home that they feel welcome to if any of them are ever in crisis. They might remember you being enthusiastic when they showed up to your door. They might also feel like maybe they're not an annoyance. They might feel like a kid again."

That trick-or-treating is so strongly associated with childhood is what can make it a bit tricky for teenagers. To move on from it is to acknowledge the end of an era, which might be wrapped up in feelings about what it means to grow up and trade in make-believe and innocence for responsibility (and potentially intimidating alternatives, like adult-free house parties). Many teens also missed out on normal childhood experiences during the pandemic and may feel especially motivated to enjoy them. But there are many who do openly judge kids who look "too old" to partake in the youthful tradition.

Kaitlyn Abellar, an 18-year-old in southwest Florida, says it never occurred to her that she wouldn't go trick-or-treating this Halloween. "It's always been a tradition for my family," she said. As the eldest of five children, she often takes her younger siblings. This year, she's excited to knock on doors with her 15-year-old sister, as they did last year. "We had a blast, and it was just so much fun," she said. "I felt like it wasn't Halloween if I didn't go trick-or-treating." They're considering dressing up as fairies this year.
I'm not sure, exactly, what age I was when I last trick-or-treated. It was certainly before I was in middle school, as my youngest is this year, much less high school, which my oldest started this year. I don't remember being shamed out of it. I think it was partly a function over the intermittent hysteria over strangers poisoning candy and no longer feeling the urge to dress up in costume.
Because I had kids quite late (I was an Army officer when my dad was the age I was when my second was born), I spent decades handing out candy to trick-or-treaters before taking my own out.* And, yes, I tended to look askance at teenagers coming by for candy—especially, as was often the case, when they didn't bother to dress up.** I've never run them away, though.
Here's a plot twist I did not foresee:
But in some municipalities, trick-or-treating is actually prohibited after a certain age. In Portsmouth, Va., trick-or-treating is limited to those 12 or younger. According to the police department, this is to maintain safety and to ensure that there are enough resources (i.e. candy) for younger children.

"Older teenagers or adults trick-or-treating may unintentionally intimidate younger children, leading to a less enjoyable experience for the younger ones," a spokesperson for the department said in an email. "By having an age limit, the guidelines aim to create a more age-appropriate atmosphere."

The statement noted that sometimes, older teens have engaged in mischief, such as stealing decorations or causing disturbances. "By restricting trick-or-treating to a younger age group, the guidelines seek to minimize such incidents and preserve the integrity of the community during Halloween festivities," the statement continued.

Portsmouth isn't the only place that has age limits for trick-or-treating. Several other Virginia cities and towns have similar restrictions, including Suffolk, Hampton and Chesapeake, whose strict policy — which formerly included the potential for jail time of up to six months — received so much mockery in the media several years ago that the mayor was compelled to clarify that no one had ever been arrested for asking for candy. The city council of Chesapeake has since voted to raise the age limit from 12 to 14 and officially remove the threat of jail time, but a $250 fine remains. Other towns with ordinances include St. Michaels, Md., and Belleville, Ill.
That seems . . . extreme. While I do think my kids, especially the oldest, should probably have aged out of it by now, they're certainly not out performing mischief.
For that matter, the "trick" part of the event has a long tradition. While it was never my scene, high schoolers definitely enjoyed toilet papering trees and egging houses in my day. Presumably, this was a misdemeanor of some sort. Frankly, it would be preferable to have them out in costumes begging for candy.
The ongoing conversation is bubbling up online again this year. On one Facebook parent group, a mother recently wrote that she's okay with teens asking for candy but resents those who "wreck her lawn" and leave trash around. Another person brought up how some teens will ring doorbells late at night, after the lights have been turned off. The rise of door cameras has led some homeowners to surveil those who take treats from their no-contact candy bowls. Some have posted videos showing kids surreptitiously dumping the entire bowl of candy into a backpack.
So, that's obviously bad behavior. And, presumably, younger kids, who tend to be accompanied by their parents, are less likely to do that. Then again, I've never understood the "put a bowl out" people. If you're not home or don't want to be bothered, just turn off the porch light.
But does that occur so much that older children should be banned from throwing on a costume and heading door-to-door?

Landry, for one, said she always talks to her children beforehand. "We remind them to be good community members," she said. "But that's how you learn. Not by staying home, but by actually being out there, and having fun and figuring out how you can contribute in that moment."
That might be asking a bit much of unaccompanied adolescents but, yeah. We still take the 12-year-old around, but that's mostly a function of having to drive to get where she trick-or-treats.
For Karen Sanford, a mother of four teens in Seattle, trick-or-treating at this age is a much-needed release, and comes at a sometimes wrenching moment in life when they are not quite kids, but not quite adults. "Teenagers are growing up in a very uncertain world with less and less wonder and imagination," she said. It's "a brief moment of recapturing what was fun and magical about being a little kid. Why would I not want them to enjoy those last few moments of joy?" (Of course, she also charges her kids the "parent tax" — where she gets some of their loot.)

Sanford said she loves to give candy to anyone at any age, but particularly to teens. "When I see teenagers on my porch, I see big, awkward babies who act tough yet still need the love of mom. Opening my door and smiling is an easy chance to do this," she said. "I hope I never get so jaded that I forget to do this."

Her 17-year-old son, Brady, is looking forward to trick-or-treating this year. "It's just fun," he said. "If we're not old enough to vote or drink, then we're still young enough to trick-or-treat."
Honestly, at that age, they should just go to parties with friends if they want to dress up. You can join the Army at 17, for goodness sake.
One of the challenges with age limits is that kids develop in wildly different ways, both physically and psychologically. Abellar, for instance, said that she looks young for her age, which could affect how people perceive her. "They usually think I'm like 15 or 14, so it's not as weird for me," she says.

But some children have the opposite experience: Strangers assume they're older than they are, and thus more culpable and less innocent. Landry said that her 15-year-old is almost six feet tall, so people often assume she's an adult. "Adultification" — the term researchers use for the tendency to perceive a child as older and more mature — even has a racial bias, with studies showing that adults are more likely to view Black children as older than they are. That bias can put some children in a tough spot if they're trying to have fun on Halloween.
Sure. And, honestly, kids just grow up much slower than they used to. For a variety of reasons, they have both considerably less freedom and responsibility than was the case when I was growing up. Certainly, that's the case of my own kids and, indeed, my 20-something stepchildren. So, it's natural that they're going to hang on to the vestiges of childhood longer.***
____________
*And, since then, I don't think I've handed out candy once as, by the time we're back, it's time to get them to bed and I don't want people ringing the doorbell. The neighborhood we moved to four years ago is sufficiently remote and bereft that nobody bothers to trick-or-treat here, even the handful of kids who live here. We go to the adjacent small town, which hosts a town-wide trick-or-treat festivity—although the oldest has gone off with friends the last two years instead.
**My oldest is on the verge of that this year. Her "costume" consists of a hoodie, a red woollen scarf, and some Minecraft-style sunglasses. She's ostensibly some character from that game but one suspects that 99% of the candy-givers will see her as a kid in a hoodie and sunglasses.
***No, they're not still trick-or-treating.