I Am an Obama Scholar!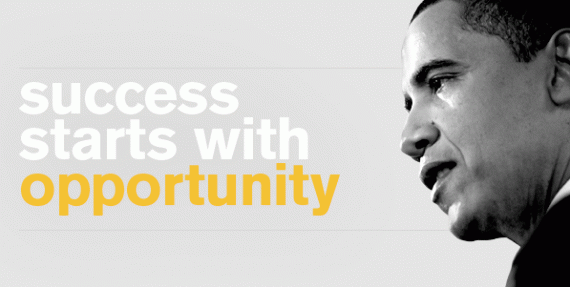 The blogosphere is abuzz that students at some school somewhere are being encouraged to chant that they are Obama Scholars.
Someone named Tom Ficklin is spreading the video:

Jim Hoft has popularized the video in the blogosphere, providing this handy transcription:
For I, am an Obama scholar.
An Obama scholar.
And I will strive to be.
Outstanding. Brilliant.
I will achieve. I will be motivated with a positive attitude.
Hoft seems to have learned of the video from someone calling himself the PO'd Patriot, who thinks this a clear example of "brain washing."  He wonders, "Would it still be OK if the Kids were Chanting "I am a Regan [sic], Bush or Clinton Scholar?"   Commenter Bill Hennessy describes the scene as "Unbelievable. Frightening. Chilling."  He adds, "Quick quiz: name five countries, past or present, where the youths were required to chant praises to their omnipotent ruler? Any five. Then add together the number of innocent people those regimes slaughtered for political expediency."
Good point!
Or, I suppose, it would be if there were some Federal or State mandate to chant praises to Obama.   But this appears to be the work of one lone man, whom one presumes is a teacher, of what one presumes is a school somewhere, either public or private.
I would also note that, in addition to his love of Obama, the leader appears to have some serious anti-mountain, anti-drug, anti-ignorance biases.
To extrapolate wildly from the few known facts, most of the people in the room appear to be African American or Hispanic.  The leader seems to be attempting to motivate them to work past whatever obstacles they may be facing and strive to keep themselves off drugs, in school, and striving to be in either productive professions, politics, or journalism.   And he seems to think that invoking the name of arguably the most successful Person of Color in American history — who, some would contend, achieved his success by doing the things these students are being encouraged to do — will help achieve this motivation.    Offhand, that doesn't strike me as wildly implausible.
So far as I can tell, there's no widespread effort to get people to proclaim themselves Obama Scholars.    The sole exception I can find through Google that's unrelated to this one video is Arizona State University's Obama Scholars program, which appears to be means tested. And optional!
Regardless, while there are many ways in which I would not want children to emulate Barack Obama, his perseverance and study habits are decidedly not among them.