I See White People
The Republican "Pledge to America" is chock full of photographs of Real Americans. And they're disproportionately old white people.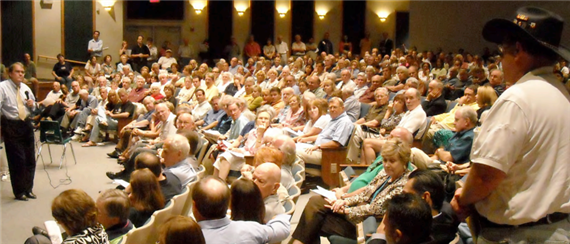 Matt Yglesias looks through the Republicans' Pledge to America [PDF] and notices something a mite peculiar:
But literally 100 percent of the people in the photos are white. It's just a little glimpse at a particular vision of what America looks like.
Now, this isn't strictly true.  First off, John Boehner is prominently featured.  He's orange.  And there are a few folks who look like they're of Asian or Hispanic origin pictured.  I'm pretty sure that's Loretta Sanchez on page 44 and page 18 has the most obvious examples of non-white "Regular Americans."  And there does appear to be an African American in the front row of the crowd shot on page 10 and another in the meeting shown on page 44.  There are probably others in the crowd shots; it's hard to guess race and ethnicity at that scale.
But, yeah, the people shown are by and large white.   But what strikes me as more interesting is how old most of the people pictured are.  At 44, I'm well into middle age and it still jumps out at me.
On the one hand, this shouldn't be surprising.   This is the Republican base.  And, especially, this is who makes up the Tea Party, to whom the Pledge is clearly trying to pander.  To the extent that a midterm election is about motivating loyalists to show up, it makes some sense.
At the same time, however, it's an odd calculation.   One would think that, with Americans disillusioned with politics and with even loyalists unhappy with the Democratic Party, that the GOP would use the opportunity to broaden their appeal.    And this document isn't going to do that.