If They Would Just Build a Fence
After all, securing the border is easy and the forces driving cross-border illicit activities can be curtailed with enough force and security.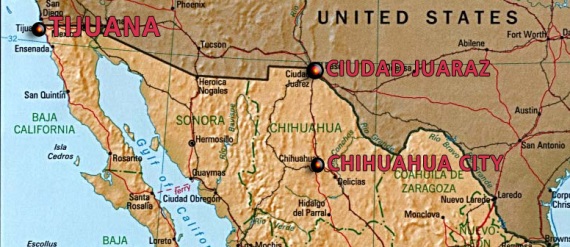 Via the BBC:  US police find 'major drug tunnel' under Mexico border
US officials say they have uncovered a major drug-smuggling tunnel under the border with Mexico and seized an estimated 14 tons of marijuana.

Customs officials said the tunnel linked warehouses in Tijuana, Mexico, and Otay Mesa, in California.

Pictures of the tunnel showed wooden supports and electric cables indicative of lighting and ventilation systems.

Dozens of such tunnels have been found in recent years as US police have cracked down on overland smuggling.

More than 30 have been discovered this year, Mexican authorities said, according to AFP news agency.

The tunnels are also used to smuggle illegal migrants into the US.

Nine or 10 tons of marijuana was found on the US side of the tunnel while Mexican police seized five tons on their end, said Derek Benner, a special agent with the US Immigration and Customs Enforcement agency.
If only there was a serious border fence in the Otay Mexico, CA and Tijuana region, we could clamp down on these kinds of problems.  Just build the dang fence!
After all, with a serious fence we won't have to grapple with complex and difficult problems like drug construction and illegal immigration.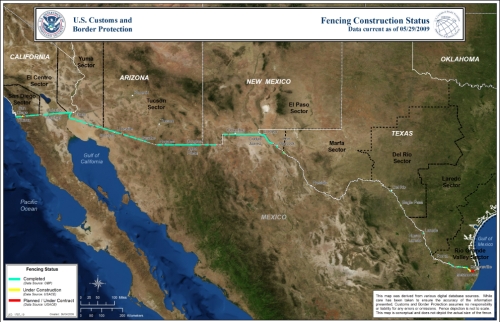 Source:  click.
Yes, it is a good thing that it is so easy to deal with these issues.
Indeed, I hear tell that if we just spend a bit more more and engage in a bit more security that we will finally stop these things.
Via ABC News:  San Diego Drug Tunnel Yields 14 Tons of Marijuana
Authorities have discovered 75 drug tunnels under the U.S./Mexico border since 2008, most in Otay Mesa, an area of industrial warehouses, and in Nogales, Arizona, where an existing drainage area underneath the border makes tunneling easy.

"The discovery of this tunnel is a tribute not only to the effectiveness of our joint investigative efforts, but also to the significant benefits we're gaining by using new technology to target this kind of smuggling activity," said Derek Benner, special agent in charge for Immigration and Customs Enforcement's Homeland Security Investigations in San Diego. "The drug cartels mistakenly believe they can elude detection by taking their contraband underground, but, again and again, we've been able to find these tunnels and shut them down."
I will now turn off the snark and sarcasm and point out how the above reaction is so very (and depressingly) typical of drug war logic:  failures like these tunnels are actually evidence of success.
Let me fix that last sentence:  "The drug cartels correctly believe that they can elude enough detection by to continue to make huge profits even if it means taking their contraband underground or by using whatever other methods they can dreams up because, after all, the money to be made is enormous.  Indeed, again and again, we've been able to find these tunnels and shut them down but yet the actual amount of cocaine and such on US streets remains relatively constant over time and the price of the product has not risen enough to dissuade consumption (indeed, the street price of cocaine is not all that different now than it was in the 1980s).  All of this despite a serious increase in spending by hundreds of millions of dollars per annum to fight the war on drugs over the last decade. And after all, we keep getting record seizures of product!  Just a little bit more effort and we will win!  Trust me:  it is worth all the money.
Ok, sorry, I guess I lied about turning off the snark.  Some topics simply inspire.