It's Still Ad Hominem If They're Neocons
My latest for The National Interest, "Neoconservatives, the Iraq Debate and Ad Hominem Attacks," has posted.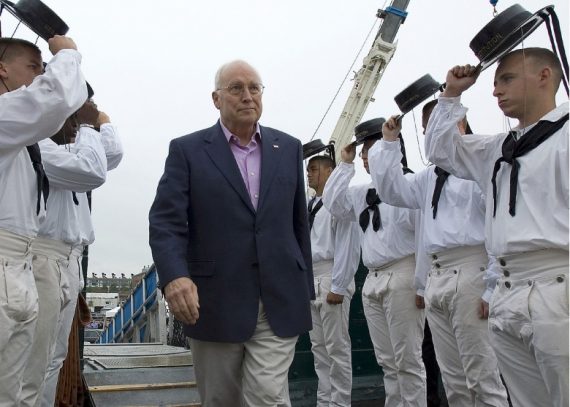 My latest for The National Interest, "Neoconservatives, the Iraq Debate and Ad Hominem Attacks," has posted. It was sparked by a long discussion on Twitter between several national security professionals and another with my OTB co-bloggers. The piece is over 2000 words but the following excerpt provides the gist:
On our television screens and op-ed pages, some familiar faces and names have again been talking about Iraq, including former Vice President Dick Cheney, former Deputy Secretary of Defense Paul Wolfowitz and former Iraq Coalition Provisional Authority administrator Paul Bremer, along with various neocon pols and pundits who never went away. Some are now arguing that, having gotten Iraq so spectacularly wrong the last time, these people should not be listened to now. That idea is both misguided and dangerous.

[…]

Ad hominem is a logical fallacy for a reason. An argument's strength doesn't depend on who's making it. Excluding people from the discourse who have gotten it wrong in the past diminishes, rather than increases, our collective understanding. Even if we presume there's actually an objective process for identifying right and wrong in complex policy decisions where counterfactuals aren't available to us, the fact is that anyone who has made a significant number of hard choices will invariably have gotten some wrong.

It's perfectly legitimate for journalists interviewing former senior officials in the Bush administration—as with any other guests—to press them on their past decisions and statements. To the extent Wolfowitz or anyone else has shown poor judgment on a specific issue, they should absolutely be called upon to explain why we should trust their judgment now. And, if they're making arguments now that a Democrat is president that contradict arguments they made when their guy was in office, they should be challenged to explain why circumstances are different now or whether there are legitimate reasons as to why their position evolved.

[…]

I do think those who've obviously reflected upon and learned from their mistakes are more credible—and, frankly, more interesting—commentators than those who cling stubbornly to their old positions, facts be damned. It's one thing to still believe that the 2003 invasion was the right course of action. It's quite another to argue that we did the right thing, say, in throwing low-level Baath Party members out of the military and civil service. If former officials and longstanding pundits are simply going to emulate Baghdad Bob, regurgitating comically stupid talking points, they're of no value. As Daniel Patrick Moynihan observed, "Everyone is entitled to his own opinion, but not his own facts."

Relatedly, while bad judgments on complex issues don't necessarily devalue one's value as a commentator, bad faith does. For example, some of the pols and pundits in question have demonstrated a repeated willingness to shade the truth to advance their position.

[…]

Cheney, Wolfowitz, and other senior Bush administration officials consistently cited intelligence they knew to be disputed when it supported their agenda and willfully ignored intelligence that they found inconvenient. Given the enormous pressures they were under in the wake of the 9/11 attacks, I'm willing to believe that they did so in support of a policy they genuinely believed necessary to secure the nation from foreign threats. But it's their history of mendacity, not their bad judgments, that make them suspect as participants in the public debate.
Much more at the link.
UPDATE: A more pithy formulation occurred to me this morning as I was waiting for the piece to post: People who've made errors in judgment can make a valuable contribution to the debate. It's hacks that we should exclude from the conversation.