Japan Relaxes Constitutional Bar Limiting Military To Self-Defense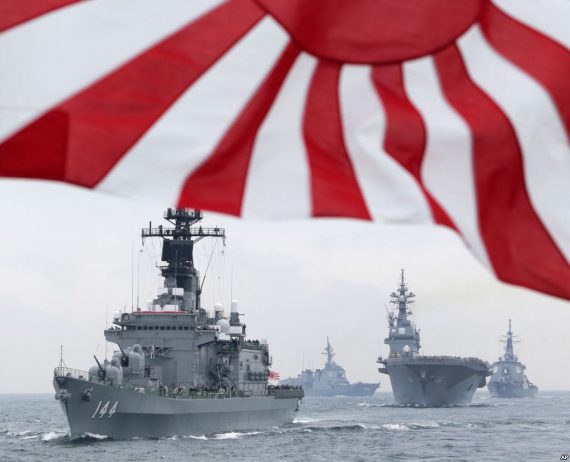 Nearly seventy years after the end of World War Two, Japan has approved a change to its Constitution that was imposed in the post-war era largely to prevent the rise of a militaristic Japan:
Japan's cabinet has agreed on a proposal to end a ban on its military fighting abroad, a major shift away from the country's post-war pacifism and a move that is riling China.

Defense Minister Itsunori Onodera confirmed the new rules on Tuesday, in a move seen as a political victory for the conservative Prime Minister Shinzo Abe.

The change will significantly widen Japan's military options by ending the ban on exercising "collective self-defense," or aiding a friendly country under attack.

It will also relax limits on activities in U.N.-led peacekeeping operations and "gray zone" incidents short of full-scale war.

The proposal does not change the wording of Japan's post-war, and U.S.-drafted, charter, rather the way the words are interpreted.

Article 9 of the Japanese constitution, which has not been revised since it was adopted after Japan's 1945 defeat, only allows for a self-defense force.

In the capital of Tokyo on Tuesday, people gathered in front of Abe's official residence to protest the plan to expand its military role abroad.

Hundreds of protesters, including pensioners and labor union members, marched carrying banners and shouting, "Don't destroy Article 9" and "We're against war."

"I'm against the right of collective self defense, but more importantly, I'm against the way Abe is pushing this change through," said 21-year-old university student Misa Machimura.
There was a time when a move like this would have raised fears of a reasertive Japan among many nations in Asia. Today, though,  the nation raising concerns in that part of the world is China, which continues to make territorial claims against islands and areas of the sea controlled by Japan, South Korea, and The Philippines. Given that, the idea of a Japan that is more willing and able to take part in collective self defense efforts in the region will likely be seen as a potential counterbalance against China although, obviously, the bulk of that role is one that will have to be fulfilled by the United States along with allies in South Korea, Australia, and, now, Japan.