John Kerry Boating During Egypt Coup
While the military was ousting Egypt's democratically elected president, the US Secretary of State was on his yacht.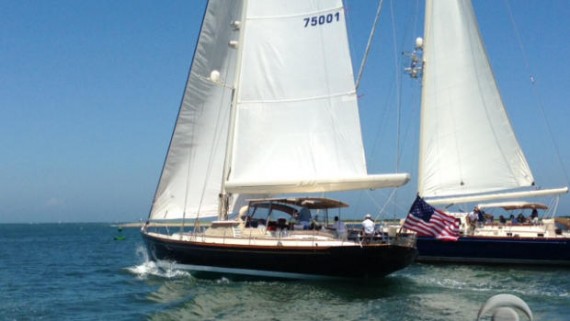 While the military was ousting Egypt's democratically elected president, the US Secretary of State was on his yacht.
CBS ("John Kerry on his boat during Egypt upheaval, State Dept. concedes"):
As regime change was unfolding in Egypt, Secretary of State John Kerry spent time on his boat Wednesday afternoon in Nantucket Sound, the State Department acknowledged to CBS News on Friday, after repeatedly denying that Kerry was aboard any boat.

"While he was briefly on his boat on Wednesday, Secretary Kerry worked around the clock all day including participating in the President's meeting with his national security council," said State Department spokeswoman Jen Psaki, naming a series of Egyptian and international officials Kerry had spoken with on Wednesday.

Psaki's acknowledgment marked a stark reversal from previous denials that Kerry was on any boat whatsoever.

A "CBS This Morning" producer spotted Kerry on his boat Wednesday afternoon on Nantucket, where Kerry has a vacation home. When "CBS This Morning" senior producer Mosheh Oinounou tweeted about the sighting, Psaki issued a denial, calling the tweet "completely inaccurate" and said Kerry has been "working all day and on the phone dealing with the crisis in Egypt."

Also on Wednesday afternoon, the White House released a photo of the president and his national security team meeting in the situation Room. Kerry was not present in the photo, but his office said he did participate in the meeting via a secure phone line.

On Thursday night, CBS News obtained a photo of Kerry on his boat and sent it to the State Department, asking whether they still stand by their denial that Kerry was on a boat.

The response: "Yes."
Now, I don't think it much matters where Kerry was when the coup was going down. Granted, the military had announced a timeline ahead of time, so it wasn't exactly a surprise. But even secretaries of state can't be on duty 24/7 it's not as if the Egyptian generals were taking orders from Foggy Bottom. And, to the extent that Kerry's input mattered as to US policy—to the extent the US has a policy, which is far from clear—we live in a golden age of communication technology.
I do, however, find the State Department lying about Kerry's whereabouts—even after presented with photographic evidence—at the very least bizarre and quite possibly troubling.