Joint Chiefs Want to Keep Sexual Assault Prosecution Authority
If there's one thing that our generals and admirals agree on it's that generals and admirals should retain their power.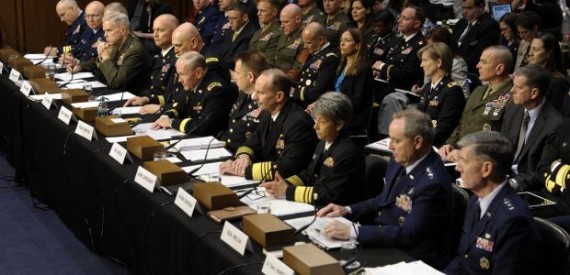 If there's one thing that our generals and admirals agree on it's that generals and admirals should retain their power.
DEFCON Hill ("Military brass oppose removing sexual assault cases from chain of command"):
Military leaders on Tuesday expressed unified opposition to stripping commanders of the power to decide where sexual assault cases are prosecuted.

In testimony to the Senate Armed Services Committee, Joint Chiefs Chairman Gen. Martin Dempsey and the service chiefs defended the current system, arguing it helped preserve good discipline.

[…]

One by one, the service chiefs stressed the importance of keeping commanders in the central role of prosecuting sexual assault cases. They said the accountability and responsibility was essential for commanders as they try to change the military's culture.

Army Chief of Staff Gen. Ray Odierno compared sexual assault to "a cancer that left untreated will destroy the fabric of our force," but said that changing the chain of command structure won't fix the issue.

"Making commanders less responsible and less accountable will not work. It will undermine the readiness of the force," Odierno said. "Most importantly, it will hamper the timely delivery of justice to the very people we wish to help."

Marine Corps Commandant Gen. James Amos said in written testimony that commanding officers should "never be forced to delegate their authority."

"We cannot ask our Marines to follow their commanding officer into combat if we create a system that tells Marines to not trust their commanding officer on an issue as important as sexual assault," Amos said. "It is inconceivable to me that a commanding officer could not immediately and personally — within applicable regulations ­— hold Marines accountable for their criminal behavior."

Air Force Chief of Staff Gen. Mark Welsh said that the military must avoid creating an environment where commanders have less accountability, and Chief of Naval Operations Adm. Jonathan Greenert said the fundamental structure of the military judicial code "is sound."
Considering that these men are in charge of said system and have spent four decades steeped in it, this unanimity is hardly surprising. They also happen to be right: the essence of military justice is command discretion. It occasionally has its lapses—and lax enforcement of sexual assault sadly appears to be among them with too high a frequency—but the answer is holding commanders accountable, not stripping them of the ability to do their jobs.
A rash of incidents has shined the spotlight on the problem of sexual assaults in the military. A recent Pentagon report estimated 26,000 assaults occurred last year, an increase of more than a third.

Sen. Kirsten Gillibrand (D-N.Y.) has offered legislation to grant military prosecutors the power to decide whether to prosecute sexual assault and other major criminal cases. Her bill has 19 co-sponsors, including four Republicans, but has not gained the endorsement of Senate Armed Services Committee Chairman Carl Levin (D-Mich.).

Gillibrand and her supporters have argued that the current structure has discouraged sexual assault victims from coming forward given the fact that commanders can overturn guilty verdicts handed down by military juries.

"Because it's in the chain of command — because this is what our witnesses have told us — people aren't reporting," Gillibrand said while grilling the Air Force chief of staff at a hearing last month. "They don't feel that there is an atmosphere by which they can report safely."

In his opening statement Tuesday, Levin said the problem of sexual assault has become a "stain on the military."

But he also stressed the importance of having commanders deal with the problem and did not specifically talk about removing cases from commanders' control.

"Only the chain of command can establish a zero tolerance policy for sexual offenses," Levin said. "Only the chain of command can protect victims of sexual assault, by ensuring that they are appropriately separated from the alleged perpetrators during the investigation and prosecution of a case."
Levin is spot on. It's the job of commanders to protect their people. They can take immediate action based on an intimate knowledge of the people and situations involved. The base legal affairs office? Not so much.
This is indeed "a stain on the military," and some careers should be ended. Some people should wind up in prison. But the main thing is for Demsey and company to make it crystal clear that sexual abuse will not be tolerated. It's how the military dealt with racism, drug abuse, drunk driving, and all manner of other behavioral and cultural problems over the years. It's how they're so quickly adapting to the open integration of gays into the force.