Labor – Management Culture Clash
Labor and management are not simply adversaries at the negotiating table; they represent two very different cultures, if not social classes.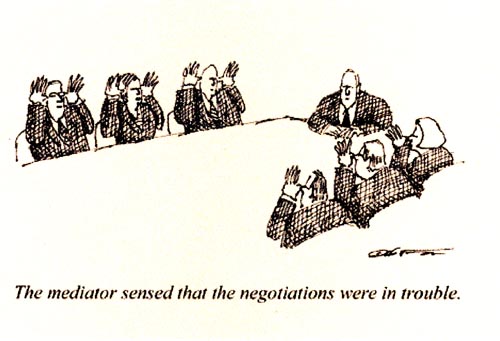 IOZ offers some insights into the world of labor negotiations:
I have had the occasion to negotiate union contracts, always on the side of management, and as I must–persistently and insistently–remind my colleagues, some of whom were also on the goddamned negotiating team, we agreed to the terms and conditions that we love to bitch about. CBAs are not imposed by powerful union goon squads on helpless managers, although hapless managers can be out-negotiated by the stubborn dummies who make up most union leadership. It isn't a wholly unfair point that public employee unions benefit from negotiating with political factions they helped to elect, but anyone involved in a large enterprise with a union shop (or several) finds this point, pulled out like a real Trump in the linked Welch post, likewise faintly laughable, because it is always, always, always the case that mutual interests muddy the adversarial nature of labor negotiations and drive both sides to make disadvantageous concessions in the name of the collective scam.

Management in any case has all the real advantages in a negotiation if management is willing to use them. But most of the time, managers are lazy negotiators and fail to do their work in advance. An unconquerable belief that unions are irrational combined with a childlike wonderment in the face of a bargaining unit that does not acquiesce to management demands with the supine, college-educated spinelessness of the at-will staff in the upstairs offices, leads managers to enter negotiations with functionally final proposals. A few union officials willing to start off asking for the sun, moon, and stars then move toward a more agreeable (for them) middle, which is still far from what management wants. But management just sat dumbly reiterating the points that it thought every rational person would naturally agree to. And in the end, managers are pissed that they got what they consider a bad deal, because it was not the shining deal they wanted, and they act like they had nothing to do with it, even though they were at the table the whole time.
While I tend to take management's side in labor disputes, this strikes me eminently plausible. Labor and management are not simply adversaries at the negotiating table; they represent two very different cultures, if not social classes.
Blue collar types instinctively understand that these classes exist and that there are huge differences in attitudes and perspectives. For reasons inexplicable to me, though, highly educated people seem blithely unaware of the world around them, proceeding as if everyone on the planet is just like them. This not only allows them to believe that the world is perfectly meritocratic and they got to where they are purely because they're smarter and hard working than most but it translates to international politics and the notion that the average Kalahari tribesman would be no different from the average Swede given freedom and a decent meal.
Given that, it makes sense that management would come to the negotiating table with something approaching their anticipated final deal — no sense wasting time with unreasonable proposals — and then react with bewilderment that the other side isn't as reasonable.