Larry Bird Is Awesome
Larry Bird has been named NBA Executive of the Year. Is there any basketball-related honor he hasn't won?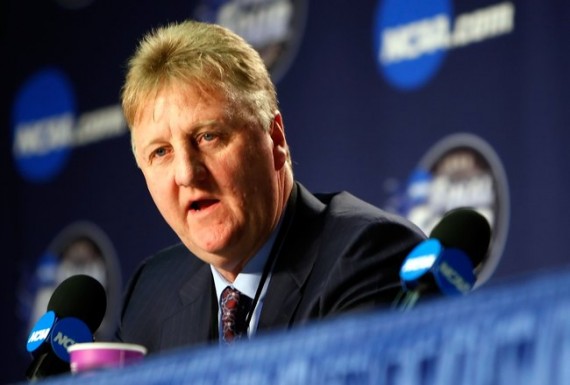 Larry Bird has been named NBA Executive of the Year. Is there any basketball-related honor he hasn't won?
SI ("Pacers' Bird named NBA's top exec"):
Indiana Pacers president Larry Bird was voted the NBA's Executive of the Year on Wednesday, becoming the first person to win that award, plus the MVP and Coach of the Year honors.

The Pacers went 42-24 and are tied 1-1 with Miami in the second round of the Eastern Conference playoffs. Bird's moves to strengthen the team during the offseason included promoting Frank Vogel from interim to head coach and signing starting forward David West. He acquired point guard George Hill in a draft-night deal with San Antonio, and traded for Lou Amundson and Leandro Barbosa to fortify the bench for the Pacers, who earned the No. 3 seed in the East and had the fifth-best record in the league.

"This is an honor for the Indiana Pacers, not an award for Larry Bird," Bird said in a statement. "Everyone in this franchise put in a lot of work and showed a lot of patience as we have tried to get this team to a level on and off the court the fans in Indiana can be proud of. You always believe, and hope, the players you get will fit into a plan and I'm very proud of what our guys and our coaches have accomplished so far this year."

Bird was a three-time MVP as a Boston Celtics player, then guided his home-state Pacers to a 147-67 record in three seasons and their only finals appearance in 2000. He was the Coach of the Year in 1998 following his first season.
That seriously underplays Bird's phenomenal record of success. He won every major college player of the year award (John R. Wooden Award, Naismith College Player of the Year, AP National Player of the Year, Oscar Robertson Trophy, Adolph Rupp Trophy, and NABC Player of the Year) and led his team to the NCAA championship game in 1979. He was the 1980 NBA Rookie of the Year. He was the 1982 NBA All-Star Game MVP. He was NBA Finals MVP in 1984 and again in 1986. He won an Olympic gold medal in 1992. He's in the Basketball Hall of Fame. And that's not even mentioning such piddly achievements as All-Star teams and 3-point content wins.
Other great stars of his era, including Michael Jordan, Magic Johnson, and Isaiah Thomas, were awful as coaches and/or team executives. That's pretty typical; it's incredibly hard for great players to relate to those without their natural talent and killer instinct. Jerry West, whose visage is on the NBA logo, was a  great player and great GM but he doesn't have quite the range of achievements of Bird. Lenny Watkins was a very good player and a great coach but was never the chief executive of a franchise.
Has anyone else dominated as a player, coach, and executive at the same level as Bird?