Lesbians Make Better Parents ?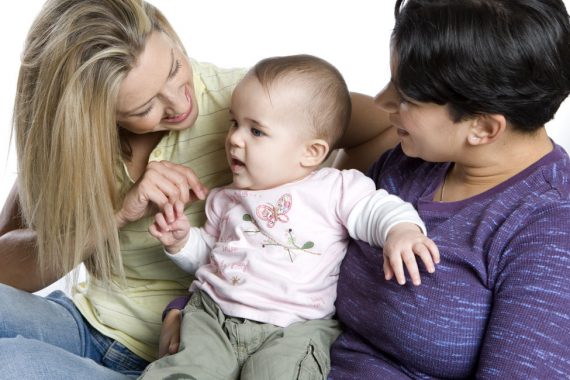 That's the lesson some people are drawing from a new study:
MONDAY, June 7 (HealthDay News) — When compared to teens of the same age, adolescents raised by lesbian parents are doing just fine socially, psychologically and academically, new research finds.
Click here to find out more!

Not only that, they have fewer social problems, and less aggressive and rule-breaking behaviors than other teens.

The nearly 20-year study has followed 78 teens since their lesbian mothers were planning their pregnancies, and concluded that these children "demonstrate healthy psychological adjustment." These findings stand in contrast to what some vocal opponents of gay or lesbian parents might have expected.

"One of the things that opponents of the equalities of gays and lesbians — in marriage, parenting, adoption and foster care — often bring up is the so-called gold standard of parenting, which defined by them is the traditional family where children are conceived in traditional ways and not through insemination or surrogates. But, when we compared the adolescents in our study to the so-called gold standard, we found the teens with lesbian mothers were actually doing better," said study author Dr. Nanette Gartrell, the Williams Distinguished Scholar at the University of California Los Angeles School of Law.

As to why these teens are doing better, Gartrell said, "Moms in the lesbian family are very committed, very involved parents."

Gartrell said she expects that these findings would also translate to the children of gay male parents as well. "Gay male parents are another group of very committed parents, and really, [among gay male couples] only economically privileged gay men have access to the opportunity to become parents right now," she said.
In the end, though, what this study really shows is that parenting has nothing to do with sexual orientation:
"Good parenting makes for healthier children, regardless of your sexual orientation. Whether you're gay, straight or lesbian, good parenting is good parenting,"
Exactly, and there's no reason to believe that gays and lesbians can't make good parents just like a heterosexual couple can. It doesn't mean that gays or lesbians are better parents, it means that they can be just as good, or bad, as the much-vaunted nuclear family.
Good parents make good parents, regardless of who they might be in a relationship with.
One wonders why it is taking so long for people to realize that.