Lloyd Austin Confirmed as SECDEF
History has been made in more than one way.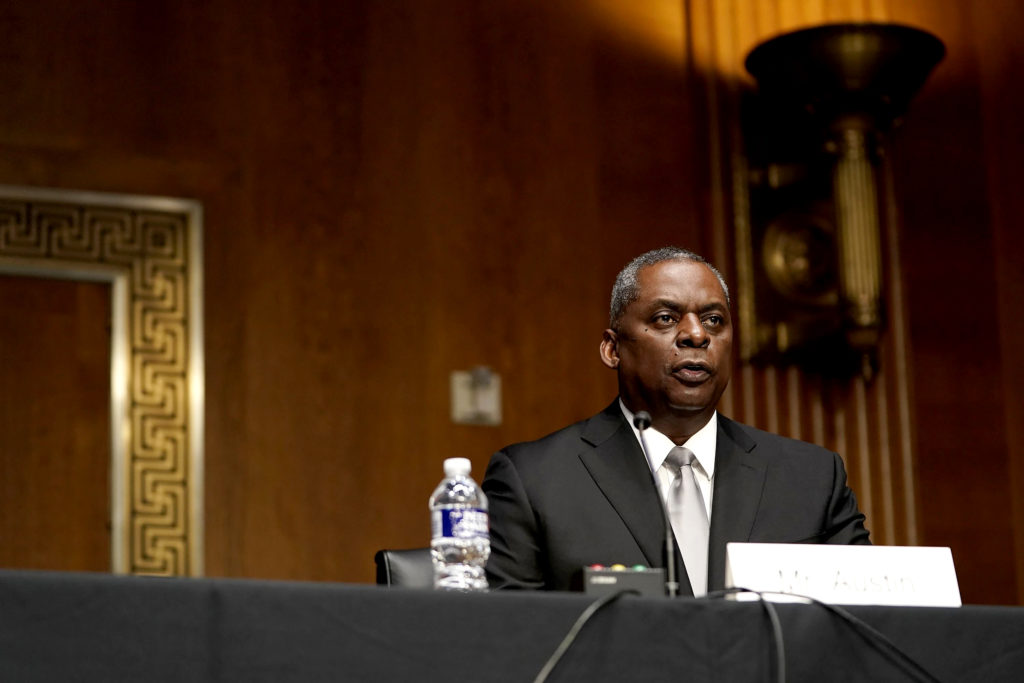 As predicted, recently-retired General Lloyd Austin has been granted a "waiver" allowing him to serve as Secretary of Defense.
YahooNews ("Senate Confirms Lloyd Austin To Be The First Black Defense Secretary"):
Lawmakers in the House and Senate approved Lloyd Austin as the new defense secretary, giving the Pentagon its first Black secretary and ending weeks of debate over President Joe Biden's choice of a former Army general for a job nearly always held by a civilian.

After each chamber on Thursday approved a waiver that allowed Austin to take the job just a few years after leaving active military service, the Senate confirmed him Friday morning in a 93-2 vote.
I put "waiver" above in scare quotes because, while it has routinely been called that in the press, it's actually beyond that. There is no provision in the law for waiving the requirement that a nominee be at least seven years separated from active service. Austin, like Jim Mattis in 2016 and George Marshall in 1950 required a private bill exempting them from the law.
Still, while I have expressed my concern about normalizing this practice, I was well aware that it was unlikely that Congress would refuse to allow Austin to serve. Not only is he otherwise well-qualified to serve but voting against a well-qualified Black man at this point in time would have been politically challenging.
Further, Bishop Garrison makes a strong point in his essay "Representation at the Top: The Importance of Race in the Austin Nomination Debate."
[T]he pushback against Austin's nomination has left little room to celebrate what is also a milestone for Black Americans in and out of uniform. As the New York Times notes, "The military is one of the most diverse institutions in the country, but its senior leadership (as in many other American institutions) is virtually all white."

Throughout his military career, Austin has been a trailblazer, reaching positions previously closed to Black soldiers. He was the first Black commander to lead a Corps in combat, the first Black commander of an entire theater of war, and the first Black commander of U.S. Central Command, responsible for the Middle East, Central and South Asia. If confirmed by the Senate, he'll once again break down barriers that should never have been in place. As another colleague and friend, Meg Guilford, mentioned on Twitter about Austin's selection, "Watching the President-elect formally nominate Lloyd Austin, III as his Secretary of Defense was pretty emotional for me. I never thought I would see a Black person nominated to be the Secretary of Defense. Working for DoD, I never had a Black boss & rarely had Black co-workers."
And here's the thing: If we acknowledge the symbolic value of having a Black leader in this post, we must also understand that the pool we can draw from is small, indeed.
There will soon only be two Black senators in Congress. Diverse leadership in the senior ranks of the intelligence community continues to be a major issue. In the private sector, Fortune 500 CEO diversity remains incredibly low. For instance, there are currently only five Black chief executives accounting for approximately one percent of the total. There are currently no Black governors and only four in the country that identify as a minority. Austin is a historic leader because he has often been the first to blaze the trail.
So, while I continue to have reservations on the civil-military relations front, this is a historic moment.