Man Complains Airline Made Him Pay to Sit Next to His Kid
We have unreasonable expectations for airlines.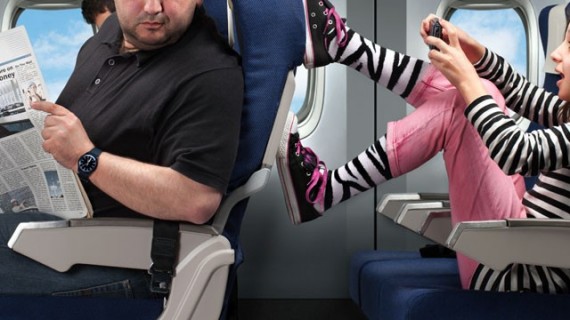 The Today Show recently ran a story under the headline "Dad says he was forced to pay $88 to sit next to his 4-year-old on flight."  He wasn't.
Lots of parents and children will be boarding flights this summer, but many will find flying together and sitting together may be two different concepts.

An upset father says Delta Air Lines assigned his 4-year-old daughter a seat that was 11 rows away from his own on a recent flight, and then asked him to pay $88 if he wanted the family to sit closer.

Frank Strong couldn't find two adjacent seats online during the booking process, but a ticket agent said he and his daughter could sit together in Economy Plus for the extra fee. Strong was told to ask the gate agent to make the switch for free, but the dad worried the issue would not be resolved, so he chose the path of least resistance, he wrote on his blog.

"Faced with a dilemma of handing over ransom money to Delta in exchange for certainty, or taking a risk that an agent might fix the problem at the gate, I opted to pay," Strong wrote.

"No parent holds a higher responsibility — or more deeply visceral instinct — than keeping their child or children safe. That's hard to accomplish 11 rows away when the fasten seat belt sign is glowing."
Strong's blog post claims that airlines have a "business strategy" to separate parents and children. It's just nonsense. I'm a single parent to two girls, the youngest of whom turns four in a couple weeks. I've flown with them many times and never had difficulty arranging seating next to them. On smaller planes, where there are only two seats on each side of the plane, I've been separated by an aisle or sat directly in front of or behind them.
My initial guess was that Strong booked his flight late in the process and found that there were no Economy class seats next to one another. Since the aisle in window seats book first, that may have left him with only middle seats.
Strong notes that once he boarded the flight, he discovered there were lots of empty seats on the plane so he feels the situation should never have happened. He thinks there should be a law that prohibits an airline from separating a child and a guardian in seat assignments.
Presumably, Strong was victim to the vagaries of the online booking system. Most if not all airlines have stopped assigning exit row seats online, preferring to ensure that those sitting there meet emergency qualification standards. Additionally, now that many airlines have added in an Economy Plus class offering slightly more legroom, there are fewer economy seats. Still, I've never had an issue.
Further, there's no need for the law Strong is advocating. Children under 5 aren't allowed to fly unaccompanied and those 5 to 11 are allowed to fly only under very restrictive rules. This applies to Delta as well. And, of course, the airline would have easily accommodated Strong's request at the gate.
Amusingly, Strong wants massive regulatory changes:
I believe the answer begins with a federally mandated passenger bill of rights – one that becomes law and is backed with stiff penalties.  To begin, I'd recommend the following:

No airline under reasonable circumstances may separate a dependent from guardian in seating assignments; this includes, but is not limited to, children, elderly  and handicap;
Minimum personal space requirements determined by ergonomic experts and medical doctors;
Pricing transparency – the total cost of travel (TCT) at the initial point of price quotation; in other words the price at the point of transaction (or departure) should not vary from the initial results displayed in any e-commerce travel system;
On time flights will be determine from the point at which the first passenger enters the jet way at boarding until the last passenger has exited the bridge after landing; merely pushing an aircraft away from the gate is not on time;
No airline may sell more seats than an aircraft holds; a mandatory refund policy will uniformly apply to all airlines;
Stiff penalties for airlines who sell unclean seats, trash left in the seat pockets or non-functioning in-flight electronics will be implemented; these are no longer amenities;
Exit row seating may not be sold at a premium; in the interest of safely, exit row seating will be based solely on the ability of the passengers in those rows to execute that very important duty on a first come, first serve basis;
Minimum sustenance requirements based on the length of travel (I suggest three hours or more of flight time);
Minimum staffing requirements at counters and gates based on forecasted (and auditable) passenger throughput;
Look, there's little doubt that flying has become a more frustrating experience in recent years. It's gone from a luxury good to a commodity, with most of us looking for the cheapest deal possible, and airlines have responded accordingly. While Southwest has done well offering free baggage checking (which, of course, used to be standard everywhere) and JetBlue has won fans for free seatback entertainment, it's generally been a race to the bottom.
But Strong apparently wants First Class service for Economy pricing. And wants mutually contradictory things.
He wants planes to leave on time—measured in the stupidest possible way—and yet he wants to delay planes that have the slightest mechanical defect at the level of the individual seat. Rather than turn around the plane as quickly as possible, Strong wants them to do a detailed seat-by-seat inspection of the electronics and seat cushions. He wants free food on flights and yet wants the airlines to keep the seats in pristine condition. And not to be able to charge extra for the more desirable seats!
Now, as a relatively tall man, I'm with him on the ever-shrinking seats. Not only is it uncomfortable having so little legroom, it's unpleasant being crammed in next to an obese stranger for several hours. But fixing the problem comes at a cost: larger seats and more legroom means fewer seats. And that means higher prices to make up the difference.  As one who tends to buy three tickets at a time, that adds up pretty fast.