Mike Pompeo Decides Against Running For Senate
Secretary of State Mike Pompeo has decided against running for Senator Kansas, decision that could force the GOP to defend an otherwise safe seat.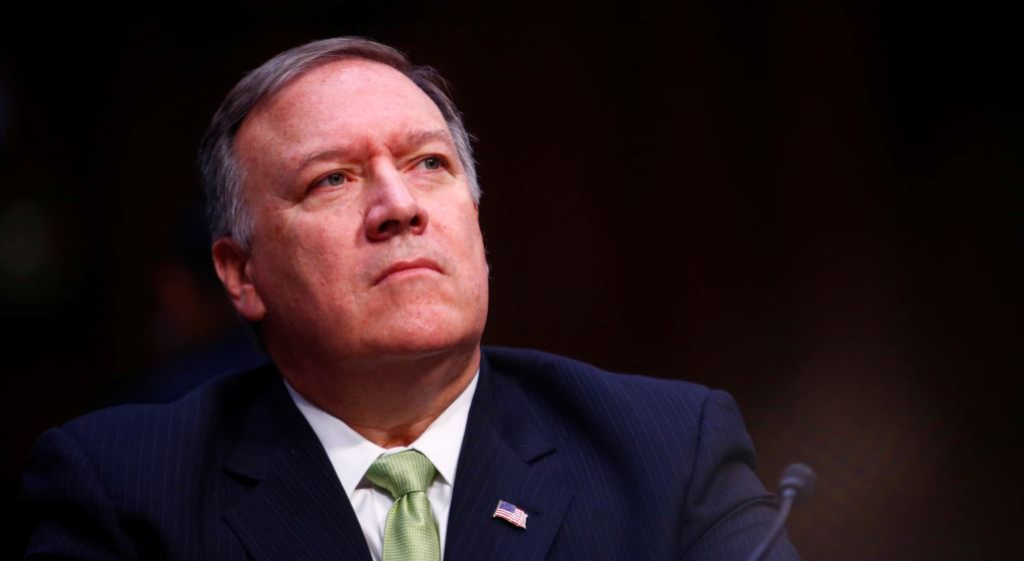 After several months of vacillation that included several trips back home that fueled speculation that he would be leaving Foggy Bottom, Secretary of State Mike Pompeo has apparently decided once and for all that he will not be standing for the Republican nomination for Senator from Kansas, creating the possibility that Republicans may have to worry about defending a seat in what would otherwise be a safe Republican seat:
Secretary of State Mike Pompeo on Monday told Mitch McConnell, the Senate majority leader, that he does not plan to run for Senate in 2020, most likely ending Republicans' hopes of securing a potentially dominant candidate for the open seat in his home state of Kansas, according to four people briefed on the meeting.

Mr. Pompeo, a former congressman from the Wichita area, has quietly explored a campaign for months. But in the aftermath of the military operation last week that killed Maj. Gen. Qassim Suleimani of Iran, Mr. Pompeo has told senior party officials that he is ruling out becoming a candidate, according to several people who have spoken with him directly.

His conversation with the majority leader, which took place in Mr. McConnell's Capitol office, touched on the events of the last few days in the Middle East, according to an aide to the senator.

Another person briefed on the decision said it was clear it would be "irresponsible" for Mr. Pompeo to leave the State Department and would not help him in any possible presidential run in 2024 as much as people had speculated it might.

Mr. Pompeo still has time to change his mind. The filing deadline for the primary is not until June. However, administration officials who have spoken with him in recent days said he seemed adamant about not entering the race.
All of this started in January just days after the new Congress had convened, when Kansas Senator Pat Roberts, who has served four terms in office and faces a re-election bid in 2020, announced that he would not stand for re-election and would retire at the end of his term. Within a day after he made this announcement, reports began to circulate that Kansas Republicans were already talking to Secretary of State and former Kansas Congressman Mike Pompeo to return to Kansas and run for Senate.
One of the main reasons for that is the fact that Pompeo was widely seen as one of the few Kansas Republicans who could both hold off a potential bid for the nomination by controversial former Secretary of State Kris Kobach and win a General Election against a Kansas Democratic Party that has become increasingly successful in an otherwise Republican state. Senate Majority Leader Mitch McConnell even got into the act and met with Pompeo in an effort to get him to run for the seat to ensure that it stays in Republican hands. Pompeo appeared to be the kibosh on the matter in February when he appeared to shut down these discussions. Despite that announcement, though, discussions have continued behind the scenes as the risk of the GOP losing the Senate has seemingly increased in recent months. As recently as August, it was being reported that leading Republicans in Washington and at home in Kansas were talking to Pompeo about running and that he was at least considering the possibility. As recently as the end of December, meanwhile, it was being reported that the President was asking advisers and outsiders for advice about potential successors, a move that fueled speculation that Pompeo would indeed be leaving.
One reason for the increased concern over the fate of the Senate seat in a state that is usually reliable Republican is the fact that former Kansas Secretary of State Kris Kobach entered the race in early July. Kobach, of course, has a controversial history due to his nationwide work combatting so-called "voter fraud" while working to help pass Voter ID laws that many opponents say are unfairly discriminatory toward minority voters. Kobach, of course, lost the race for Kansas Governor last November after narrowly defeating the sitting Governor at the time Jeff Colyer, who took over that position when Sam Brownback was appointed to an Ambassadorial position by President Trump, for the Republican nomination. The prospect of Kobach winning the nomination is concerning for Republicans given his performance in the Governor's race, whereas it's widely believed that a candidate like Pompeo would be able easily win in a state that President Trump won by nearly 250,000 votes in 2016. It's also worth noting that Kansas has only elected three Democrats to the Senate since it became a state, the most recent time being in 1932 when a man named George McGill was elected to the body for a single term. This is why the discussion about Pompeo has continued despite his seeming pass back in February. With Pompeo now officially out of the race, Republicans will either have to roll the dice with Kobach as their nominee or hope that one of the other candidates for the nomination can defeat him in the primary.