Military Green Lights Playboy and Penthouse Before Banning Them
The military has declared that Playboy and Penthouse don't violate its standards but banned them from its exchanges, anyway.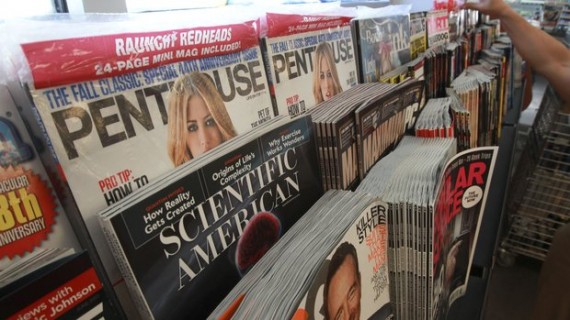 The military has declared that Playboy and Penthouse don't violate its standards but banned them from its exchanges, anyway.
USA Today ("Adult Magazines Dropped From Shelves At Base Exchanges"):
Adult magazines for sale at the local Army PX have gone the way of the cavalry charge after a decision Wednesday to strip the shelves at base exchanges of magazines such as Playboy andPenthouse.

While morality groups and the brewing sexual assault scandal in the military have raised the temperature on issues such as the availability of pornography to the troops, marketers said it was declining interest in the magazines that led to the change.

"In this digital age, magazine readership and buyer-ship is declining. So it's just a chance for us to re-evaluate our stock assortment, find out which ones are selling, which ones are not," says Chris Ward, spokesman for the Army & Air Force Exchange Service.

He said the magazines have been on sale for soldiers for decades.

Oddly enough, the exchange made its decision just days after the Pentagon, in a written response to the organization Morality in Media, declared that the magazines did not violate department rules against selling sexually explicit material on military property.

A Pentagon review board concluded that "based on the totality of each magazine's content, they were not sexually explicit," Frederick Vollrath, assistant secretary of Defense for readiness and force management, wrote in a response to the group.
The juxtaposition of the ruling and the decision are amusing and I'm not sure that I find the explanation plausible. If the exchanges are going to keep stocking magazines that sell less well than Playboy and Penthouse—and I'm guessing they are—then sales isn't the driving factor. Leadership has been trying for decades to juggle the demands of the troops (who are mostly young, heterosexual males) and freedom of the press on the one hand and the strange message that selling magazines objectifying women sends to the women who comprise roughly 15 percent of the force. My bet is that they've just decided that it's untenable.  The recent attention to the problem of sexual assault in the force likely contributed as well.
Then again:
The current top 10 magazines purchased by troops are, in declining order of interest: People Weekly, Men's Health, Cosmopolitan, US Weekly, Star, Jet, Maxim, National Enquirer, Muscle & Fitness, Womans World.
Aside from the fact that they continue to sell Maxim, which is basically Playboy for a more immature audience, it appears that women are buying most of the magazines.